From Part 2, "Camping Adventures",  I talked about some of my "What To Plan For" tips here at Country Jam. In this article, which is Part 3, I will introduce Country Jam's VIP Experience. This is where I fell in love with Country Jam!
Country Jam is on a whole other level when it comes to a VIP experience! 
I decided to do one day VIP and I was very critical walking into this thinking well I'm not going to even have my hopes up but completely can not say how blown away I was!
VIP included VIP parking, which is a completely different lot, offered shuttles in the form of golf cart to a different entrance than the general admission as there are usually longer waits in line.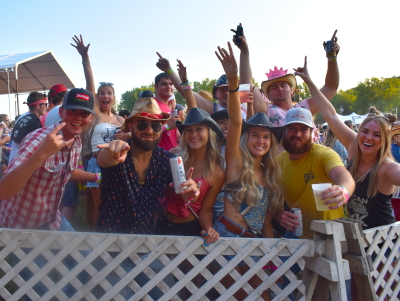 The VIP entrance was right near the tent where they video interview the acts from the main stage. It's filmed and then displayed on the screen before each act. This part is an add-on to the ticket, but you feel "up close and personal" since it's near the stage where they interview the artists. The tent provided shade and it has its own personal bar area. With lights flashing and cameras rolling, who doesn't like to get close to their favorite artists!
VIP reserved seating has two entrances, one on each side of the stage and supervised by friendly staff. The two entrances are so amazing because there is no waiting when you want to leave and the T shaped stage offers so much to do and see on either side. You also receive reserved seating with chairs. It's nice if you want to sit down with no worries about carrying one around. There is absolutely no seat that isn't a great seat! There are superfans who come back every year and they get to renew those VIP seats.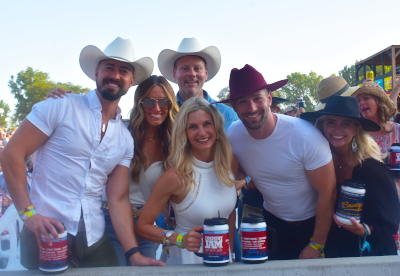 The VIP Hospitality Area is where you get launched into a whole new world. It's mind-blowing! Off of the side stage area there is a large picnicking area filled with tables, chairs, and large tents to shelter you from the sun. There are wooden standing tables for those who just want to stand and drink. This area is also located close to the VIP entrance to the Country Jam merchandise tent. This is where you get your mug, which is a must-do! It's also located right next to the wooden bar or "free drink concessions" which consist of one side having 5 windows of servers which is for canned beer, hard seltzer, sodas, and water bottles. The other side is about double the size where people can get mixed drinks with hard liquor and more options to choose from. This seemed to be the hot spot.
Drinking always makes me hungry, but no worries here. There are six huts, each with different food styles. Classic bar food, burgers, brats, and fried foods. Options like salads, Chinese food, and even build your own tacos! I chose the classic Oktoberfest brats and sauerkraut with cheddar munchers and Ally, my friend, got the mushroom swiss burger with onion rings. Both of ours were juicy, tender, and cooked to perfection as well as being super filling. Considering this is free food for VIP members, the helping sizes were still huge and no big lines to wait in. One woman said she wears her "fat pants" every year and it's worth gaining 10 lbs!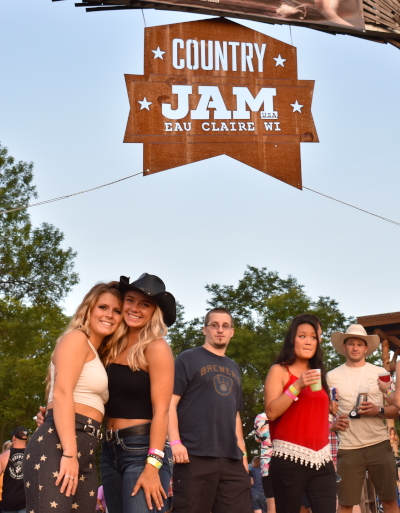 The ultimate is the buffet from 5-8 pm each night which is catered by KP Katering. They set the stage as you walk into a three-sided tent with the doorway being country-themed. The ambiance was rustic and decorated with vinery on the serving tables. The lighting went from outdoor bright to orange glowing mood lighting. The serving tables were lined with buffet platters that were steaming hot with so many options like potatoes, steamed beans with roasted garlic, steamed cabbage with carrots, potato salad, coleslaw, fruit salad, caesar salad, noodle salad, buns, and garlic toast. The meat station is staffed by people with large charming smiles asking you what you would like. I chose roast beef. It was seared to perfection and cooked to a perfect medium rare! They offer white or chocolate milk chilled on ice and water bottles. With my mouth salivating and my plate heaping full, I couldn't find a place to sit down fast enough! Every bite was an OMG situation.
Truly the highlights of my day and night have been the food, the great company of country fans, the welcoming volunteers and staff, and the great country performances that will fill your soul, make you want to dance and sing loudly, and sometimes fall in love!
– By Riley Hunter