By Riley Hunter –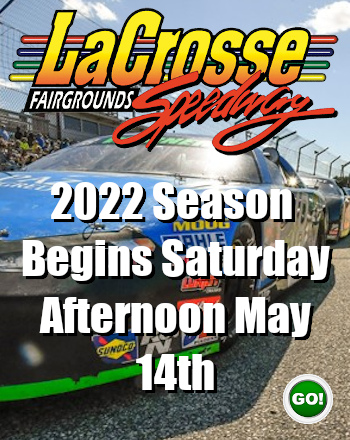 From Part 1, "Be Prepared",  I talked about some of my "What To Plan For" tips here at Country Jam. In this article, which is Part 2, we get settled in, and I talk about our camping adventures. It's truly an experience all on its own!
The very first thing we did, once we were all set with our wristbands and acclimated with where we could go, was to get on the bus ride to the campgrounds!
We were dropped off at Pines campground, and people were boarding the bus as we were leaving to join the fun. It's a free shuttle ride when you have your campground access pass, but never forget to tip your drivers!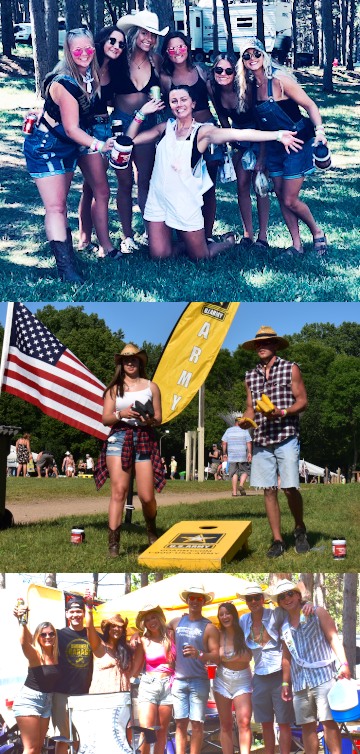 During our ride, we were talking with people who were having their bachelorette party. They had met at Country Jam, and it seemed fitting that they had the bachelorette party there! Love is in the air! 
As we boarded the bus, and continued to walk down just one row of the campground, we could tell that the afternoon shenanigans had just begun. We heard stories about the midnight dancing and music at the campground bar. It seemed everyone was set and ready as pre-gaming was in full swing with drinking games like beer pong and corn hole. 
A majority of the campers decorated their camps with Red, White and Blue themes. We were curious so we asked why. Everyone was kind to let us know that it was because of the coveted "Campground Decorations Award", and it seemed most were going with the 4th of July theme. Some had no clue about the award, but used their red white and blue lights as a way to light up the night in the tree covered haven! Can you imagine the beauty as you walk through the grounds? Well, here's 'little ole me' as I was walking up on a trailer of people. I was nervous to talk with them because, mind you, I didn't know anyone, and I was so blown away as they welcomed me with so much enthusiasm and offered me a drink as we reminisced about the days earlier events. I could only imagine the excitement and beauty of these sites since everything was already being taken down. It was the last day here at Country Jam, but the people in this "Easter Group" were telling me all about how Scott won. They asked if I had ever experienced Easter in July? I snickered and said "No … sorry." That's when someone chimed in "Did you see the picture?"… To which I replied, "Oh there's a photo?" Then a  woman pulled out her phone, and showed me this epic photo of her camp site, along with others who were in the running. She then walked me through their camp site, which was now in a U shape of 3 different trailers. They created a large space in the middle for decorations, gathering space, and a fire to dance around. She explained how they come every year. This year, they really pulled together and won! When I say they went all out, I mean that they outdid themselves for Easter! Two of them were in full-on bunny suits in hot weather, blown up bunnies, ducks, eggs, an archway with bunny ears, and signs offering bunny shots!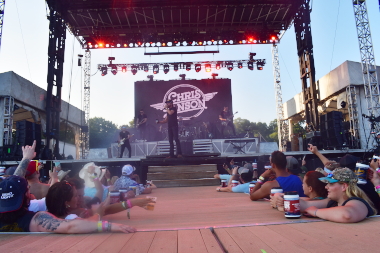 Now that's not all of what I stumbled upon on my 2nd night in the campgrounds! This was now the last night of Country Jam, so I wasn't expecting too much. I was wrong! After the last headlining act, I thought most everyone goes back to the campgrounds. I was wrong again!  I was quickly told, by a guy on a four-wheeler, that most everyone stays and hangs around both sides of the stage while the musicians play until midnight on the main grounds. Then, they return to their campgrounds because the fun doesn't end at the main grounds! It's as if the night time is a whole other party that just keeps going. Four-wheeler guy tells me that I should stick around if I can because another band will play at the Pines Campground bars outside the stage.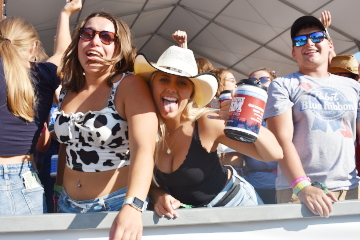 As I was walking towards that stage, I saw, off to the right, a glowing red sign that said "We Love Hot Chicks!" I was instantly drawn in as there were signatures all over that sign. I started to talk to one of the guys, Bryce, and he told me the whole story. Back in 2016, Bryce and his buddies, Beau and Hunter, wanted to mess with their wives by yelling every time a hot chick walked by. They decided instead to put up a "We Love Hot Chicks!" sign. And then it just happened. Everyone started signing "We Love Hot Chicks!" and it drew people in to their big party. Now it has become a tradition, and people find them with this sign! As we were talking, one of the wives came out. She said that they found it hilarious and said the sign drew everyone in. Now, it has been signed by multiple people for the past 5 years! I asked if I could sign it, and they proclaimed in true country fashion, "HECK YEAH," and handed me a marker. I signed it in the bottom middle and accordingly I made our Driftless Area Magazine mark as well! They told me I was welcome to stay as they have the best spot in the campground and that they renew their campsites every year, same location, just to make sure they don't end up in a different spot. They have a group of 15-20 people that reserve with them and there are so many that come back every year to hang out with them that it just wouldn't be the same without them being right here, in this spot. They play games and invite everyone that passes by to "Sign the Sign" and enjoy all their fun!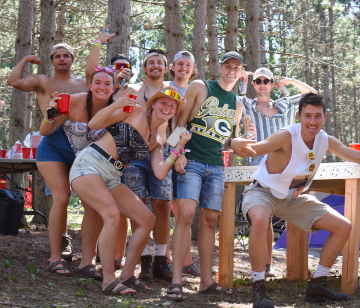 I quickly realized that the people in the campgrounds are truly dedicated Country Jam fans! It's not just about the music, the campgrounds, the party scene, the amenities, the games to play, the cold drinks, the food, the fun that truly really never ends … but about the people.
Within the campgrounds, there is just so much going on that it's truly exciting to take it all in and it's an experience all on its own!
See you in our next issue coming April 2022.  Just in time for the 32nd Annual Country Jam Festival on July 21 thru the 23, 2022! I will introduce you to Country Jam's VIP Experience. This is where I fell in love with Country Jam!