Baraboo Wisconsin.
The town that "pulls you in" … and around!
There are some amazing places in the Driftless!  Because of this, it is all too common that we miss opportunities to visit some of these amazing places and adventures. 
One such place is Baraboo.  Once we got word of a gal that offered tours of Baraboo, we knew we had to experience this.  Did I mention the tour was on a Rickshaw!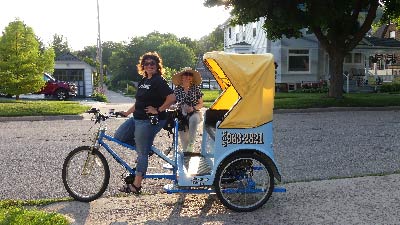 Meet Shelley – Baraboo Tours
Baraboo Tours (https://www.barabootours.com/)offers multiple adventures. Choose from: historic walks, rickshaw rides, haunted house and haunted building tours and more.  We had no doubt, we wanted to experience the rickshaw.
Our driver Shelley has a naturally contagious smile to match her personality which brought instant excitement. What a great way to see the city of Baraboo, hear about the history, and the great places to eat and shop. Shelley was definitely the best guide to rickshaw us around Baraboo.     
We entered this town with no knowledge of the area. Shelley was amazing at painting a vivid picture of her historic town. She was entertaining, engaging, and had us laughing throughout the ride.
Here are just a few of our stops. 
1ST STOP     
Con Amici  http://conamiciwine.com
The Con Amici sign appeals to my curiosity; "What is this place & how do I pronounce it?" Gazing around the outside I notice the metal tables available for an outdoor experience. "I could bring my dog here" I thought to myself, and then confirmed this by noticing the water dish for your pet. As we walked into Con Amici, I felt an inviting vibe from the plush couches and eclectic tables and chairs. There were hours that could be spent looking at the art on the walls
As we settled in, the soft lighting and the high top tables reminded me of a nice mid-day cocktail or a nightly rendezvous with the locals. Don't forget to ask to see their "NOSH" menu!
Con Amici also has a stage for live music!  Imagine surrounding yourself with great people and good music!  
The Feeling of a Real Speakeasy 
As we walked to the back of the bar, we realized that there is a door going to a separate room with a patio lounge. Whoa! A small area open for music. "This is where I want to hang out, what a cool place." The mood and atmosphere reminded me of a speakeasy. Just the place to be incognito with a drink, as we wait for our ride to pick us up.
Con Amici is "to be with friends"! This is the feeling when you walk through these doors. 
2ND STOP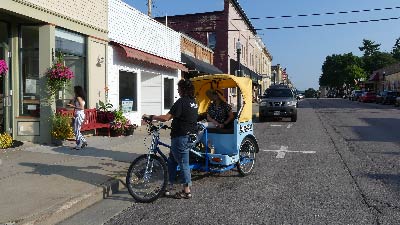 The Cheeze Factory Restaurant  http://cheezefactoryrestaurant.com
Their menu offers freshly prepared vegan and gluten-sensitive dishes from their own recipes
Shelley "Rickshawed" us to pick up lunch at The Cheese Factory Restaurant.
The vegan food experience tasted more amazing than I expected! The talent they put into the combination of ingredients is like "art in your mouth". I was truly surprised that they offer so many different types of vegan dishes to choose from!
Read more about The Cheeze Factory Restaurant Here: https://driftlessareamag.com/unicdn/2021/03/31/cheeze-factory-article/
3RD STOP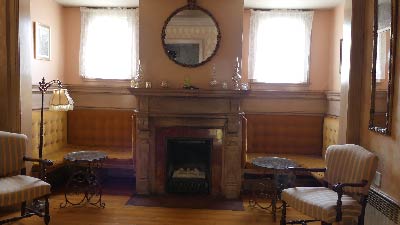 Ringling House Bed & Breakfast  http://ringlinghousebnb.com
Shelley "Rickshawed" us over to the yellow Ringling bed and breakfast with our Cheese Factory Restaurant lunch. 
Enter Scene: We sat on a white porch with a cool breeze as we watched the flow of the small quiet town roll by. Exit Scene.
We were accompanied by a few other friendly people who were staying at the B & B. They were planning out their day using a local map and plotting out all the places that they had available to them within walking distance. Keywords here being "Walking Distance". How awesome is that! 
We were able to take a quick peek into the front common area. I don't know if I could, in just a few short words, describe how cool it must have been for the people that lived in this large Georgian Revival Historic home. It took my breath away!
HERE COMES SHELLEY !
She picked us up to ride around more areas of the town and show us the Ringling family homes.  
4TH STOP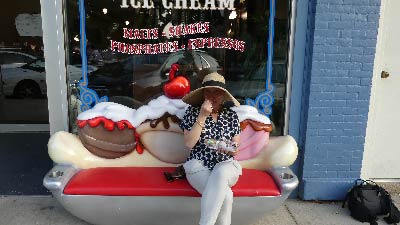 We also made a stop at the Tin Roof Dairy https://tinroofdairy.com  for everyone's favorite Ice Cream! 
With a look of the 1940s ice cream parlor, this brings you back to the "hip spot" to hang out. They offer a large space to sit or to mingle. They carry over 30 flavors of ice cream as well as homemade sodas that are poured by uniformed soda jerks. With the amazing weather, we opted to sit outside on the "sweet ice cream" styled bench.
5TH STOP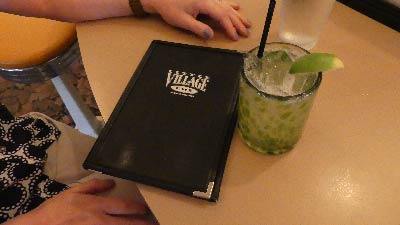 The Little Village Cafe  https://littlevillagecafe.com 
The atmosphere feels warm while the dimly lit diner welcomes us. The furniture looks to be the same as the photo from the 1940s. The building is on the National Historic Register. 
The local patrons look comfortably nestled into their booths as others are pulled up to the U-shaped booths with the round stools enjoying their cocktails. Menu choices range from burgers and burritos to fresh seafood, pastas, homemade soups and desserts.

We were able to sit down with the owner Jim who was such a delight. As he helped his staff with the in and out routines for food pick-up orders, he entertained us with so many great stories about the Baraboo area.
6TH AND FINAL STOP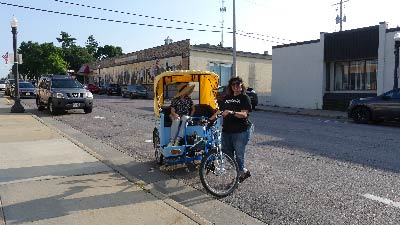 Haunted Downtown / VIP Building Tour 
Do you believe in ghosts? Maybe spirits, or just energy?
They say you can find them in Baraboo!
I won't say too much more here other than you have to experience this yourself and I highly recommend doing the haunted tour at night -VIP Ghost Hunting. (https://www.barabootours.com/haunted-downtown-walk.html)

We had a ghost follow us home and it made an appearance the next night.
Just a few other shops in the Baraboo Area.
St. Vincent de Paul Thrift Store    (2nd hand)

https://www.bekahkates.com/     (great kitchen store)
http://vintageon4th.com/    (2nd hand)
https://baraboovintage.com/    (2nd hand / furniture)
Oak Street Antiques, Collectibles, and Mercantile.
– By Roulette