By Matthew Schumann –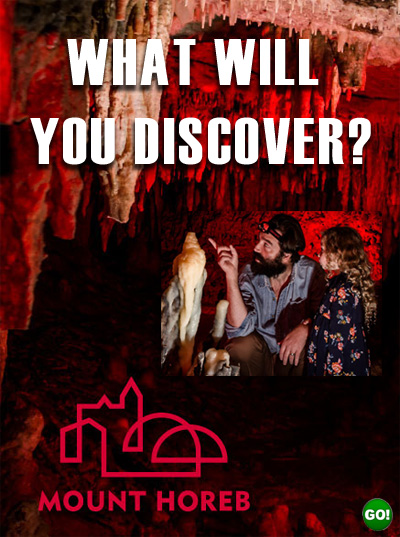 Tyrol Basin is South Central Wisconsin's premier ski hill. Now, before any of you readers of the "Internationale" or "Colorado Ski" Type-Variety get all uppity, just remember: the Driftless does what it does with the terrain the dinosaurs and glaciers gave us. Military Ridge is a Wisconsin high point, and Tyrol Basin nestled therein is a wonderful place to visit year-round.
Yes, year-round. In the summer and fall they offer hiking trails, Frisbee Golf, and a two-story BBQ restaurant with indoor/outdoor seating that has a wonderful view of the Basin and surrounding woods. It is fall-color season after all.
October is a special time around here because Tyrol Basin – for this month only … annually – is home to The TERROR at TYROL (thunder, lightning, and scream). Every weekend in October, Tyrol Basin hosts a Halloween Haunted Attraction, suitable for ages PG & PG-13. Big plus: it starts with a ski lift chair ride.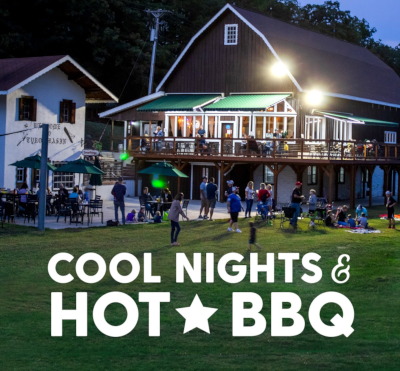 TTaT combines elements of a spooky nature hike, wrecked-looking haunted barns, and the added thrill of the chair-lift. It's become quite popular over the years. Enough that highway billboards beckoning unaware innocents to experience the fright (mwah-ha-ha thunder-clap scream) dot the surrounding counties and frightful radio ads on Classic and Heavy Metal local radio stations remind listeners to make the horrific journey. (Why does Heavy Metal always go with Horror? They go together like peanut butter and chocolate – only drippy and disgusting with slime and blood. I guess we must blame/thank Ozzy Osborne and KISS. Their legacies will undoubtably outlast them… damn them to Hell!! *Shriek!*)
The ski lodge & chalet was busy on Friday October 1st, 2021. Moms and Dads and their
broods ate Bar-B-Que and mentally prepared themselves for The Terror (bat squeaking). One family peppered the bartender, Nichole, with questions: "Will my youngest be okay going through?" a father asks, resting a hand on his daughter's shoulder.
"My youngest is going through it right now," she assured them, "and he's nine. And he'll be fine."
Father gave daughter an eye-raised "I don't know" look. "I'm eight," the little blonde girl replied worriedly.
I snapped a picture of the Tyrol Basin mural painted above the windows inside the chalet bar and dining hall. "You Are Here" the map reads while depicting the locations of the Basin's three chair lifts, as well as the lay of the land, rope-pulls, and other libation warming stations. The Tyrol restaurant, gift shop, and equipment rental buildings are built against a small ridge with a lower parking lot at the property entrance, a midway parking lot up behind the chalet, and an upper parking lot for overflow traffic farther up. Signs within the lot direct patrons to the Terror entrance at the back of the lot should they decide to forgo the restaurant entirely. The signs for The Terror are made to look like they were drawn in blood, by some imaginary psychotic person's finger. Hopefully, imaginary. (Most definitely not real blood – 95% sure.) I parked at the midway lot which led evenly to the restaurant's second floor. Below was a large patio with a dozen tables where families were served by waitstaff and kids were allowed to run free in the long green expanse that, in a month or two, would hopefully be full of skiers. Today it's part of the frisbee-golf course.
I took a window seat in the second-floor bar and dining room to get a good view of the grounds and compounds that faced the ski hill. This upper level of the chalet restaurant is large enough for wedding receptions and other biggie-sized events. It has the classic A-frame roof with wood stained, 12-inch crossbeams, and antique ski-equipment displayed on the walls along with old photos and hunting trophies: like I said – classic. I ordered dinner and had the Combo Platter: a half order of beef brisket and a half order of pulled pork. It was tender, juicy, and good. This was casual Bar B Que dining – not expensive ski resort snobbery.
Judging from the big map on the wall and where activity seemed to be focused outside, The Terror begins at the base of the center chair lift, which is a walk to the end of the parking lot and downhill past some spooky looking trailers. This lift is located on the other side of a tree line, so it is mostly unseen by folks in the restaurant. I could make out some large lights shining through the dark tree silhouettes on what, if I read the map right, is Sutter's Ridge.
As the sun set, from 6:30 to 7:00, I noticed employees getting ready for the Terror to start. Next to our building was an employee station. A show-runner hopped on a four-wheeler, said something into a walkie-talkie, and drove around the ridge and out of sight. I think I spotted another employee (I hope!) dressed as some sort of scraggly woodland-themed beast.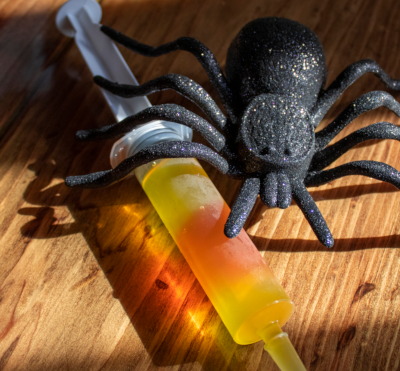 So here I must admit two things, dear reader: First, I did not go through the attraction. My knees are currently rehabilitating. Or you may assume I didn't go through because I'm a big fraidy-cat, I'm fine with that judgment. On the plus-side though, I brought along two young adults (Sam, 21, and Kora, 19) with whom I trusted to give me their reviews of The Terror. We drove in separately from Madison and they arrived a half hour later; after I had eaten and snooped around. Second, I swore an oath not to reveal any of the specific secrets or scares that await; lurking inside; ready to pounce. (Maniacal laughter cut short by an axe chop! Whoomp!) Photography is not allowed inside the Terror. Leaked internet photos would ruin the fun. Plus, have you seen "The Ring?" If you take a photo of any of this stuff, a cursed wet-hair demon-girl is liable to crawl out of your phone and freak-you-out to-death. It's not worth the risk.
Their reviews:
Sam: "Oh, it was really cool. I'm so glad we came. The whole thing lasted about 35 minutes or so."
Kora: "I was hoping we wouldn't be first in line…"
Sam: "But we were."
Kora: "Because then we couldn't hear any of the scares in front of us from other groups."
Sam: "So we were fresh. It was freaky."
Kora: "It's a mix of indoor and outdoor. The artwork was amazing. They put a lot of work into it."
Sam: "There were sound effects along the trail too. (to Kora) I was surprised you were screaming and really into it."
Kora: "I was. I was."
Nichole the Bartender: "They have some high quality and very talented make-up artists who have been doing this from year to year."
Sam: "I've never been on a ski-lift before, so that was scary."
Kora: "At the end there was a people-mover too."
Me: "Like a rope-pull?"
Sam: "Not exactly."
Kora: "But it was lit up. There was one room with special effects, that was very disorienting."
Me: "How long was the total walk?"
Kora: "Maybe a quarter mile."
Me: "How big was the cast of scare-actors?"
Both: "Hm. Twenty, maybe? Two dozen?"
Me: "If someone wanted to, could they sneak off into the woods and disappear?" (I have no clue why I would ask such a question. I guess as a parent myself, I would wonder if some delinquents might abuse the situation. But Sam and Kora helped ease any thoughts along those lines.)
Both: "No way. It was too controlled for that."
Sam: "Plus, off-the-path was dark. The woods are dark. No one would do that."
Me: "Were there any famous scary monsters like vampires or something?"
Sam: "There was a (redacted famous comic book villain) and (his famous redacted on-again/off-again comic book girlfriend) taking tickets at the start. But that was it."
Kora: "The scare-actors were more (of the) originally created and psychologically disturbing (variety)."
Sam: "There was a little kid, like maybe six years old. He basically buried his face in his Mom's leg and wouldn't let go. Maybe they had to turn back."
A minute after Sam and Kora returned, the group that included Nichole the Bartender's son (aka: The Nine-Year-Olds. Shriek!!!) burst into the room yammering and babbling. They looked like the cast of Stranger Things (season one). "Oh my god! Can you believe that?! And then like: Whoa! That one part was so-oo dark. And that freaky girl was just like, staring at you…" was all that I could discern from them. One parent yelled, "No kids at the bar! Grab a table outside!" The gaggle moved outside onto the deck and continued: "…and then you grabbed me and I was like Ahh! And you were totally like, Blargh!!" It was 8:10 pm.
The restaurant was still open at 8:30. So, we ordered some French fries to-go. "How late does the Terror stay open?" I asked Nichole.
"Till Ten," she said. We left a few minutes later. I thanked Nichole and her partner bartender for their hospitality. Kora and Sam thanked them too. So, there you have it: It's a rarefied event: only occurring less than a dozen days each year; weekend shows in October; only open for three hours after dark. If you don't catch it this year, put it on the calendar for next year. And remember: ski-slope chair-lift.
Minor sequel scare: The drive to Tyrol Basin, for us, began in Madison; driving west on Mineral Point Road. In a call back to a previous Driftless Area Magazine article – we followed the signs to Mount Horeb along County Highway J. It's only a 20-minute drive. On the way back, however, as I followed Sam and Kora's car, they had to break suddenly for a deer – a medium-big buck with a four-point rack leapt from one side of the road to the other. As I slowed, I saw it splash through their headlights. The fall colors are beautiful in the daytime, but County J can be scary at night.
Oh, and the father and his eight-year-old blonde daughter… they were never heard from again (Mwah-ha-ha SCREEE Thunder and Lightning K-Bam!!) … by me, that is … 'cause they probably just got in their car and went home.
Thanks for reading.
With special thanks to Autumn McGree at Tyrol Basin. Nichole the Bartender. Kora and Sam.