By Carson Schulte –
I've just moved into my rental house in north Denver. Moving boxes clap against wood floors. Dust flecks spring and flutter, then settle deep into the joints of what will be my new home. Cardboard sags in the bedroom, living room, and kitchen, slopped and sorted by scrawled sharpie labels. Moving is daunting.
I begin tearing boxes, and sigh a contented relief when I open my "laundry, cleaning, kitchen" box to find the dainty print of an heirloom tomato lying face up. How dear is a vegetable's hello? Pressed in a vintage red, the tomato blossoms atop a label reading, "Seed Savers Exchange." It's my Seed Savers seed sack tea towel, a piece of the Driftless to pack away with me. A garb of sentiment to dress my new kitchen.
My matching Seed Savers Exchange tea towels and apron (complete with stamped prints of heirloom bell peppers and carrots) were Christmas gifts from my mom. I had shown her the Seed Savers grounds a few summers ago, on a quick detour up Highway 52, north out of Decorah. We walked through the gardens, which had grown dense with heirloom flowers and vegetables native to North America. I explained to her the mission of Seed Savers as I remembered learning it: a non-profit organization protecting and preserving heritage plant varieties through seed bank storage and distribution.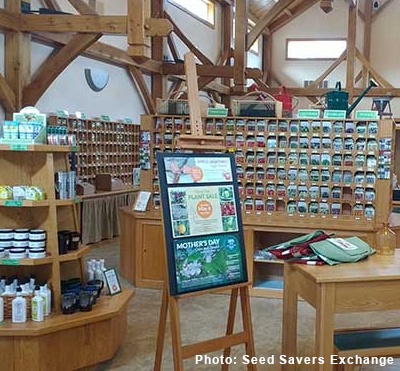 Visitors from the Driftless gather year round at Seed Savers to tour the gardens and purchase seeds, just as my mom and I had that summer, but it's known undeniably by the locals that autumn is an especially special time to make the trek. Historic apple orchards make dizzy with growth. Grass patches below freckle with rich hues of heirloom red, dotted with dimpled and twisted fruit that have snapped from their branches. Guests flock from every nook of northeast Iowa to bear witness to their apple heritage, over a thousand varieties from generations passed. And the most earnest cause of excitement is a hushed whisper through the trees: "Free apples!" Visitors are allowed as many fallen apples as they please, at no cost, and soon the orchards become a flurry of autumn festivity, all wicker baskets, and flushed cheeks.

A few years ago while I was living in Decorah, I remember my roommate had spent the afternoon at Seed Savers, scavenging for those red dollops of fall. She had filled a flimsy cardboard box with heirloom apples and brought them home to share with the rest of us. They were a rosy emblem of time in our shared kitchen, red apples born from stowed woody seeds. And time I felt; its quick passing and tendency to settle in childhood memory. It worked in flashes. The apple crisp my mom would bake when October rolled its gray horizons through Iowa. Our family kitchen, thickening in the heat of browning butter. Sitting propped at the table. Waiting for those first bites of cinnamon crumble, melting where it met the warmth of sugar-baked apples.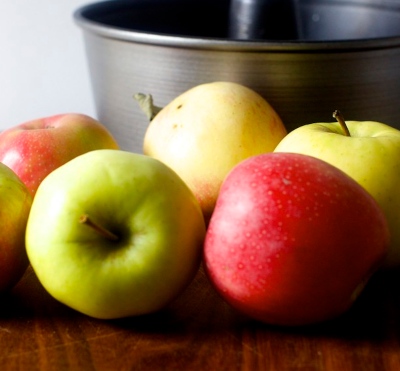 Homemade apple crisp. A perfect home for these apples, I thought. I sent my mom a quick text inquiring about the dessert I remembered, and she responded in minutes with a photo attachment. It was a snapshot of a recipe card. The instructions were hand-written by my late Great Grandmother Parks, my mother's maternal grandma. I had forgotten that this apple crisp was somewhat of an heirloom itself, preserved in a recipe book that my mom had received as a wedding gift almost thirty years ago. Grandma Parks had written in thick black pen, blots trailing the tail ends of her looping cursive. I picked up the first apple (the recipe calls for six total) and began peeling. Paced and ragged movements with my paring knife lent themselves to thoughts adrift, particularly regarding my great grandmother. How sweet were the apples of her years? How many would have filled her cupped hands? Had someone saved the seeds whose growth she might've sliced and baked, stowed them away in some time capsule of a seed bank?

After peeling and thinly slicing all six apples, I mixed the crumble and poured it atop, taking care to sprinkle extra sugar and cinnamon as my mom told me I should. I set it to bake at 400 degrees for 20 minutes (just as the recipe instructs). And while it baked, I remembered my great-grandma. The stories I'd known, that toothy smile I could recall only through photos. Those shared, reminiscing ventures to her flour sack world. Memories that became her preservation.
When the timer rang, I set the 9×9 out to share with my roommates. They gathered with bowls and spoons and hovered round. When asked, I reported proudly that it was a family recipe.
Back in Denver, I press on with a lighter step. What other pieces of home might I find? I set aside my Seed Savers Exchange tea towels and apron. Soon after I unpack my Collected Recipes Cookbook, where, since baking Grandma Parks' apple crisp back in my Decorah, I have begun to store family recipes: Aunt Mary's homemade pizza crust, Grandma Kay's chocolate chip cookies, Aunt Diane's puppy chow, Grandma LeAnna's rhubarb pie, Mom's Christmas cut-out cookies.
It's not quite a seed bank, but rather a garden of heirloom recipes.
I fold my tea towel carefully over the oven handle, adjust my apron's slack over a hook on the kitchen door. I slide my recipe book neatly alongside my fridge. I stand sun-streaked in my house, curating the visiting collection of my Iowa artifacts. And among the roots of my new life in Colorado I remain surrounded by visions of apples: sitting precious in that cardboard box, bearing Driftless history and fruity pulp. A sweetness, a dribble of juice trailing towards Seed Savers' mission of preservation. Why share heirlooms if not to preserve something integral to our humanness? If not to unearth our own heritage gardens, grown sparse when we forget to nourish the seeds of our past?
Great-Grandma Parks' Apple Crisp
Apple Base:
6 medium apples

¼ cup sugar

Cinnamon
Topping:
1 egg beaten

1 cup sugar

1 cup flour

1 tsp baking powder

¼ cup margarine

Cinnamon
Slice apples and place in a 9×9 pan. Sprinkle sugar and cinnamon over apples. Combine topping ingredients and mix. Cover apples with topping. Sprinkle with more cinnamon. Bake at 400 degrees for 20 minutes.