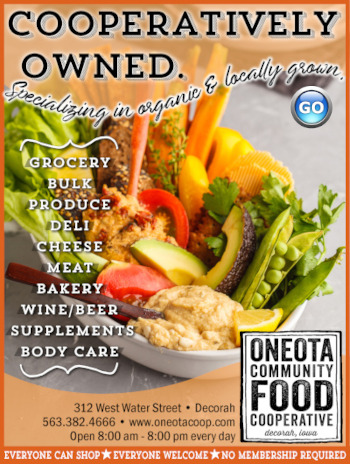 By Kylie Compe –
The Driftless region is known for its meandering rivers and rugged landscapes. The drive from Madison, WI to the Potosi Brewing Company will give you a stunning showcase of the rolling hills as the winding roads cut directly through the bedrock. I have made this drive many times as Potosi has become a fond favorite of mine. This unique spot is not only a fantastic brewery located directly along the Great River Road with a plethora of house favorites, but it also hosts guest taps that are brewed on site with recipes from other local breweries to give you a broad taste of the Driftless region. 
I heard about Potosi by word of mouth from some friends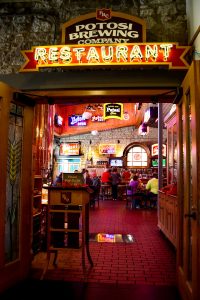 that go to college in the area. It had become their weekend hangout, and thus became mine. My go-to beer is Potosi's Steamboat Lemon Shandy — absolutely stellar on a hot summer day. It disguises itself as a simple lemon iced tea but blesses you with the pleasure of a little buzz. Potosi's Bear Necessities also deserves a shout-out; if you're a fan of blueberries this one's for you! I don't want to give the wrong impression, Potosi has a wide variety of flavors and brews, including the popular Cave Ale, Snake Hollow IPA and even a low calorie/low carb premium lager!
I've tried every beer on tap, and I highly recommend splurging on the full flights so you can say the same. They're all unique and heavy with flavor, but if you couldn't tell, I definitely favor sweeter, fruitier beers, so naturally, I fell in love with the Mahalo Pineapple Radler guest tap from Front Street Brewery (located in Iowa) — a pineapple-flavored delight. I was surprised to find that it tasted more like a cocktail than a beer, but I'm not complaining. If you're bringing the kids along, don't worry, there's something special for everyone. Spoil them with a Potosi's craft root beer, and maybe steal a sip for yourself because it's just that good! 
Whatever you choose to drink, try and get a seat outside in the Beer Garden. The atmosphere on the patio on a sunny day is hard to beat. Throughout the summer months, live music is a regular occurrence, so make sure to check their website and plan ahead to make sure you get a good seat. Oh, and bring your pets because the rest of us like to dog-watch while we eat, or maybe that's just me.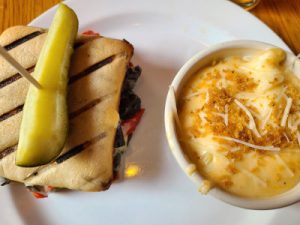 And, just a word of advice before you down that third or fourth beer, consider ordering some delicious food to compliment your drink! However, I might be the wrong person to ask when it comes to ordering food because I found a favorite meal my first time here and never looked back. The Portabella Panini had my heart since day one. This sandwich keeps it real by using bread merely as a means of transportation, none of that ridiculously thick bread that takes away from the flavors. The real bulk of this meal is piled high between the slices — a mound of portabellas, roasted red peppers and real Wisconsin Havarti. Let me tell you, they do NOT skimp out on the good stuff here. And if you're still hungry, you can never go wrong with a side of mac and cheese. The only time I'll waver from my set-in-stone order is when a side isn't enough and I need to binge on a full order of the Potosi Mac N' Cheese. It may seem like a boring order, and as cliche, as it might be, no one can fault you after having tried it — it's a winner with picky kids and food connoisseurs.
If the little ones are having a hard time sitting still, take them to explore one of the three museums on site: the ABA National Brewery Museum, the Great River Road Interpretive Center, and the Potosi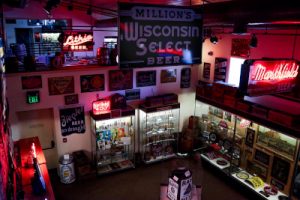 Brewing Company Transportation Museum. Yeah, I wasn't so sure what all that meant either, but these museums speak for themselves if you give them the chance. They're full of neat beer memorabilia and collectibles, and you don't need to be a beer buff to appreciate it. Kids or no kids, I'd definitely recommend killing some time wandering through and taking it all in.
If you're on a tight schedule and you only have time for one extra stop during your time at Potosi, I'd check out The Cave where they barrel-age their beers. Betcha had never seen a cave inside a building before. Conveniently located right next to the gift shop and main entrance, you can sit back, relax and watch beer age. Take a look in this real cave and see the barrels of your favorite beers as they age to perfection! Maybe if you stop by again in a few years and you'll be able to enjoy a pint of that same beer you watched in the barrel. I did say maybe.