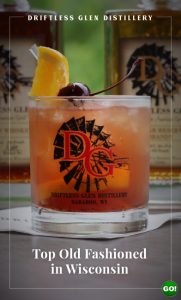 By Matt Schumann –

"Why open and run a distillery in the heart of the Wisconsin Driftless Region?"  you might ask. I did. "Why distill and bottle hand-crafted bourbons and whiskey? That's what Kentucky is for, right?  Well, I got schooled.

The Driftless Area has blossomed into a  producer and distributor of excellent spirits beyond the fantastic micro beer brands the area was already famous for. The groundwater beneath the entire region flows up through a natural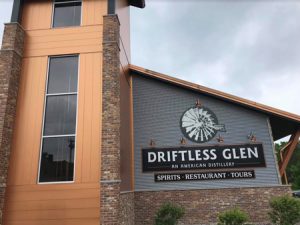 basalt and carbon filtration, providing sweet water. Water so pure it only makes sense to handcraft fine spirits from.

This brings us to Driftless Glen Distillery an award winning spirit producer that respects the region and its bountiful resources. Located on the green banks of the Baraboo River with a view of the Ringling Brothers and Barnum Bailey Circus World Museum across the water. The Baraboo River itself is a "Class One" (or easy) river for canoeing purposes. Our guide for the day mentioned that at times during the summer season, canoers have been known to tie-up at the Distillery and come inside for lunch and a tour. The stretch of river itself passes through many parks and green spaces, past Driftless Glen, past the Circus Museum, downstream east to the Wisconsin river, and upstream west to the Dells.

The distillery was built in 2012, with the first barrels of bourbon and rye spirits put up in 2014. The restaurant and gift shop opened in 2015. It is impeccably clean and well done. Rye, corn, and grain mash are used only once and then recycled, making the Glen's products "sweet mash" spirits rather than the "sour mash" you might see from other brands of whiskey – where the mash gets used and reused – making the distilling process more and more noxious. Driftless Glen keeps their brands smooth, great tasting, and top shelf.

"Grain to Glass and back to Farm" is their philosophy. Which means they are a 0% waste distillery, recycling 100% of the byproduct. Most of the spent mash and grain byproducts go to feed livestock, while the rest go through an anaerobic digester, converting it back to energy. Finally, the used bourbon and whiskey barrels are sold to breweries to create unique brews or repurposed by local artisans to enjoy in their homes. They also keep a fair amount onsite to finish the Brandy and the distilleries unique Double Cask Gin.

Situated in an old-town district of Baraboo that in its heyday was all about the Circus, Driftless Glen serves both as an internationally awarded maker of spirits and as a tourist attraction/destination spot in its own right. The kind of place to stop and cool off after a day of hiking at Devils Lake, visiting Circus World or enjoying the Baraboo and Dells Area. I brought my son Sam with me. He's eighteen, so I would be able to responsibly partake and enjoyably experience Driftless Glen.

I tried a Bourbon on the rocks/water as a full drink and found it exceedingly smooth. Well balanced, mellow, and not the least bit intrusive. During the flight taste-test, I tried the Moonshine, Lemon Vodka, Navy Gin, Blended Gin, and the Aged Bourbon. All one-third shot glass portions. All excellent. Being a novice at translating the experience of food and liquor tasting into words, all I can say is this:  My lifelong past assumption was that a shot of whiskey is supposed to burn; it's something you're supposed to survive, not enjoy.

Whiskey/Scotch/Bourbon and rocks-water, I learned too late in life, is the way to go.  Driftless Glen's medals and awards speak on their behalf that smooth bourbon and whiskey from Driftless Glen must be experienced. Quoting Tanya Smith, Driftless Glen's National Marketing Manager: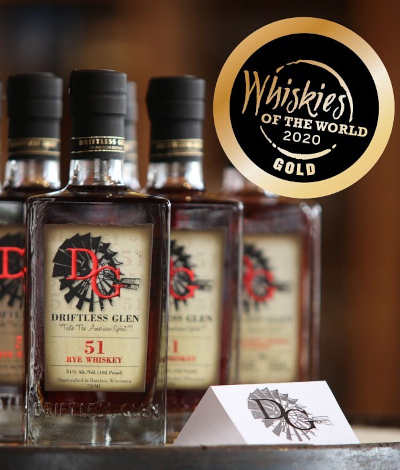 "We were awarded a gold with NY International Spirits Competition for our 51 Rye Whiskey. It received a 94-point rating. The Bourbon Whiskey received a 92 and the Single Barrel Rye Whiskey received a 91. We were also named WI Distillery of the Year overall. Our Exclusive Single Malt Whiskey won a gold at London Spirits Competition. Our 51 Rye also took home a Silver. We have many great things taking shape, an amazing team and our Distillers have exclusive barrels aging that we will offer limited releases of at our distillery. We are very humbled and proud of our spirits. We will be celebrating 5-year age statements later this year as our first barrels were put up in 2014. We are distributed in 10 states, Costa Rica and growing. We hope many of you will celebrate and come Taste The American Spirit"

The distillery, restaurant, bar, gift shop, and tasting area all fit together in a large communal room with a high vaulted ceiling and windows overlooking the river. The covered outdoor patio overlooks the Baraboo River, while the restaurant has a windowed private section available for receptions and gatherings with a similar view. It sits high on the riverbank. The interior decor is classy and done with brass, copper and lots of natural light. Co-owner Renee Bemis is an award winning sculptor with a few of her Bronzes displayed throughout.

Spirits are for sale in the distillery shop with brands in the unique square bottles adorning the husband and wife teams thumbprints cradling each side. The 750 ml bottles range from $20 up to $60. The polo shirt wearing staff was very approachable. Meals range from $13 to $20. My son tried to order French fries but found they were not on the menu. I suggested the potato salad, which was amazing. Before we move on you may be wondering, "No French fries?! What?" Part of the establishment's clean and renewable philosophy carries through to the kitchen: they do not have a deep fryer. No fried foods are on the menu. My impression is that this isn't some sort of "Go on a diet!" harangue, but rather a win-win as far as their aesthetic and not having to dispose of used grease the way many restaurants do.

The still itself is part of the main distillery building. The tall, four story 44 ft Vendome Copper tower greets you upon entering the parking lot. It isn't just cosmetic. Inside and on the tour, our guide walked us through the distilling process. This included many large two-story-each stainless-steel and copper vats with temperature controls, holding capacity for the above-mentioned (secret ingredient) water, flavor infusers, and the tall copper still – the distillation column: an impressive custom-built stack shipped in from the OG pros in Kentucky.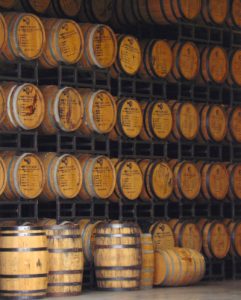 Outside to the west is the temperature-controlled barrel storage and aging warehouse. When we were there its large doors were open. Customers can peek-in from a distance of a few hundred feet or take the tour and go inside. An impressive 5000 barrels are housed within, some nearing five-years old , and some freshly produced, just starting the aging journey. I'll leave the meanings of "Devil's Cut" and "Angel's Cut" to those who take the tour. I previously thought they were simply marketing slogans, but they're real.
 
All of Driftless Glen's creativity doesn't stop with the spirits. Adding to this unique destination is the fact they carry their own brand of Balsamic Vinegar's. Their blended Balsamic Vinegar's and flavor infused Olive Oil – some 30 plus varieties – have allowed them to create sauces and dishes of tasty uniqueness. Think Balsamic vinegar and oil dressing with a hint of raspberry, or a hint of chipotle, or a hint of mango, or a hint of mint! Or a hint of coffee bean, or a hint of soy, or a hint of Green Chili Pepper, or a hint of you name it!  And some aren't just hints – they're flavor-mouth "Ka-Pows!" They're not going overboard in the restaurant, so no need to be afraid of the menu, but they are slipping in new ideas here and there.

These same balsamics have made their way over to the bar area as well. Notably in their Old Fashioned'. How do these flavors sound: The Granny Smith Old Fashioned, The Maple Old Fashioned, or the Blackberry Old Fashioned? A dash or two of Whiskey Barrel Aged Bitters and a dash of Renee's Blackberry Ginger Balsamic are among the ingredients that won Driftless Glen "A Top Old Fashioned" in Wisconsin as determined by "The Bobber" – the official web page for Discover Wisconsin – one of the nation's longest running syndicated travel shows. They even made mention of the Blackberry Old Fashioned on the latest Discover Wisconsin feature of the Baraboo area.

These flavored "Renee" brand Balsamic Vinegar and Olive Oils are also available for taste testing adjacent to the gift shop. They too are for sale.

Driftless Glen's wife and husband team – Renee and Brian Bemis, are committed to shaping the establishment into a lasting legacy company, creating an experience and a community through the spirits, restaurant, tours and offerings at Driftless Glen.

My son Sam and I had a great time visiting. The tour, tasting, and meal took about two hours. Thanks go out to Robert our tour guide.     
Thanks for reading!

Visit Website HERE