We're not exaggerating – we have one the best park systems in Illinois. Our well-funded park district is able to maintain over a dozen locations around the city, and provide activities for all ages throughout the year. Our parks are the envy of many larger cities, and continue to improve year after year.
Carnation Park
1 Webster Street, Oregon IL 61061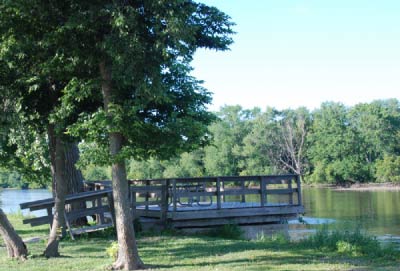 Carnation Park consists of approximately 5.5 acres along the scenic Rock River. It is a naturalized park with many areas for riverbank fishing. The natural Midwest prairie has a winding bike trail that travels to the historic Oregon Train Depot.
Portable seasonal restrooms

Parking

Bike trail

Fishing

Observation deck
Fairgrounds Park
607 Fair Park Drive, Oregon IL 61061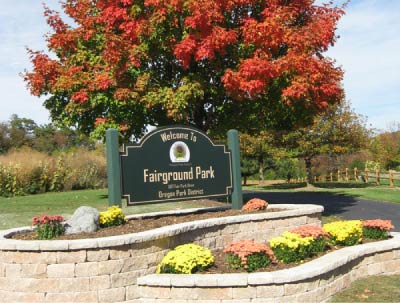 Fairgrounds Park is a neighborhood park that was once the site of the Ogle County Fair. The bike trail travels through mature oaks and a small prairie on the north end.
It also boasts a ball diamond, shelter, grill, gazebo, playground, open play area, basketball court, and a walking trail.
Playground

Restrooms

Shelter

Backstop

Bike trail

Cooking grills

Picnic tables
Jacks Landing
801-945 Lafayette St, Oregon, IL 61061, USA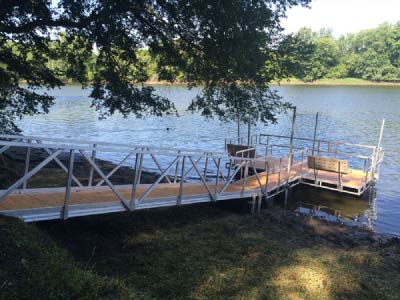 Jacks Landing is a 10 acre site located at the corner of 2nd Street and Lafeyette Street in Daysville. The property was generously donated by Craig and Bette Williams on November 25, 2013. Currently park users can enjoy almost .5 miles of hiking trails and riverfront access for fishing and canoeing. The Oregon Park District plans to further develop the property with a fishing pier and canoe portage. Jack's Landing is a unique property that will provide endless possibilities for nature enthusiasts.
Kiwanis Park
201 N 2nd Street, Oregon IL 61061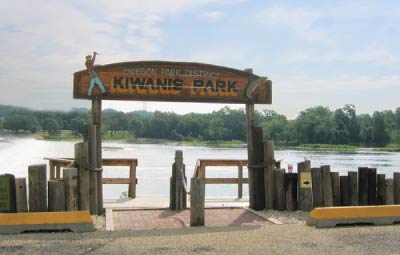 Kiwanis Park is a 2 acre site along the riverfront at the west edge of the Oregon dam. It is close to downtown and directly behind Conover Square shopping center. The site is a popular fishing spot and viewing area. Fishing is available below and above the dam. There is a panoramic view of the Rock River Valley, which includes the Blackhawk statue. The park is also home to "From the Waters Comes My Bounty" statue, the first sculpture of the 'Community Art Legacy Program.' The park was owned by the Illinois Department of Natural Resources until it transferred ownership to the Park District in September 1997.
Shelter

Picnic tables

Parking

Fishing

Seasonal portable restrooms

Cooking grill
Lions Park
809 Webster Street, Oregon IL 61061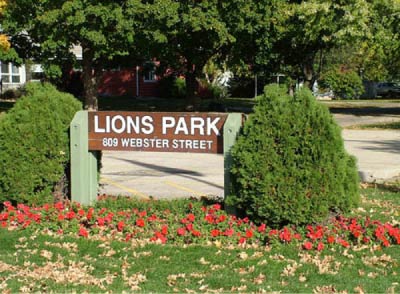 Lions Park is a neighborhood park that hosts the minor and little league baseball season in Oregon. The park lies adjacent to Veterans Field. This park was donated to the City of Oregon and the Park District purchased the park in February 1985.
Lighted ball diamond

Playground

Restrooms

Picnic Tables

Shelter

Parking

Cooking grill
Mix Park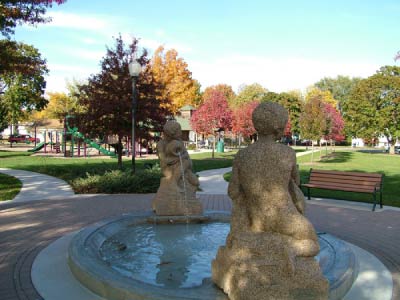 Mix Park is a 2.5-acre site, leased from the City of Oregon by the Oregon Park District. The Park was renovated in 2001 and won the Illinois Parks and Recreation award for Outstanding Facility and Parks in 2002. Mix Park is host to the annual Fields Project Art Festival and is home to Lorado Taft's "Boys with Fish" sculpture and Jeff Adams "Paths of Conviction, Footsteps of Fate". This park was donated to the City of Oregon in March 1920 by Mrs. Howard Slagle.
Restrooms

Picnic Shelter

Playground

Basketball court

Picnic tables

Cooking grill
Oregon Park District
304 S. Fifth Street, Oregon Ill. 61061
Our Mission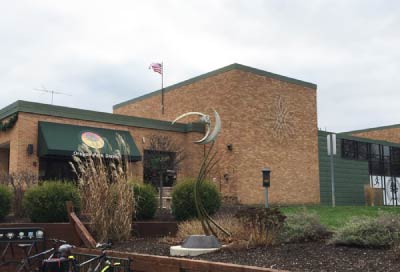 "To provide quality services through programs, parks and facilities to fulfill the needs of the community in a fun, safe and friendly environment."
The Oregon Park District was established in 1967 "to efficiently, effectively and equitably provide the highest quality recreation programs, facilities and park resources in cooperation with all community resources to enhance the quality of life for the District residents and visitors". Since then the District has acquired over 140 acres of park land at ten different park locations in the Oregon area. Outdoor facilities include several baseball/softball diamonds, playgrounds, basketball courts, tennis courts, walking trails, sand volleyball courts, a concert area, two horseshoe courts and river fishing areas. In addition, several picnic shelters are available for group rentals. The District also operates both the Nash Recreation Center and the Blackhawk Center.
Visitors to Oregon staying at one of our Bed & Breakfasts or campgrounds are always welcome to take advantage of affordable daily passes to Nash!
Oregon Park East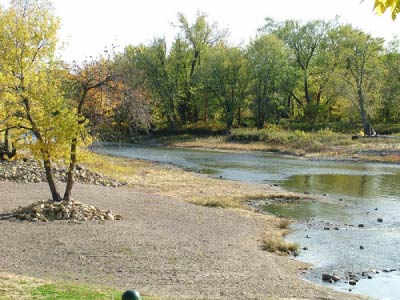 Oregon Park East is a 23-acre site that is divided by River Road. There is access above and below the Oregon dam for fishing and canoeing. It is home to the historic Chana School and hosts the annual Autumn on Parade car and tractor show. The observation deck rests along the east side of the Oregon Dam overlooking the Rock River Valley as well as Downtown Oregon, including the courthouse steeple.
Ball diamond

Basketball court

Restrooms

Shelters

Parking

Playground

Cooking grills

Picnic tables

Bike trail
Oregon Park West
701 West Oregon Trail Road, Oregon, IL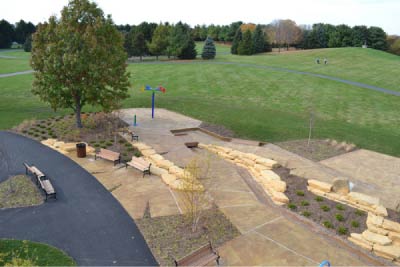 Park West is a community park that offers a wide variety of activities. Concerts in the Park, Easter egg hunt, Bicycle rally and High School sports are just a few of the events that take place at Park West every year. The park is surrounded with a bike trail that wanders through prairie, pines, and oaks on the north end and athletic fields on the south.
3 Parking lots

2 Restroom facilities

3 Shelters

3 Drinking fountains

4 Tennis courts

2 Lighted basketball courts

2 Lighted baseball diamonds

7 Soccer fields

2 Sand volleyball courts

2 Horseshoe pits

2 Playgrounds

Cooking grills

Picnic tables
Prairie Side Skate Park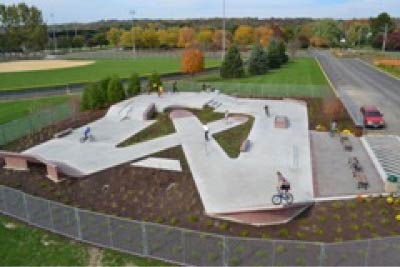 Located within Oregon Park West, the Prairie Side Skate Park is open during daylight hours.
Wiggly Field Dog Park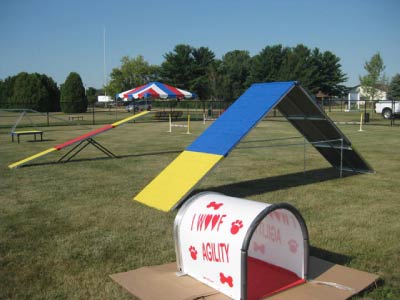 Officially opened in July 2012, Wiggly Field Dog Park is the first off-leash dog park operated
by the Oregon Park District. The dog park is a 1 acre fenced off-leash area with two separate
entries for safety. The park is divided into two separate areas. The first being an open running
design and the second is an agility training area. The park offers water fountains for people
and dogs. Wiggly Field off-leash dog park is open seven days a week from dawn until dusk.
We ask all owners to have fun, but be responsible.