When I think spring, a certain fervor wells up inside. It's not just the warm weather but something much deeper, maybe bordering on primal. That something is an elusive mushroom- the morel. Not many things can bring that much excitement to an area like this odd-looking mushroom. In the Driftless Region there are probably only two other things that muster this much excitement, and they are deer hunting and the Packers.
For those who aren't familiar with the Morel mushroom let me bring you up to speed. They are a highly prized wild mushroom with a unique nutty/meaty taste. Their appearance is as unique as their flavor. Morel mushrooms have a pitted honeycombed cap attached to a stem. What makes them so special is that they are a true wild food delicacy because they haven't really been successfully grown by mushroom growers. Therefore, at farmers markets they can command a hefty price. I have seen them sell for $80/pound. They are literally woodland gold. Like many of the great things in life that are fleeting, the season is only a few weeks long at best. I think my first encounter with this mushroom happened at about the age of 8. It was a warm day in May and my grandpa was mowing grass on the edge of the yard when he hopped off the rider and carefully plucked a handful of Morels from the ground and took them in the house. He soaked them in water for a few minutes to clean out the sand and grit. Then fried them in a cast iron skillet with butter, and I was immediately hooked!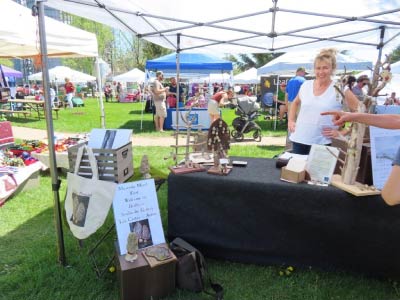 As a seasoned woods walker, and wild food forager, I have found that Morels have three growth patterns. They can just grow singly, or in a small cluster. However, the third way is what causes morel frenzy in the first place, and that is the "Mother Load." The motherload is when you find 40-50 or more around a single tree. I have only twice found over 70 that way. A few years back I was taking a friend out to show him "the ropes". We had moderate success, but nothing like our minds could conjure. At that point in the morning, I had remembered other woods that I had found a few Morels in the past. We hiked into the woods, and I saw a perfect Elm tree in the distance. The only way it could have been better is if a column of light shone down on it and the sound a choir was in the background. We quicken our pace towards it and were rewarded with a motherload of mushrooms. I can recall it like it was yesterday. It's odd how unexpected events can cement those memories and all the small details about them. We parted the plants around that tree, and I saw my first cluster. I announced I SEE SOME! My friend went to the other side of the tree and proclaimed the same thing. Part of the thrill of a mother load is that when you bend down to harvest those your eyes are scanning the ground around it, and you just keep seeing more clusters. We had experienced something that morning that I have since termed Morel Delirium! It's when the joy of the moment changes you so much your friends wouldn't recognize you in that moment. You will be bubbly, excited and lose track of time. Morels are so powerful they can change your whole character. There was fast bubbly talking, and the pure joy that only a child experiences with a new possession. We were very excited and talking so fast that our conversation was rather breathy as we tried to keep our breathing matched to our excitement level. You have all seen a child try to explain something so fast that they run out of breath. It was like that. I do recall lots of pointing going on that day as well. Like, look over with a jutted index finger, I can see 4 more in that bunch. As if pointing harder makes the mushrooms somehow more visible. All in all, that tree provided close to 80 mushrooms.
Now when it comes to finding Morels there are many secrets, and I will divulge a few for a neophyte mushroom hunter. Mushrooms usually have a relationship with a host species. For morels, it's trees. Elm being the best, but they can be found with others, Ash being a good second choice. They grow on the ground around dying trees and can be found in any part of the state, but the Driftless is ground zero for success. They prefer the rich hilly land that makes up the Driftless. A good time to be in the woods looking is when dandelions and lilacs are starting to bloom. Start looking on south facing hills, and always start at the bottom. They are easier to spot when looking up the hill as they push up the leaf litter.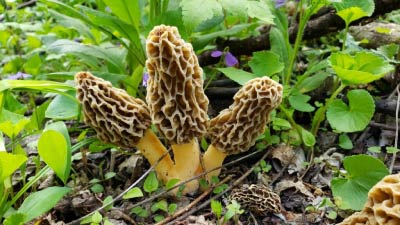 This past May I got to attend the granddaddy of events for Morel hunters. I attended the Morel Festival in Muscoda. Muscoda is a small historic town situated on the lower Wisconsin River. It's 50 miles Northeast of Prairie Du Chien. The town is located in two counties Grant and Iowa. People have been celebrating Morel's at this festival since its origins in 1982. This is a great family event that is spread out along the length of the main street. It had all the usual trappings of a small-town event. Bounce houses for the kids, flea market, food vendors, car show, art and crafts, and a parade. Making my way along the main street there was an amalgamation of food flavors hanging heavy in the air. There were all the usual scents, brats, burgers, fried food, and kettle corn and then there was the unmistakable aroma of deep fired Morels! Of the many vendors there I spoke with a few. I chatted with local author J.L. Friedrich who writes about Wisconsin with an emphasis on the Driftless area. He said much of his inspiration comes from the beauty of the Mississippi river and bluffs. The Driftless and Morel vibe was very apparent at the arts and craft fair with many items dedicated to both. One of the vendors Liz Carter, owner of Driftless Studio from Mineral Point, had ceramic morels mushroom magnets from her gallery for sale. She said, she couldn't imagine living anywhere but the Driftless Region. The parade was a nice way to cap off my time at the festival. All while working my way through the event the main topic, of overheard bits of conversation, was morel related. Countless times I overheard phrases like "dead elms are the best place to look, warm days after a good rain, South facing hills" etc.
If you are looking to learn more about Morels or want to try this woodland delicacy without exploring the woods to find them. Then the Morel Festival in Muscoda is the festival for you. It's a great way to spend a nice spring day, in a historic small river town, in the heart of the Driftless.
A few other places in town.
Vicki's Cozy Cafe
Copper Lounge
Honkers Dining, Lodging, and Spirits
Meister Cheese

By Vincent Aiello