In La Crosse, we are only blessed with the number of activities in the winter based on the weather, and let's face it, there are not many days that I care to be out in the negative temperatures with the insanely brisk negative wind chills we have in the driftless region. Makes me wonder how the glaciers missed our area… but I digress. So, when I heard about Beer By Bike Brigade hosting bingo, I was so excited. Beer By Bike Brigade has been a part of the La Crosse community for a good while now. They are a group of individuals that have been on a mission of connecting people, helping businesses and non-profit organizations, through their fundraising with events and donating right back into our community. They truly do enrich the local La Crosse Area with their kindness and their heart for connecting people to people. Beer By Bike Brigade is more than just a group of bike enthusiasts who bar hop by way of traveling on bikes, they have hosted smoke outs, movie nights and film festivals at the local Rivoli Theatre, made donations to Gundersen's outpatient nursing staff, promotional posting about local businesses, buying local business gift cards, meeting with local people and students to engage in helping in their missions towards a better community, even recently purchasing $1000 in Girl Scout Cookies and now they are hosting bingo every single Monday evening which is raising funds for so many amazing organizations, ideas and helping local students and families.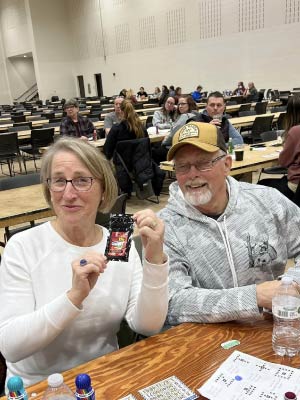 Monday night bingo started in a much smaller building downtown called The Main event space and the event grew so quickly that they had to move it to the La Crosse Center's North Hall. That grew which as well put them in the South Hall ballroom and then recently they had to make the move due to a record attendance last week of more than 1100 plus people. It is absolutely astounding at the growth of this game and the amount of good it does for so many organizations.
How it works is each week a non-profit organizations or group is featured, and they volunteer to man the front tables to sell bingo boards and daubers, stamp the arms of eligible winners who show up before 6pm's first call, call the numbers at bingo and help with the raffle ticket sales. In turn the organization get to speak about their organization as an introduction to what they do, who they help, and why they wanted or need the funds they will receive. They are giving a stipend for their efforts, and this also promotes them so many more individuals in our community know about them and tend to donate or volunteer or participate to help their mission. From what I hear is that Beer By Bike Brigade is also going to try and pay off the La Crosse School districts breakfast and lunch deficits this year.
Each week Beer By Bike Brigade also sells some sort of a raffle tickets. Over the course of the many weeks I have been attending it can range from a 50/50 raffle, kitchen small appliances, electric scooters, gaming systems, various electronics including tv's, gift cards to local businesses in the amount of $100-$3000, a trip, a hotel stay, a choice your size mattress from BoxDrop La Crosse – Mattress Clearance Warehouse and this summer they are even giving away a car. The raffle tickets numbers are called just prior to the black out round of bingo.
If that isn't enough to already solidify wanting to go for the greater good well then maybe the cost verses the paying out will. The cost is $10 for a set of 10 individual boards. This includes nine rounds of bingo in different formations that are shown in a diagram that is set on the table as an example. It is not your normal one line across, diagonal, or vertical bingo which makes this an even more thrilling bingo game in my opinion. There is always a secondary bingo winner as well and this is where multiple people usually win. The secondary bingo winnings have been from local businesses like Cannabiz Depot edibles, cupcakes from Cup Cake Artistry, gift cards, lottery tickets, even a free bingo game card and so many others.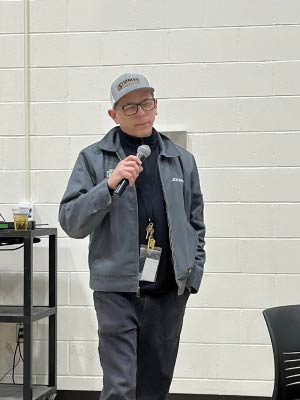 The newest edition, and my absolute favorite, is playing a "brown out" card… which isn't often. When it is offered it is much like the blackout cards in that it's played until someone actually wins from browning out the whole card. These cards are purchase separately for $1 each. The jackpot for winning is based on 50% of the sales just for those brown out card sales alone. Not everyone wants the extra game, nor does everyone play the game, so it increases your chances of winning and the jackpot is usually around $400-600 which are some pretty sweet brownies.
The final round is a blackout bingo in which each week only a certain number of balls will be called in order to win the jackpot. Each week that number goes up by one more ball being called if no one wins. I have seen it go all the up to $12,000 before someone won. Now all of this can change over time, but heck for a $1 bingo board that's a very large pay out. But it would not be a Beer By Bike Bingo without multiple winners even for the blackout round of bingo, so they do a secondary prize and continue to call numbers until someone wins. This last week the secondary bingo was $50 and they must have been feeling generous because they wanted to give away more $50 winners and went for a total of 3 rounds of winners where almost 10 people were given checks. Clearly the money made is flying out the door with this game so don't miss out!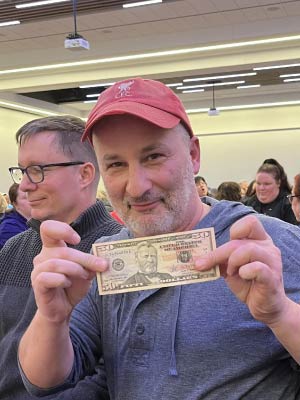 Each night there is a cash bar available. Most times it is also stocked with candy and other edibles. Each week they were supporting and featuring a different local businesses food at the events which ranges anywhere from $7-15 for a meal. Most recently I have seen that the La Crosse Center picked up on just how much everyone wants food, and they cater the food through their concessions. You can find out each week what the dinner options will be by checking the Beer By Bike Brigade Facebook page posts. Which I should mention you can always find all the information on where, when, how much the jackpot is at, and who is catering on those same posts and their page.
My only experience with bingo, prior to this, was when I was a little girl and my grandma would take me to the Harry J Olsen Senior citizens center and she would call the ball numbers out as a member of their board. So, this experience is well beyond that level of bingo. I was first invited by my friend Sue of What I Need Now. Her organization also was a guest caller and she told me just how fun it is. Sitting with her I had met some very fun and interesting people. I became a fan and won a couple of the single games, but it wasn't really the winning that brought me back over and over again. For me it has been the people I get to meet. I joke with my friend Jessica about how we play a social roulette game of sitting at a new table every single week and meet new people from many different organizations. I have met a comedian who went to school with Joe Pescici who was on his first date with a young woman he met on tinder and that conversation was hilarious due to the number of prying questions and his jokes. I have met some very kind people who have done some amazing things in our area like a woman who runs a book bike library to reach those who may not be able to get books at a local library. I have met realtors, the parents of my old friend from my high school, an old teacher of mine in grade school, multiple non-profit owners, volunteers, all the way to just regular individuals wanting to have an escape from the normal mundane lifestyle we live in the Midwest. I would implore anyone to try this method to meet new people if you are a chatty Riley like I am.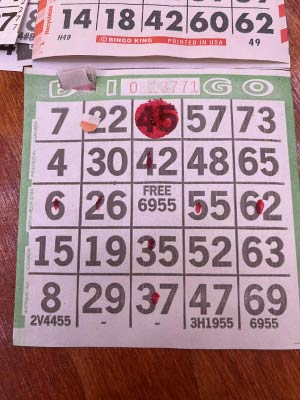 I am formally inviting you to join us and to invite your friends and family, your boss or co-workers and get out for a night of fun and do everyone a favor and teach your table how they can only win by the patterns, ( trust me when I say those who call it without actually having the pattern often times are starred and some even get booed… which is meant to be funny.) the last thing to know is to teach them how to YELL BINGO. When they do the whole room often lights up with cheering for them. Those who are shy and don't get heard often hear the groans of others when they didn't win. So lets light the room up with character, laughter and supportive uplifting "Let's Bingo. Good Luck Everyone!"
The doors open at 4 pm usually and first call is at 6pm. This has turned into a year-round event. You can find out each week on Beer By Bike Brigade's Facebook page all the information what organizations will be benefiting from various happenings that week.

By Riley Hunter