Here's a quick way to remember which lake is which in Madison. I moved here from La Crosse, WI four years ago, and it took me about a year and a half to get the lakes straight. There's Mendota and then there's Monona. Why'd they name two similar lakes so close to each other with similar names? Who knows. (To purposefully confuse everyone else in the state, no doubt.) It's like parents naming their twins Herman and Sherman. Don't do that! Anyway, it's alphabetical: Mendota is the one with a "D" while Monona is the one with an "N." … Reread it. Let it sink in. … "D" comes first in the alphabet and so, that lake is on top. "N" follows a good-long-way down the shelf, so therefore, "N" (Mon-o-N-ah) is second: It's underneath the first one. Mendota is on top. Monona is on the bottom. Make of that what you will.
Both lakes are built up with housing most of the way around on each. (Lakefront property being THE BEST and all.) To be fair, each lake has a decent amount of public neighborhood parks and beaches with affordable canoe and e-bike rentals. Both have a quarter or more of their shorelines set aside for wetlands, so I can't be too snarky. And to be fair, the sunsets and sunrises over both lakes are somewhat worth the property values.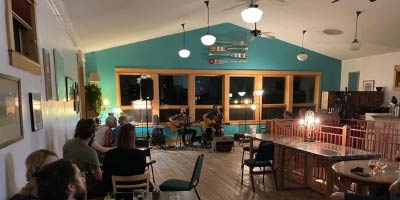 Downtown restaurants up on third and higher floors have some great lake-views, but a lakeside view at an affordable restaurant – ground level – is a rare find around these twin bad boys.
All this is an overly big introduction to the Lakeside Street Coffee House, which is humble and funky, and importantly, in a quiet neighborhood away from Madison's bustling downtown. It overlooks a western lobe of Lake Monona (with an "N") and is situated in an older neighborhood that, back in the 40's & 50's (I'm guessing) comprised one of a small, very small commercial district. Think just four businesses – all gathered around a railroad crossing. The crossing itself now gets used infrequently. Railroads penetrating into downtown Madison are only used for deliveries to the eastside or campus power plants, and the UW AG department among other odds and ends. Here the tracks pass by the Lakeside Street's café seating area, bend gently across the lake, and eventually merge into the iconic Monona Terrace Tunnel.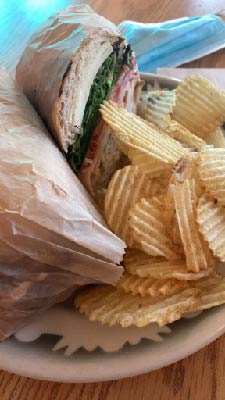 As many Driftless readers may know, Wisconsin outdoor café seating is pretty great from late-April to mid-October, when it's below 90 degrees, and not storming. What many may not know is that Madison, generally speaking, does something supernatural to keep the mosquito population way-down. It's both a "Do I really want to know how they do it?" situation and a "Hey! Your tax dollars at work!" situation. My guess is mosquito control is futile on both Lake Michigan and the Mississippi River due to the enormity of both, whereas Madison has the right mix of on-water population and city infrastructure to handle the buggers. (I'll ask around and get back to you later – M) Back on point though, no one is drinking morning coffee and smacking their arms constantly at the Lakeside Street Coffee House's outdoor seating area. Also, the area is shaded under some big old-growth trees. So, though it has a view of the lake, it never gets too sun baked. They catch the morning sun from roughly 9 to 11.
Lakeside Street Coffee House's menu provides specialized breakfast and lunch sandwiches, locally ground coffee, espresso with flavor shots, and tea with loose-leaf varieties. Partner bakeries provide scones, donuts, and the like. They also serve select beers and wines for lunch. They're hours are 8am to 3pm Mon thru Wed; Thurs, Friday & Sat 7am to 3pm; and Sunday 8am to 2pm. Quiet study time or chill gatherings encouraged. Live music hopes to return soon on weekend afternoons. While the shop front appears modest with antique lamps and fixtures in the window, the interior is larger than expected as the building reaches back with big windows overlooking Monona Bay. With this in mind, the place is available for catering and reception-style events as well.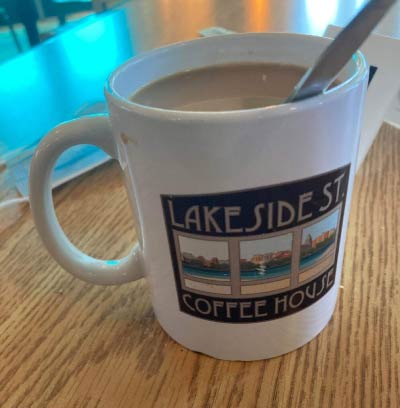 I paid them several visits throughout 2022. At first, I was just being snoopy and checked their Lakeside Street-facing window displays. The second time, a few weeks later, I went inside and looked around. Again: deceptively large with five distinct "rooms" and seating sections. Yes, five. In another setting or in a non-residential neighborhood, this could be a steakhouse… or a roadhouse.
First is the front, cozy café — this begins on the Lakeside Street sidewalk — filled with the classic mismatched chairs, small coffee tables, and people drinking their bottomless coffees and tacking away on laptops. Half of everyone has their earbuds in. Though it has a door right on the Lakeside Street sidewalk, this is not the main entrance. Maybe it was some years ago, but now they ask you to please enter around on the right side. However, on this particular visit, I was a doofus, and went in this door. I missed the sign.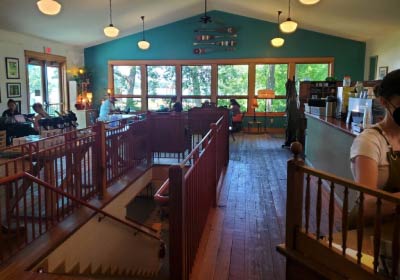 Further-in is the big, main café with a high arched ceiling. A dozen matching tables are spaced throughout the room. Local artists have paintings and photography for sale displayed on the walls — as is the classic coffee shop way. The main barista prep area, menu board, and host station occupy the front quarter of the room, (over by the real main entrance). This room is the hub. On the west side, sliding doors open onto an outside raised deck with a few tables. The main outdoor café sits on the southeast side, contains a half dozen tables under shady trees, and overlooks the bending railroad tracks, trestle, and the lake.
Lastly, seating section number five, is in the basement. Down a wide flight of steps in the middle of the main room and aided by a thick, antique-seeming wood rail, the basement section is similarly cozy with couches and low tables. Because the whole building was constructed on a gradual slope down to the lake, the basement doesn't feel subterranean.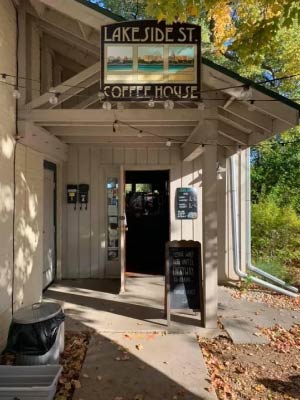 On the third visit I brought my son, Sam, and we had coffee and turkey sandwiches. We ate in the main room and appreciated the large windows that overlook the thatch of trees in the foreground, the playground and beach in the middle ground, and Lake Monona in the background – not to mention the State Capitol dome not too far beyond. The sandwiches were tasty, served with chips, made with crusty (but not too crusty) artisan bread, and were medium-big sized for the price. They go for quality over quantity on the menu. The colorful chalkboard lists something like four lunch entrees, four breakfast main options, and then a dozen ala carte breakfast and pastry add-ons. One of their breakfast options was a ham, egg, and cheese sandwich. So, I asked for my turkey sandwich plus ham. (I've been on a ham and turkey kick lately. I don't know why. Just have to ride it until it's done.) The hostess said, "Sure, no problem," with an agreeable head nod as she wrote down my order.
The whole location is just… really great/bordering on idyllic. It's not over commercialized. It's a stone's throw from residential but secluded into its own junction enough that they can have live music on weekend afternoons and not bother anybody. The Lakeside Street Coffee House has a funky boutique neighbor on the left; the seldom used (if ever) railroad tracks on the right. Another old 1930's era hardware store building on the far side of the tracks with a huge, three story, aquamarine mural painted on the side depicting tropical fish… because why not?  The café tables beneath the trees are hooded above with triangles of tied fabric, so as to catch leaves and seeds and such. The whole place is very tied into the neighborhood and the scenery. I love it. 

By Matt Schumann