The Driftless Yoga Festival in Decorah Iowa is a beautiful immersion of diversity, inclusion and equality! When you arrive, you are greeted by the smell of clover and the beautiful driftless hills. The energy of intentional beings there are for guidance, inner work and community experience is inspiring! The offerings presented over the weekend are nothing short of elevating, engaging and immersive.
During my time at the yoga festival, I enjoyed a beautiful array of offerings in Pranayama Breathwork and Ecstatic Dance.
Dr. Sandar Balasubramanian invited individuals during his offering to participate in various forms of Yogic Pranayama breathing exercises. He describes how breath has the power to change the body. This was extremely powerful! He further discussed different types of breathing to aid in swallowing, speech, and snoring. Additionally, this practice can help to calm and increase oxygen to specific areas of the brain. Dr. Sandar has done much research on how breathing can help to regulate emotions, anxiety and stress. He truly shows that breath can impact the body as a whole.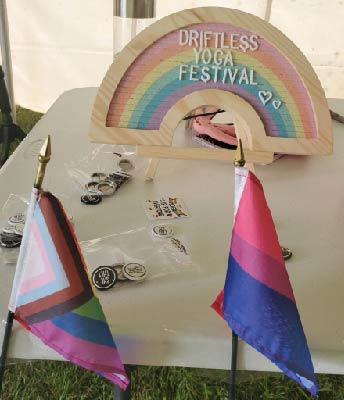 This practice allows for intention to focus on your inner self and move through different areas that you may not have realized need focus. I would additionally recommend reviewing his books which I personally took home to aid in my practice. My personal favorite is "Mind Your Breathing" wonderfully written to heighten spiritual awareness and includes 37 pranayama exercises. I have found this book to be extremely helpful with intention, spiritual focus and mindfulness.
Ecstatic Dance with Haley Niichel has to be my overall favorite! All participants gather under a large tent seated on their yoga mats. Haley moves you through intentional breath-work to set the body's intention. While doing this you are immersed in free flow music with Bluetooth headphones that allow for free and uninterrupted movement. The class then moves you into a freeing and transporting experience where you dance to various higher energy free form electronic music. All participants are encouraged to follow their calling with most moved to dance; transporting them to another dimension letting go to find personal inner healing. During my time in this class, I focused on inner child work as well as setting the intention for future goals. I let the music and my body unite in a beautiful way to let all worries go. As the music started to calm, individuals were encouraged to come back to the tent and rest for a cool down period of stretching and mindful-breath work. It was a beautiful serotonin rush paired with intention.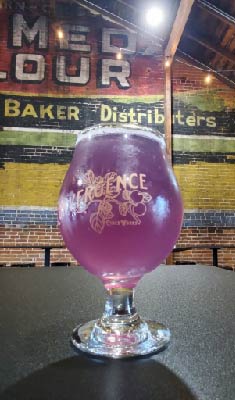 In between classes I frequented the merchandise, vendor and snack tent. I partook in purchasing a few of their logoed items as well as a beautiful discussion with Rebecca Sebastian who has her own tea and yoga therapy. The best part is the proceeds from the merchandise go directly to local nonprofits!
When visiting I would highly recommend checking out Convergence Ciderworks. They have six different ciders and a fully furnished Airbnb above what once was an old lumber yard. My absolute favorite cider is their elderflower and honey with both tangy and sweet notes.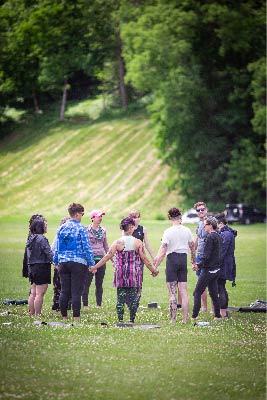 Oftentimes we find ourselves in the "rat race of life." In a world of more, faster, bigger, better it's so important to immerse yourself in your inner work. Oftentimes when we do not take time for ourselves, we can lose a part of what makes us who we are. The Driftless Yoga Festival is a beautiful way to reconnect with parts of you that you may still be working on or parts that you are ready to share with a beautiful community. The space is open, diverse, immersive and inclusive to all. It is additionally a great way to support others in the community as ticket sales go to help nonprofits in the area. The amazing mastermind behind the Driftless Yoga Festival Laree Schouweiler has created a beautiful space for all individuals from all walks of life to come together and create something truly beautiful and inspiring! For more information check out Driftless Yoga Festival.
A few great places to stop while at DYF.

Oneota Food Co-op– offers high-quality, organic, and locally-sourced products. They also have a deli with made-to-order sandwiches, soups, and salads.
Impact Coffee– check out their high-quality drinks made from locally-sourced and sustainably-grown coffee beans. and selection of teas, smoothies, and baked goods, including vegan and gluten-free options.
Pulpit Rock Brewing– a microbrewery and cozy rustic atmosphere of the taproom. Also has live music and trivia nights.

by Briana King