Cuba City, called the "City of Presidents" for its long-running bicentennial celebration featuring presidential shields adorning lampposts along Main Street, is quickly becoming known for something else – a place for tourists to spend a day antiquing and obtaining some high-quality meat and cheese.
Antiques galore
The city of just over 2,100 people features antique shops full of tantalizing treasures, familiar objects and hundreds of items you may have never seen before.
"It's like a trip down memory lane," said Becky Thommen, owner of Junque Stops Here. "If you can't find something that interests you, you're not looking hard enough. There's a story around every corner."
Junque Stops Here, opened 8 years ago, features more than 35 dealers featuring antiques, vintage, primitives, folk-art, breweriana, furniture, jewelry and handcrafted and up cycled items. Vintage and antique bottles and jars cover a small wall, floor to ceiling. Even older bottles, fishing lures, dentures, books, bells and cigar boxes fill Thommen's cabinet of curiosities.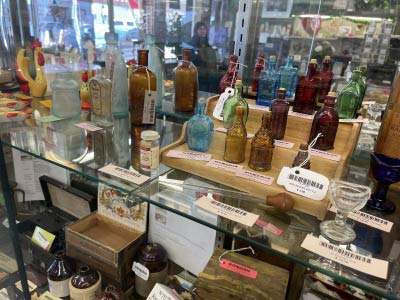 Thommen, age 33, is the youngest of the antique shop owners in Cuba City. Lucille Thiltgen, 92, owner of Tin Lantern Antiques, is the oldest. She's operated her store for 24 years. Before that, she raised her family and farmed, and always collected antiques.
"This gives me something to do rather than sit at home and watch TV," Thiltgen said. "Visiting with people is the good part."
Thiltgen's store feels like an intimate flea market of the past that leans more toward items for use than antiques for display.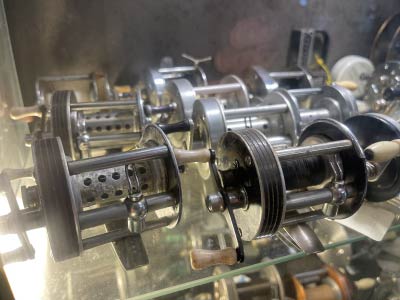 Carrie Ruttman's store, Antiques Unlimited, is a pleasant maze of antiques and vintage items, some catering to men. Fishing reels wait under the lights of a display cabinet. A large room in the back of the building with relaxed lighting and creaking floors transports customers to simpler times.
Ruttman, who says she's close enough to 90 to say she's 85, has been operating the antique store for 40 years.
"I like the looks of our old building," Ruttman said. "Nobody knows here where one begins and ends. It makes for a fun adventure."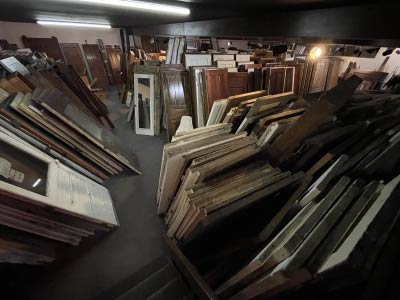 Ruttman and Julie Walter, who works at the store, say Cuba City is becoming a destination for antique shopping.
"We get customers from all over," Walter said. "People say they come to town to pick up their meat and cheese and they stop into the antique shops to see what's going on."
Something unique is going on at Antiques and Salvage. The store features 21,000 square feet of space that showcases items salvaged from homes, churches and schools. Antiques include bottles, crocks, glassware and furniture like parlor tables and two-piece cupboards. Architectural salvage ranges from doorknobs and stained-glass windows to fireplace mantels and complete staircases. At the bottom of ramps in one room is an impressive collection of doors of all shapes and sizes, leaning into and onto each other.
Meat and greet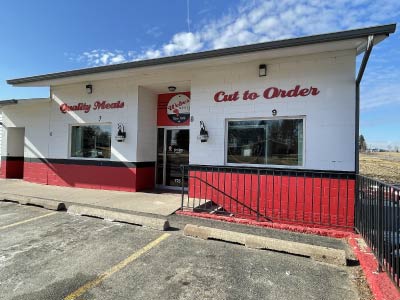 Upon entering Cuba City from the north, it's impossible to miss the red and white building bearing the name of Weber Meats. The butcher shop has been a Cuba City institution since 1931 but has been operating since 1905.
Dan Weber is a fourth-generation owner with his wife, Tracy. The company prides itself on providing quality products that can't necessarily be found at the supermarket or other butcher shops. The recipes Dan uses today haven't changed much, if at all, from the original recipes.
"When you start with a wholesome product and not fill it with a bunch of stuff, you have a quality product," he said. "Yes, you're going to pay a bit more, but you will have something you can eat. There's nothing I see that I wouldn't eat myself or feed to my family."
Weber features beef, poultry, pork, sausage and seafood, all displayed neatly and cleanly in well-lit display cases. Dan, Tracy and the staff are always friendly and welcoming to new and loyal customers alike.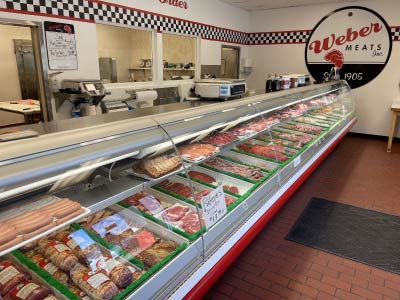 "Customers will say 'I used to come in here with my grandpa.' I hear those stories a lot," Tracy said. "Customers will bring their elderly moms and dads in who used to have meat stored in lockers."
Dan said a loyal customer following is vital to the butcher shop. He has customers come from Texas, Minnesota, Florida, New York and California to buy meat. Many customers are the third or fourth generation of their family to shop at Weber.
"Our customers are very loyal," Dan said. "If you treat them right and give them a good, quality product, that's all you have to do. Be consistent."
One-stop cheese shop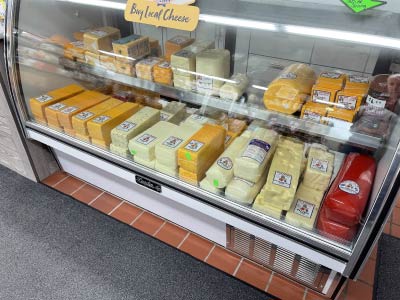 Consistency is a perfect descriptor for Gile Cheese Factory Outlet, which has had a retail location in Cuba City since 1985. The outlet, like Weber Meats, is a destination for city residents, regional customers and tourists looking for high-quality cheese.
"We still make cheese the way it used to be made, with many of the same machines and using family recipes," said Tim Gile, owner of Gile Cheese, which has been around since 1946 when Tim's father bought Carr Cheese, which began in 1921, all at the same factory. "We pride ourselves on consistency. People like coming in because it's pretty much the same all the time. We're not going to surprise you with something."
Gile is known for its award-winning cheeses, including Colby and baby Swiss. The store features a large assortment of flavored and specialty cheeses, including blueberry white and carolina reaper cheddar's.
Gile says his factory outlet and Weber Meats draw customers from the other location.
"When tourists are here in Wisconsin, they think cheese," Gile said. "We're the No. 1 destination in the area for cheese because of that."
For anyone wanting to spend a day antiquing and purchasing high-quality meat and cheese from family establishments in the Driftless Area, Cuba City should be a No. 1 destination.

By: Jim Winter