So, what's your story?
Born in 1956 to Greg & Alma Uhlenhake in Ossian IA .. my nickname was Curly in the early years. I was the 6th of 8 kids Small town girl, living on the farm but on the edge of town. Delivered new papers when I was 10 years old, babysat, ran track and was a cheerleader… left to go to Iowa State and became a teacher for 6 yrs. Always enjoyed coming back home to visit the farm.
Tell us about what you do for work or your business?
My brother Joe Uhlenhake, deserves the credit for creating the Barn into a house. Joe is the one that had the vision turned the Barn into a house back in 2007. Taking the barn and creating it into the Barn House was no easy feat, but with the help of a talented carpenter Kenny Zajicek it became a reality. The Owls Nest is the name we gave the Air BnB since Uhlen-hake means Owl Farmer in German.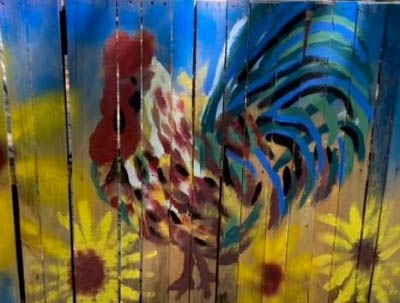 My husband & I just bought the Barn House in February to keep it in the family and we are excited to get The Owl's Nest up and running for people to come enjoy the barn for fun and relaxation in Ossian Iowa.
Tell us about a project or accomplishment that you consider to be the most significant in your career with your business.
I think the most significant accomplishment that I have done in my life is raise two beautiful independent daughters that have gotten their degrees and are contributing back to society. Grew up in the 60's -70's and that is when women thought they could have it all… so I worked the entire time and made a life in medical sales.
Tell us about a recent project or problem that you made better, faster, smarter, more efficient, or less expensive.
This will sound strange, but I am a recent breast cancer survivor and have taken up painting pallets with purpose. So every time I see pallets I am like, Mike can you go make a pallet run. One of my favorites is an Day of the Dead Breast Cancer pallet, along with many other pallet paintings… I love roosters and painted a wooden wall scene with sunflowers to honor Ukraine. Painting on pallets makes junky old pallets look great and brings a smile to people on the street. Cleaning up the junk yards one pallet at a time.
Tell us about one person that you've met, that stands apart from the rest, or has influenced you while here in the Driftless.
I would have to say my mother, Alma whom I nicknamed Almo has influenced my the most…growing up on the farm she instilled hard work and humor. Looking back I am amazed she did it all. The joke to my friends was what is Almo going to be baking at 2 am in the morning when we would come home. My friends loved talking to my mom, because she was interested in what they had to say. My mom had been a teacher and then raised all 8 of us… she would make us do egg runs to Calmar to raise extra cash and do deliveries. I think my moms energy spirit was given to me. She also suffered from breast cancer so we have a connection, that luckily my other sisters didn't have. She taught me to appreciate nature, to enjoy going on picnics, just sitting out in nature and soaking it all in NE Iowa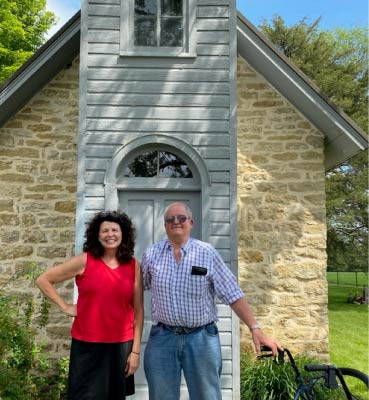 What do you wish other people knew about you or your business?
Well I hope that people will see my adds and story in the Driftless and come back and enjoy a slice of Heaven here in NE Iowa at The Owl's Nest. Appreciate the beauty of the rolling hills of NE Iowa. Explore nature, appreciate the sunrise and sunsets. Glad that after having had time away, you can still come back and see the stars at night. I have always said you have to have a plan man you have to have a plan. And now my plan has come full circle, back to Ossian Iowa and the farm.
How would you describe yourself?
Energetic, positive Vision minded entrepreneurial spirited woman.
What is your biggest accomplishment?
Biggest accomplishment:
1. Raising 2 beautiful independent daughters
2. Beating breast cancer in 2021
Have you read any good books?
Yes, love the James Patterson Books and stories of women who are spies in World War II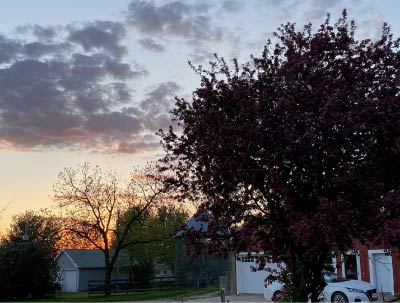 Who is your personal hero?
I would have to say my mother, she raised 8 kids on a farm, she was smart & energetic. She had breast cancer later and life, lost 2 children post polio and from epilepsy and still kept a positive energetic spirit. She taught me the meaning of empathy and humility. She always said you aren't any better than anyone else, but you are just as good as anyone else. She also instilled getting an education…each one of the remaining six kids in our family had college education.
Do you have a life philosophy that you live by?
Ah! That would be work smart and play hard. Enjoy life to the fullest and the glass is always half full.
What do you like most about yourself?
I like my positive creative spirit and the ability to laugh at myself.
If you could change the world, what would you change?
I would change the world so there would be no more hate and that everyone had empathy.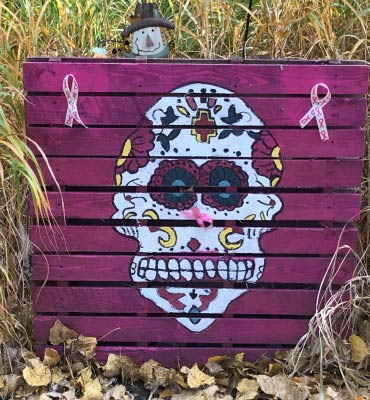 What do you think is the meaning of life?
I would say the meaning of life is that you are here on earth to make a difference and touch peoples lives each day… so why not make it a happy place and put a smile on your face and others
Do you prefer working alone, or do you like working with others?
This will sound weird but I like to work with others, but independently.. I was a medical sales representative for 40 years and I love to drive and explore the countryside… I hate being in big buildings with no windows
What's something that no one would guess about you?
That I actually do like to be by myself at times.. I am gregarious, but also need to have alone time.
What is your deepest belief about life?
That you have to go for the gusto… you have to have goals and keep achieving them or you will get bored.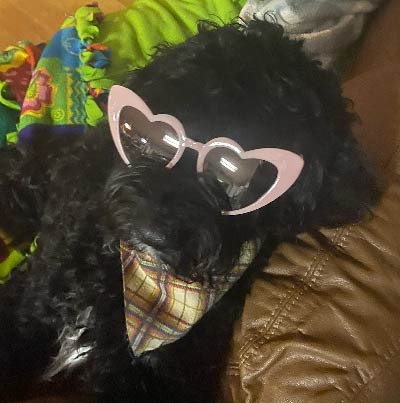 If you could wake up anywhere tomorrow, where would it be?
I would love to wake up in a villa in the south of France… exploring the vineyards and cooking in a beautiful kitchen
If you could be doing anything, anywhere right now, what and where would it be?
At this very moment, because it's cold outside I would be on the beach, soaking up the rays reading a book and drinking a mojito listening to beach music.
What's the one thing you wish you could have a do-over for?
I would like to have a do over for some of my life in my 20's… I started out in teaching, but I wish I would have traveled abroad right out of college and experienced life.
How do you work on yourself?
I would try exercise more,.. fix my knees so I could play tennis again.
Mentally and emotionally I have always made lists of things to accomplish and check them off and make new lists for the next day
What's one thing you've had to overcome in your life?
Breast Cancer just a year and half ago… it was a wake up call… I always thought I was invincible. Now I just live each day to the fullest.
How do you handle being in a bad mood?
Well .. I call my friends, talk to people, drive and listen to music.
Who is the most important person in your life?
I would have to say my children and my husband.
What did you learn about yourself from any of your previous relationships
That you have to depend on you and love yourself first. Not everyone has your best interest at heart… most people do, but there are people who will use you.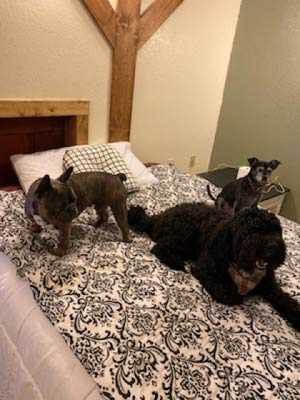 What question do you always want people to ask you about yourself?
Where do you get your energy and how can you stay so positive?
What is your favorite music, or What 'one' song do you think a person should listen to at least once?
I really like the new country rock music. One of my new favorite songs… Maren Morris… if the Bones are Good the Rest Don't Matter….
Brown Eyed Girl by VanMorrison all time favorite.
If you weren't here running your business or doing the work you do, what would you be doing instead?
I would love to be on HGTV flipping houses and being creative…having a sense of humor in front of the camera.
How has this pandemic affected YOU or YOUR BUSINESS here in the Driftless?
I just started The Owl's Nest Air B&B… I think Covid made me more aware that you can do other things in life… you have to follow your passion. I have always been good at sales and promoting and marketing… thinking outside the box and not taking no for an answer.
Having had Covid and breast cancer within the same year, made me aware of how hard it hit the medical community and especially small businesses that rely on tourism.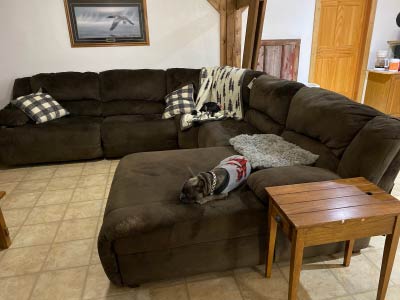 What is another name you would give the Driftless?
The Golden Nugget– because the magazine finds all sorts of Golden Nuggets out there.
What is your favorite season in the Driftless & why?
Fall, I have always liked that period between summer – September, October . The rich vivid colors of the leaves, the patchwork colors of the trees. The wonderful smell, the sunflowers …Indian Summer
Tell us of an experience /memory you had with Driftless lakes, rivers or waterways?
In my previous job I traveled a lot between Wisconsin and Minnesota and there are so many beautiful places, the scenery along the Mississippi is enchanting. Going thru the winding roads in the fall is breathtaking.
Is there any place in the world you have been that reminds you of, or is similar to the Driftless?
Actually parts of France remind me of areas of Driftless.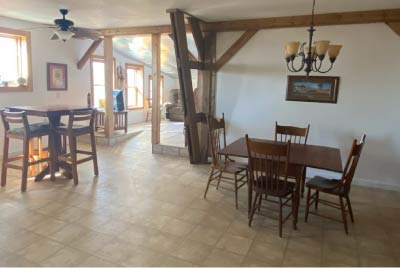 What is your best childhood memory? (Preferably here in the Driftless)
One of my favorite childhood memories is traveling with my family to parks for picnics in NE Iowa.. my mom loved nature and wanted us to enjoy the family at picnics.
What are some of your favorite places to go for fun here in the Driftless?
The Upper Iowa River for canoeing or kayaking, the parks and nature trails, the caves.
What are some of your favorite places to eat here in the Driftless?
Depending what you are in the mood for..Mabes Pizza in Decorah, hole in the wall food places in small towns, each town has something to offer. you just have to ask or read about it. I always ask when I am in a town where are the good places to eat.
If you were to tell a friend to come and visit the Driftless Area, and they ask "Why" … What would you tell them?
I would tell that North East Iowa, South East MN and S.West Wisc is Gods Country…The country side, rolling hills, rivers are beautiful and majestic. All of Wisc. is beautiful and there are many surprises depending where you go.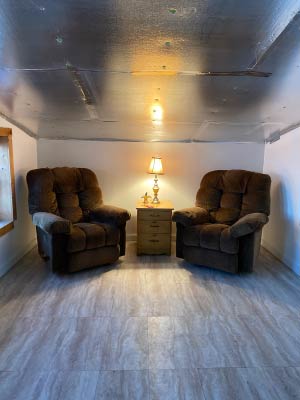 Are you a Cat or Dog person?
Dog
Are you an Early Bird or Late Owl?
Late Owl
If given the opportunity, would you go to outerspace?
Yes
What color socks are you currently wearing?
Black with grey flowers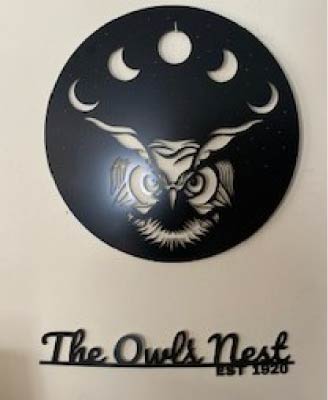 What skill or instrument would you like to learn or play?
The guitar
What 1 message would you put in a bottle?
Be happy with you!
What was your very first job?
Newspaper route
If any, what would be your dream job?
Travel and be on HGTV
How / where did you meet your best friend?
I met my first best friend in Kindergarten…we use to call each other up and sing nursey rhymes on the rotary phone.
What does your dream vacation look like?
Now my dream vacation would be to travel the United States in an RV seeing all the sights and finding out interesting stories.
Tell us a short joke or punchline.
I use to always sing… You have to have a plan man you have to have a plan…..
If you could learn another language, what would that be?
French
I Would Rather …
Live in a tree house

By – Barb Byers