What Does a Dinosaur Named Jane, a Children's Discovery Museum, a Turn-of-the-Century Village and Museum Center, and a Rara Example of Victorian "Exotic" Architecture Have in Common?
Rockford, of course.
Our fine list of museums and Rockford attractions will capture the attention of any explorer and adventure seeker.
Our Riverfront Museum Campus features three museums in one convenient location — featuring Rockford's newest – and oldest – dinosaur (named Jane) at Burpee Museum of Natural History to the more than 250 hands-on children's exhibits at the Discovery Center Museum, to the "most significant collection of Chicago art, inside or outside the city," at the Rockford Art Museum.
Renowned Paleontology expert Robert Bakker once said, "Pound for pound, Burpee is the best natural history museum in the country." That same sentiment could be said for the quality of all our museums in the Rockford Region.
Rockford was established in 1834. Originally named Midway because it was halfway between Chicago and Galena, it eventually became known as Rockford because of the Rock River's rocky ford bubbling near the original settlement. Several museums celebrate the region's historical roots, in particular Midway Village Museum where you can see exhibits featuring our ubiquitous Sock Monkey and the Rockford Peaches.

Veterans Memorial Hall, dedicated in 1903 by President Theodore Roosevelt, is a memorial to those who served and are still serving in our nation's armed forces. Three floors of exhibits feature local veterans of all U.S. conflicts with donated artifacts.

Other great history-rich sites include Macktown Living History Education Center, Ethnic Heritage Museum and Tinker Swiss Cottage. All three give a glimpse into a time gone by in the Rockford Region.
Burpee Museum of Natural History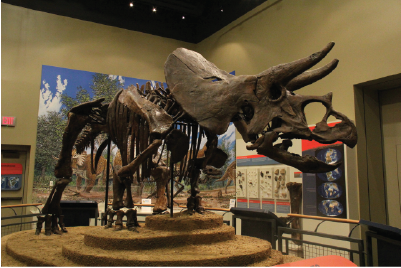 Come explore Burpee Museum and its award-winning exhibits such as Jane: Diary of a Dinosaur, and explore the history of the young T. rex skeleton found by Burpee Museum researchers in the badlands of Montana, called one of the ten most important dinosaur discoveries in the past 100 years. Burpee Museum also features Homer, a sub-adult or "teen-age" Triceratops! Homer was found in the Montana Badlands by Burpee volunteers, just like Jane. Visitors can view his skull and see Burpee staff members working on his bones in the lab.

In addition to Jane and Homer, families can also experience four floors of engaging exhibits. Windows to Wilderness focuses on the nature of the Rock River Valley, and Burpee's Green Roof is the first rooftop garden in Rockford. Other exhibits include a Woolly Mammoth skeletal cast, Pennsylvanian coal forest with simulated thunderstorms, Native American exhibit with full-sized dwellings, Geoscience, and a viewing lab where visitors can watch Burpee Museum staff work on specimens from the museum's collections and recent dinosaur discoveries.

Don't miss Burpee Museum's annual PaleoFest in March.
Discovery Center Museum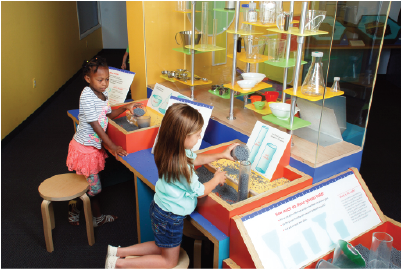 Experience a world of hands-on investigation and fun-filled exploration at this children's museum with more than 250 hands-on art and science exhibits, planetarium, TV studio, special events, traveling exhibits and entertaining classes for children and families. Tot Spot for toddlers. Plus Discovery Center boasts the nation's first community-built outdoor science park featuring 8,000 square feet of wooden fun including a two-story maze, water play area, dinosaur fossil dig pit and a Secret Garden.
Awards and recognitions:
Named one of the nation's top ten children's museums by The National Geographic Society

Named one of the top 12 children's museums in the nation by Forbes in 2012
Designated as a Good to Grow! Museum by the Association of Children's Museums for making significant strides to promote health and wellness.

List of "2014 Top Family Attractions Worth Traveling For" – Flipkey.com/TripAdvisor, May 2014

One of the "10 Best Children's Museums in the U.S." – Family Vacation Critic, April 2013

One of the top ten in "The 12 Best Children's Museum in the U.S." – Forbes.com, January 2012

Family Vacation Critic, September 2018 – named Discovery Center one of the "15 Best Musuems for Toddlers in the U.s."

USA TODAY/10Best.com Reader's Choice Award, February 2014 – named Discovery Center 5th in its contest for 10 Best Museums for Families in the U.S.

Trip Advisor, 2020 – earned the "Traveler's Choice" award based on visitor reviews.

Trip Advisor, 2019 – earned the Trip Advisor "Hall of Fame" distinction based on visitor reviews
Discovery Center is part of the Riverfront Museum Park arts and humanities complex, with plenty of free parking.
Rockford Art Museum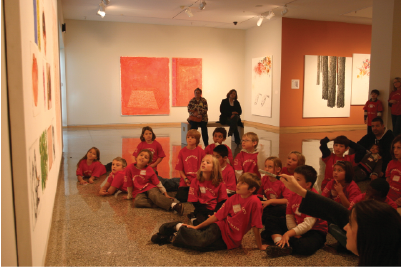 This includes Rockford Art Museum, located inside the Riverfront Museum Park building at 711 North Main Street in downtown Rockford, which is also home to Discovery Center Museum, Rockford Dance Company and Rockford Symphony Orchestra. Burpee Museum of Natural History is located next door.

Rockford Art Museum has been enriching the quality of life in the Rockford Region since 1913 through a permanent collection, frequent exhibitions and lifelong education. More than 1,900 works focus on modern and contemporary art, photography, outsider art, contemporary glass, and regional art with an emphasis on Illinois artists. Its critically acclaimed Spiezer Collection is the most significant collection of Chicago art, inside or outside the city.

Three galleries on two floors showcase major feature exhibitions each year and changing exhibits of work from the RAM Collection. The museum store is a sure bet for finding Rockford-made gifts by local artists. RAM also offers an outdoor sculpture garden and plenty of free parking.

Mark your calendar for annual fundraiser Greenwich Village Art Fair, held rain or shine on the second weekend after Labor Day – it's the longest-running art fair of its kind in the Midwest.
Midway Village Museum
The museum campus consists of a Victorian village with 26 historical buildings filled with artifacts of the era as well as several beautiful 19th century gardens that depict life in northern Illinois from 1890 to 1910. Interpreters in authentic period dress are available seasonally for guided tours.
The main museum building holds large group meeting rooms and exhibit space with a number of permanent exhibits reflecting Rockford's history and culture that include "The Girls of Summer: Rockford Peaches of the AAGPBL," "Queen City of the Prairies: Rockford's First 20 Years," "The Missing Links: Socks, Monkeys and Rockford's Industrial Past," and "Many Faces: One Community".
Midway Village Museum collects, preserves and interprets the history of the Rockford Region and is committed to educating and enriching the community by providing state-of-the-art exhibits, programs and events. Special events throughout the year include The Great War: World War I, Sock Monkey Madness Festival, All Hallows' Eve, and World War II Days annually.
The Victorian Village and Main Museum Center rooms are available for wedding and business rentals.
A free recreational path is located on the property.
Veterans Memorial Hall and Museum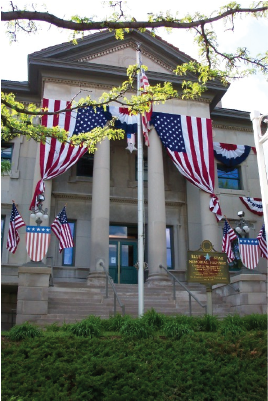 Veterans Memorial Hall and Museum stands due to the vision of Winnebago County residents who wished to honor the memory of those who fought in defense of the United States of America. Today Veterans Memorial Hall and Museum still stands to honor the area's veterans, a living memorial to those men and women who served and are still serving in our nation's armed forces.

Dedicated in 1903 by President Theodore Roosevelt with these words "No fitting memorial could be erected to the men who fought, than a hall such as this – a hall beautiful because of the uses to which it is consecrated". Visitors are greeted with three floors of exhibits featuring local Veterans of all United States conflicts with artifacts donated throughout the years.
Macktown Living History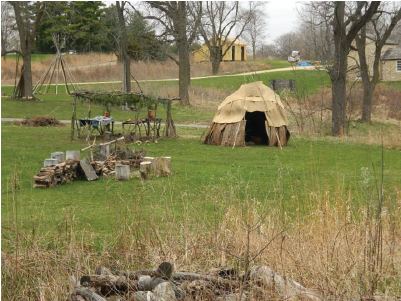 Founded in 1835 by fur trader Stephen Mack, Jr., Macktown (originally known as Pecatonic) is one of the area's earliest settlements. Listed on the National Register of Historic Places, Macktown is where Stephen Mack, his Native American wife, Ho-no-ne-gah, their children and inhabitants of the village conducted their daily business.

Visitors may tour the Stephen Mack home, built near the confluence of the Rock and Pecatonica Rivers. They may also see the original limestone Whitman Trading Post and the recently reconstructed two-story Stevens' Woodworking Shop, which also housed the area's earliest school. Just outside the historic district is the Education Center, which contains many historic and prehistoric artifacts.

Archaeological excavations and classes are held each summer. Events include the Gathering, an annual re-enactment weekend in April, Frenchman's Frolic Rendezvous and a frontier Christmas living history event in December. Workshops, guided tours, classes and field trips are also available.

The Macktown historic district and Education Center are located in the Macktown Forest Preserve, 2221 Freeport Rd. Rockton.
Ethnic Heritage Museum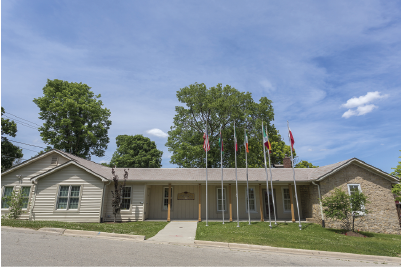 Six nationalities that helped shape the cultural region are represented in this home museum, built in 1850. Located in the heart of the old water power district, the house features a room for each ethnic group it represents: African American, Irish, Italian, Lithuanian, Polish, and Hispanic.

Call to confirm hours and admission fees.

Visit the website for information about current exhibits.

Visitors can receive a docent guided tour every Sunday to see exhibits. The museum is handicap accessible with admission: $3 student, $5 adult and $10 family. Tours may be scheduled other days by calling the museum at (815) 962-7402.

The Graham-Ginestra House and Ethnic Heritage Museum are located in the newly named Heritage Museum Park. Visitors may check in at the Ethnic Heritage Museum – corner of Loomis and S. Main St. – for a tour of both locations.
Tinker Swiss Cottage Museum and Gardens

Tinker Swiss Cottage is a historic house museum located in the heart of Rockford, Illinois. The museum complex contains the historic house museum, barn, and carriage house from the Tinker family. In addition, the property is the home of the founding site of Rockford and contains a Pre-Columbian Native American conical mound. Robert Tinker's inspiration for the Cottage came during his tour of Europe in 1862, where he fell in love with the architecture of Switzerland. In 1865, Robert began building his Swiss Cottage on the limestone bluff overlooking Kent Creek.

Robert surrounded his Swiss Cottage with over 27 acres of trees, vines, winding pathways, flowerbeds, and gardens. A three-story Swiss inspired barn was added to the property which housed cows, chickens, and horses.

On the side of the Cottage, Robert constructed a suspension bridge crossing the Kent Creek. This bridge linked the Cottage with his wife's, Mary Dorr Manny Tinker, limestone mansion and grounds. In 1906, the railroad bought the remainder of Mary's estate. At the end of Robert's suspension bridge, he planted elaborate gardens deemed the Railroad Gardens where passengers could stroll as they waited for the train.

The Tinker family, the sole occupants of the Swiss Cottage, left their home to the Rockford Park District and their household belongings to trustees after seventy-five years of residence. Filled with original furnishings, artwork, diaries, clothing and household items, the Cottage is a rich time capsule of life during the Victorian Era. The Cottage is also one of only a handful of Swiss-style homes remaining in the United States.

In 1943, Tinker Swiss Cottage opened to the public as a Museum and is supported in part by the Rockford Park District.

Tinker Swiss Cottage has been marked as a place of historic significance by the Rockford Chapter of the Daughters of the American Revolution and has been named one of Illinois' 150 Great Places by the American Institute of Architects, Illinois Council. This prestigious award is given to places that have been identified by leading architects as contributing to their communities' quality of life.