Walking into Linda's Bakery was like entering the baked goods version of the Willy Wonka Chocolate Factory or discovering the tangible rendition of a sugar rush.
Stacks of assorted brownies and cupcakes covered the surface of multiple tables; bags of Amish made caramels filled the shelves; a center display buried inch by inch in boxes of pecan rings, full pies, caramel apples, donuts and anything else you could want; everywhere I looked something new and mouth-watering caught my eye.
It took everything I had in me not to walk out with the whole store.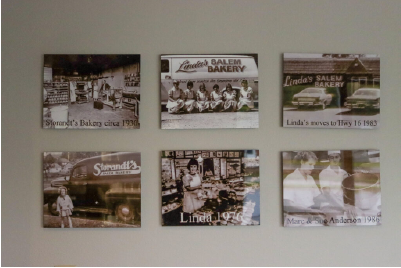 While I was there, I had the pleasure of talking with Bob Anderson, the bakery's current general manager and, the namesake, Linda's nephew. He told me about how he and his siblings grew up in the bakery making what he referred to as "science experiments" and "random inedible concoctions" with whatever ingredients they could find. He reminisced about how at the age of 16 he started as an official employee, and on his first day he knocked an entire rack of unbaked cookies over onto the floor. Many of his childhood memories took place in the bakery, and as he grew, so did the store — both literally and figuratively. A recent remodel added an extension to the building that houses their wedding cake department. The bakery has also focused on growing with the times to offer popular dessert trends such as cake pops, dirt cups, French macarons and espresso drinks. However, they still pride themselves on their traditional and locally famous recipes that have been passed down for generations with the ownership of the store.
The bakery itself seems to be an heirloom of the town, passing its recipes on so that grandkids can eat the same sweet rolls and buttermilk donuts that their grandparents ate when they were young. The original Storandt's Bakery was founded in 1926, nearly a hundred years ago, by Ernest Storandt. Since then, the bakery has passed through the hands of Fillmore Storandt, Harold Hetland, Linda Meeker and, most recently, to Marc and Sue Anderson. Their son, Bob, hopes to carry on the tradition and take over the business from his parents.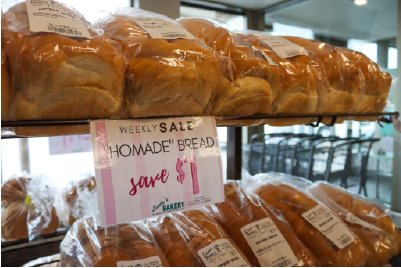 If you're paying attention, you might notice that the label on the bread reads "Homade Bread," and no, this was not a typo. Linda and Marc's father used to own a grocery store in town where he enjoyed handwriting his signs. He would purposely misspell words in fun ways to give his store a life and humor of its own. His little tradition made it into the heart of Linda's Bakery with their "Homade Bread" which is a nod to their father's personal trademark.
A rich history is im-bread-ed in this hometown bakery, from the generational traditions, hand-me-down recipes and heartfelt tributes. You can taste the years of trial and error that went into perfecting the recipes, every bite of donut is like a step backward in history. Family is an important ingredient in making this bakery run, whether blood related or adopted into the Linda's Bakery family, all members play a fundamental role in keeping the bakery going. The bakery has grown from its humble roots into a prominent staple of the area thanks to the support of its community. This support has allowed the bakery to expand to a point where they can offer jobs to the community. Not only have people found a family at Linda's, many of the staff members who have worked at the bakery have found their lifelong partner while working together kneading dough, but for me, the only thing I'm looking for is the fastest way to the sweet rolls.
Author – Kylie Compe