On the morning of Day 2, I am up at 8:30 AM which, by my standards, is sleeping in. Joan invites me under her canopy for coffee, handing me a tin cup filled with a fancy blend that I can't pronounce. We sip and sit in amiable, groggy silence for a while before eventually exchanging our plans for the day. I'll be trekking back out to the Prairie Gate at 11:00 to meet my dad and sister, who are here as my plus-ones. In the interim, I've decided to check out an Akashic meditation program in the Soul Sanctuary, before hunting for fabled exhibits of "Art in the Pines" and locating other important parts of the festival, such as the "Potluck Music Workshop." Joan has to tend to her caterpillar, Junior, before visiting a few friends that are spread out across other campsites. I promise to introduce her to my sister, whom she has already decided is amazing.
The Akashic meditation session is wonderful. I come into the Soul Sanctuary unfashionably late and see people of all sorts: some folks in tank tops and cargo shorts, others in sweatpants and hoodies, both young and old. Something about the calming narration, the dappled rays of morning sun, and the mildly steamy weather strikes the center of my mind like a tuning fork. I leave the session feeling refreshed with knowledge, wisdom, and caffeine.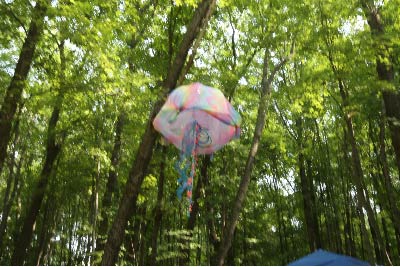 After meditation, I set out to tour around the festival grounds, searching for destinations that I could cover and write about. The Backwoods Stage lays nestled in the woods past the Honeybee campground. A small clearing serves as the seating area, speckled with trees and glow-in-the-dark jellyfish. I wend my way around the loop of campsites to the north, passing the "Eagle" and "Woodchuck" sites. Many are sitting around fire pits in camp chairs, sharing libation and food as they wait for the music to start. Others are playing instruments they've brought. Camp life has everyone in the mood for the good times that are sure to follow when the bands take the stage this afternoon.
I'm suddenly reminded that I have somewhere to be. A look at my phone tells me it's 10:50 AM and my dad and sister should be arriving at the gate shortly. I turn around and begin jogging in earnest.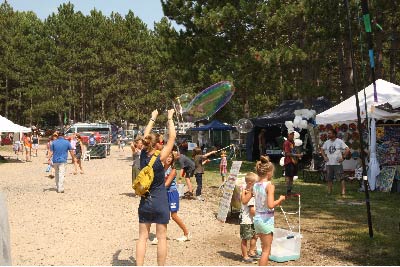 It's only fitting that Karen is already busy checking my dad and sister in when I arrive. They've already presented their proof of vaccination, received their passes, and are chatting about the festival as I doggedly stagger up to the check-in station. I thank Karen for taking care of them and begin our trek back to the grounds. My dad, who is thoroughly protected by a thick coat of sunscreen and a beige fishing hat, is here in anticipation of the cheese curds and chocolate malts that I've described to him over the phone. Those foods are partialities that run within the family. My younger sister Laura, who's 17 and entering her senior year of high school, is fiddling with her new camera. Though tentative at first, she's agreed to be my photographer at the festival. I guide them back to my tent and we take stock of the afternoon. Chief amongst the priorities is getting some lunch, and of course some beer, of which my father is an ardent purveyor. Then it'll be time to get to work, at least for Laura and I. We arrive at the food trucks and our attention is diverted solely to sustenance.
Naturally, we get two boats of cheese curds. Being in Wisconsin, it simply feels like it's the right thing to do. By my account they are excellent. If my dad, who is a notorious epicurean when it comes to his curds, had any reservations, he did not voice them. For the main course, I settle on jerk chicken tacos from Caribbean Kitchen. The tacos are fiendishly good, and I work my magic to make them disappear. Laura has fallen to the wiles of the Unami Bites' Wonton tacos. My dad tucks into some baby back ribs from The BBQ Cabin and quenches his thirst with a malt from Olson's. Safe to say, we are all properly sated.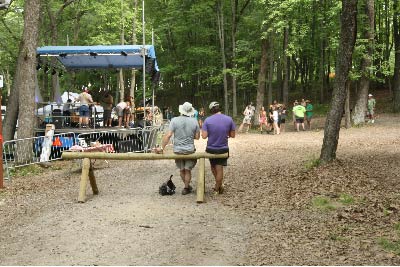 Now that the edge has been taken off our appetites, we are able to more fully appreciate the spectacle of the main stage area. Just across the way from the dining area is an avenue of vendors selling clothing and memorabilia. Further along the way is the beer tent, an oasis in the midst of the afternoon heat. Closer towards the side stage are tents occupied by representatives from a few brewing companies, several art stands, an even a CBD tent. However, the most dazzling of all is the shimmering storm of bubbles that dance through the air. Soapy water sits in large plastic tubs, and children armed with bubble wands huddle together. Once their implements are sufficiently coated, they set off on a giggly rampage, unleashing glittering torrents of airborne suds. One man carries a strange-looking contraption; a pair of long poles connected by a rope that's braided with countless loops. As the wind catches his looming bubble maker, it unleashes a blizzard of sparkling orbs. All around, the sounds of folk music fills the air, mingling and dancing with the aerial armada of bubbles. Quieted by awe and full stomachs, we head back to the tent to pick up Laura's camera.
Our first destination is the Backwoods stage. A group named Pit Wagon is playing there. While Laura and my dad fuss over the settings on her camera, I rest against a tree and listen. A man and a woman in the group are singing a duet. The woman's voice has a clear, trickling lilt to it, like the bubbling of a small creek. The man's voice is soulful, but very different, a raspy tone that sounds more akin to a whisper at times. It's as if someone is using a push broom on piano chords, and its beautiful in a way I can't really describe. Laura, who now seems to have figured out the settings on her camera, starts walking through the sparse crowd, pausing to snap bursts of photos. I can tell she's still not entirely comfortable taking pictures as she hesitantly inches towards the stage, takes a quick pic, and then retreats behind the crowd for a different angle. This gives me a bit of an idea.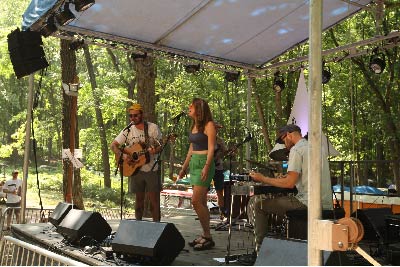 My dad has decided that he'd like to refill his beer cup and check out some of the bands on the main stage. It's 1:45 PM, so Laura and I agree to meet back up with him at 2:30 PM. We make our way east towards Eagle camp, and I can notice the drag in Laura's step.
"Still figuring things out with the new rig?" I ask.
She nods quietly.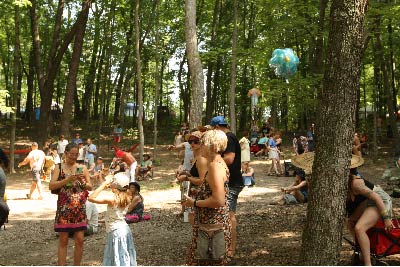 "Why don't we take a look at some of the campsites?" I suggest. "There might be some opportunities to get a few good shots."
And so we went, stopping in a few places and asking for some pictures. Everyone we met seemed more than happy to let us capture the scene. Laura got some photos of an impromptu jam session, a massive canopy made from flags, and even a 3-dimensional cardboard horse that we affectionately named Phil. By the time we made it back to the main stage area, she seemed to have finally settled in. The High 48s were playing on the side stage, and Laura seemed to exist on another plane, getting right up next to the stage for some pictures. I stood back and let her go to work with a huge smile blooming across my face.
At 2:30, we managed to rendezvous with my dad. For the next hour or so, we hopped from stage to stage, band to band. The time eventually came for my dad to leave. He strolled off towards the parking lot near the gate, on the heels of a full afternoon of bluegrass revelry. Laura and I returned to the campsite to rehydrate and relax. It wouldn't be too long before we were back at the main stage, where we would end up having the most memorable experience of the trip.
-Jonathon Howe