Blue Egg Farmstore came into the world because Robyn Spector wanted to create a new life. Born in Chicago and educated in Minneapolis, Robyn migrated to the Driftless to connect with nature and live more simply. When she moved to the Viroqua area, she said, "It was like a breath of fresh air".
I had the pleasure of visiting with Robyn in her new home, nestled in a quintessential Driftless valley. I watched a whitetail deer pass by her window at an unhurried pace, making his way across a hillside in bloom. The sense of peace was the tangible sort, the kind that makes your shoulder muscles drop a day's worth of tension. Robyn began to tell me her story of being raised in Chicago in a conventional fashion, eating overly processed foods that offered more convenience than nutrition. She also told me about attending college for psychology and being trained in the pharmaceutical philosophies of Western medicine.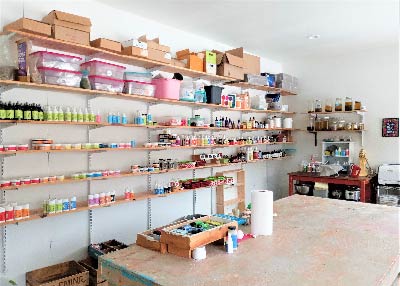 After earning her degree in psychology, she worked with children diagnosed with ADHD and had a hard time with prescribing them ritalin. It wasn't the career she wanted. The mainstream culture of food and medicine didn't sit well with her, which led her to research natural healing and seek a simpler lifestyle in the Driftless.

With her husband and children by her side, she raised a garden, along with an impressive assortment of animals, including chickens, sheep, pigs, beef, and dairy cows. Robyn befriended an Amish woman who taught her how to make bread, butter, and homemade noodles. She learned how to can, forage, and make medicines and salves. Being surrounded by a simpler lifestyle caused an awakening. "I never knew these ways of life were an option. Hunting, fishing, foraging and growing food were foreign concepts". Eating a season of food raised by the family and living off the land were exciting. They started Blue Egg Farmstore, a food focused family business selling meat, eggs, jams, and syrups at the Viroqua and Minneapolis farmers markets. While they dove deep into family farming, Robyn was also teaching psychology remotely online. She said, "It was good money, but not good for the soul". She had a conflict with holding on to the security of a job that didn't bring her joy while simultaneously teaching an unconventional life to her children. She decided to take a leap of faith and let the teaching job go. This meant Blue Egg Farmstore had to succeed, so they concentrated their efforts. They had already made significant lifestyle changes toward simplicity, which lowered their cost of living. They'd worked with the Amish to build a house, had no electric bill, no propane bill, and no mortgage. They grew the majority of their food and all of their earnings came from the land. Robyn said, "It was important to live a consistent life, true to what I believed in". Now they own more of their time together as a family.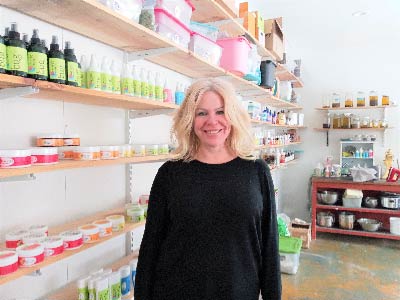 The kids have been a part of the homesteading and business activities from the beginning and Robyn has incorporated their interests as the venture has developed. It was her daughter who actually steered the endeavor toward natural skincare products with an initial interest in making body scrubs. As a young teen, she was motivated to do research and development as well as digital marketing for the Blue Egg Farmstore skincare line. Robyn loves being able to share her work with her children and engage them in real life learning experiences. The family has now shifted their focus from food to bodycare.

Robyn first dabbled in making natural bodycare products when she had children because she wanted to take care of their little bodies with ingredients she could trust. She researched natural alternatives to the chemically laden products offered on store shelves and discovered the healing power of plants in her own backyard. "What we put on our skin affects how we feel and act. So many chemicals are touted as 'natural' and are FDA approved but that doesn't mean we can trust that they're safe".

I first tried Blue Egg Farmstore products a few months ago and was hooked right away. Their skin care philosophy made me think more deeply about what I was putting on my own body. I'd committed to an organic vegan diet, but hadn't really extended that ideology to my skin care routine. I had to ask myself, why not? I didn't have a good reason, so I went on a little Blue Egg shopping spree. I tried the Detox Box, a gift set with 3 invigorating steps to brighter skin. I absolutely love the handcrafted toner with infusions of rosehip and lavender. I also tested out the cream and butter in the Prickly Pear Collection and discovered the plant magic of calendula flowers, cactus seed oil, and papaya leaf extract. It leaves my skin so soft. Last, but not least, I've totally converted to using Blue Egg shampoo bars! I feel a bit like Robyn landing in the Driftless. I never knew hair like this was an option. This much plant powered volume was a foreign concept. I don't think I'll ever go back to the harsh detergents that stripped my hair of it's natural beauty, and bonus, no more plastic bottles!

By living closer to the land, Robyn has found there are plants for every need and a way to do things more sustainably. When customers have something going on, Robyn and her daughter like to problem solve, make observations, and find natural remedies. They've discovered that when you honor what the plant is supposed to do, you can get crazy good skin care naturally. Like the brilliant blue egg of the robin in spring, Blue Egg Farmstore has captivated my attention. I've stopped in my tracks to peer into the nest and found a clutch of wonder, brimming with life, transformation, and the natural beauty of a family together on the land.

~Joy Miller