By Rick Pedersen –
Editorial Directors Note: This article was written Pre-Covid 19. 608 Brewing Company has been doing an amazing job in supporting the La Crosse community, that we thought you should hear more about them during these times.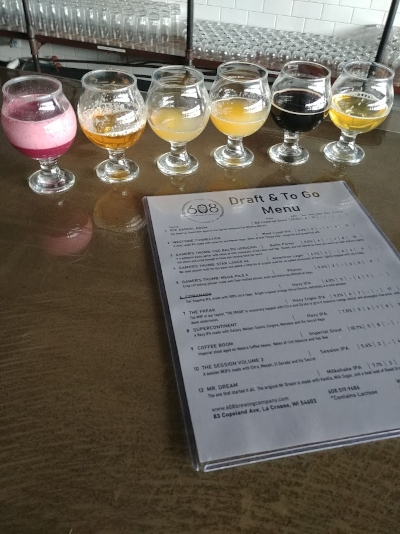 Currently, the best time in U.S. history to be a craft beer lover, is now. As a nation, the U.S. has more beer styles and brands to choose from than any other market in the world.
As of 2020, more than 8,000 breweries are responsible for the beer brands available in the U.S. These breweries produce smaller batches of beer than the large corporate companies and are typically independently owned. Such breweries are generally characterized by their emphasis on quality, flavor, and brewing techniques. Coming from a Midwest hometown with a long history of brewing, I still consider myself new to all the choices of craft brewing products. After my recent visit to 608 Brewing Company, I was fortunate enough that Brew Master Phil and his crew had the patience to bring me up to speed on all my choices. I believe that on the day of my visit, there were about 16 products to choose from, with a wide range of ingredients that few would dream of putting in beer. Everything from dragon fruit and mango, to cinnamon and chipotle peppers can be found mixed in with traditional ingredients like hops. For those wishing to try new things, it all becomes quite fun. The brewing area is compact, but contains all the items needed to put out these magical concoctions. Brewmasters have become more like chefs or artists in the creation of all these choices. It truly is a craft for a group of like-minded individuals to sit down and create a new recipe from scratch, let alone a product that people will enjoy, want more of, and spread the word to their friends! The hospitality area is spacious and inviting, much like one would find in any modern bar. The group here has really outdone themselves in the creation of events and product releases that keep the crowds coming back for more.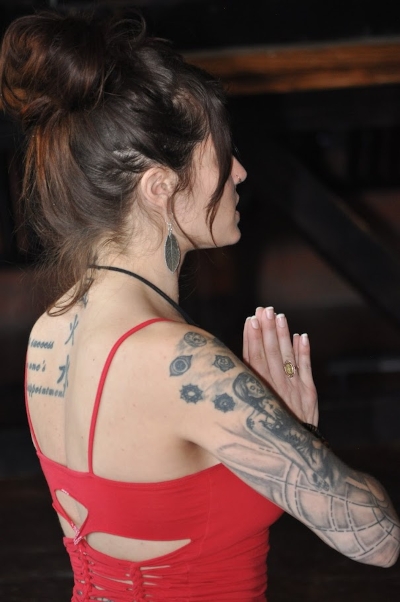 Two notable things come to mind, with the first being a Scuds & Suds monthly event in which local trout fishermen get together and tie trout flies while enjoying their favorite brew. Local bait shop owner Scott Gardner of Island Outdoors has aligned his shop with promoting this get together. The second coming which I attended was Namaste And Have A Pint event in which yoga enthusiasts met on a Saturday morning for a session of exercise and a glass of beer. Ohana Yoga Studio in West Salem Wisconsin and owner Sierra Kliscz put students through their paces for this enjoyable get together. I learned that yoga is not about improving one's self but instead accepting oneself as they are. A mix of males and females varying in age attended the class while a handful of partners waited at the hospitality counter and got an early start on the tasting. The attending group was amiable and open to practitioners of all levels, and I enjoyed meeting them all at the end of class to discuss the different reasons people attend yoga. Ohana provides a peaceful environment enabling students to further their journey to self-exploration and enlightened consciousness according to their website. Stay tuned in the future on the services offered at this studio. The combination of yoga and a glass of beer afterward seems to be a fun morning that the students enjoy!
In checking the 608 events calendar, one will find activities every month throughout the year, and this crew does a great job of promoting events and working together with local businesses. In addition to this busy schedule, local brewers around the Driftless area join in collaboration projects in which a traveling brewmaster and crew go to a host brewing site and create a shared limited-edition product. The host site sells its share of the product while sending the remainder home with the traveling brewers to trade in their hometown. The owners have also become experts at marketing their business by reinventing the bar experience. Long gone are the days of dark-lit smoky rooms filled with questionable people. We now call them hospitality rooms rather than bars. For those who don't like the taste of beer, we now make beer that doesn't taste like beer. Ingredients like toasted coconut and chocolate have made their way into the drinks and attract a whole new customer into the experience. Lastly, one attends events or activities that create special occasions to go out on the night one may typically stay at home.
All in all, I like what I have seen as I've toured local craft breweries. I believe they've carved out a new niche! I wish them the best of luck in maintaining the new interest in these products. If you haven't had the pleasure of trying 608 or their products, please stop out and I believe you will be pleasantly surprised. When you visit, tell Phil that Rick from the Driftless Area Magazine says hello.