By Kylie Compe –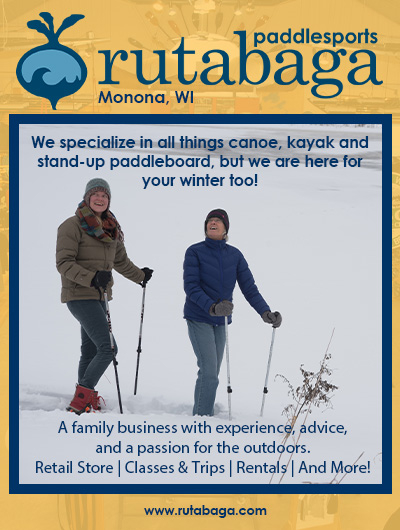 Before you ask about the troll out front or why he's grumpy, you need to ask: do you have the Sunflower today?
If the answer is yes, you'd better take a seat and order one ASAP. If the answer is no, still take a seat because there are too many good things about this place to let one bit of bad news get you down. 
If you've been to the Grumpy Troll Brew Pub, you probably know exactly what I'm talking about. For those that are confused, let me enlighten you. The Sunflower is farmhouse ale brewed with a touch of local honey, and it's one of the microbrewery's most popular beers. I frequently visit the Grumpy Troll, and the Sunflower is my favorite beer, but I've only had it two or three times because it's often sold out. It's light but worth a try no matter what your preferences are.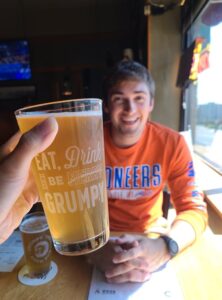 But hey, maybe you never stray from the IPAs or the stouts. No worries! This microbrewery has a dozen on-tap options for you to choose from! I've heard good things about Erik the Red as well as Hoppa Loppa and Captain Fred. If you're looking for a nice fruity hefe, I'd happily recommend the Trailside Wheat, my go-to when the Sunflower is out. And in case beer isn't really your thing, let me reassure you, there are plenty of other drinks to choose from, anything from Old Fashioneds to Bloody Mary's, ciders to wine and even some gluten-free beer options. I can firmly recommend the Stormy Morning as well as the grapefruit vodka.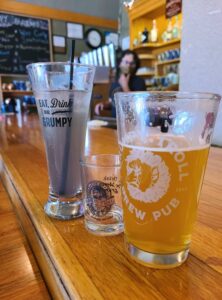 If you have a small party, try and get a seat at the bar or head upstairs to the newly remodeled taproom with a bigger group! They have plenty of TVs to enjoy the big game on, and games to keep the kids occupied. If you're hanging out downstairs, enjoy the view of the brewing process through floor to ceiling windows showcasing the machinery as you sip on one of the very beers brewed right there.
If you're planning to drink, I'd recommend some food to go with it, and I have two words for you: Uff Da. I would be doing you a disservice if I didn't demand you order the Uff Da pretzel on your first visit to the Grumpy Troll. This pretzel has been consistently good every single time I've had it, and I'm fairly certain I've had this pretzel every single time I've gone. This one-and-a-half-pound golden brown beauty is larger than your head with the perfect fluffy interior. After my first time having this pretzel, I went on a pretzel craze and ordered the pretzel appetizer from every restaurant I went to that had it. I have yet to experience a pretzel that rivals the Uff Da. And yes, I do mean experience because it is something you will remember. Served with honey mustard, a house-made Dijon beer mustard and mouth-watering beer cheese dip, every bite is unique and delicious.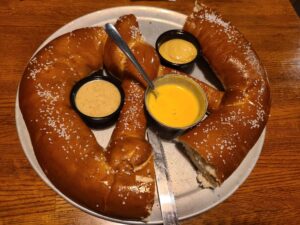 If you're feeling really hungry, you can attempt to order an entree after your appetizer. From my experience, two people can finish the pretzel together and maybe a beer or two. If you're getting an entree as well, you might need upwards of five people to try and tackle the pretzel with no to-go boxes. But hey, the challenge is all yours for the taking. 
In the chance that you are able to finish the pretzel and have room left for more, I'd recommend the Skostroll burger: delicious beef patty topped with roasted mushrooms, a house-made Hunter's Gravy and swiss cheese. However, the Mac and Cheese is also a solid classic. While I haven't had it, my travel companion swears by the Ægir's Brat: a quarter pound local brat topped with sauerkraut and served on a toasted pretzel hoagie with a side of house-made Dijon beer mustard. Whichever way you go, try the tater tots with a side of the beer cheese sauce. It will not disappoint.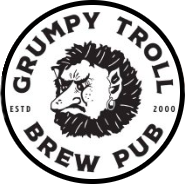 Hold up. Ægir? Yeah, that was my first thought too. Ægir (EYE-gir) is the name of their resident troll, you know, the grumpy one from outside that I mentioned before? Yeah, apparently he was named after the Norse god of beer. Pretty fitting I'd say. You'll find these resident trolls at local businesses all over Mt. Horeb, a beautiful community tribute to their Scandinavian roots.
I cannot possibly say enough good things about the Grumpy Troll. I hope to see you all there, and make sure to save some Sunflower for me!
Insider tip: If you end up taking the pretzel home (why not save a piece of heaven for later?), here's how to reheat it: wrap it in tin foil and put it in at 350° for five minutes. Viola! Ready to eat!
Make sure to get an extra beer cheese to go!