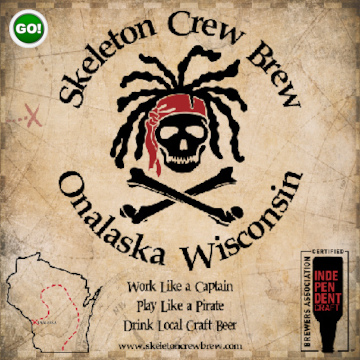 SO COLLEEN, WHAT DO YOU DO FOR WORK OR BUSINESS?
Artist who is finally done earning a wage and can now continue my creative efforts without worrying about earning a living.
Tell us about a project or accomplishment that you consider to be the most significant in your career with your business.
Since retiring I had the opportunity to paint two displays for Perrot State Park for their kiosk. 
A painting of mine "Awakening" was accepted in Moments 2020 collection of artwork commemorating the time we spent during the pandemic.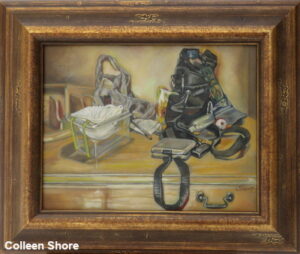 The one piece that sticks in my mind throughout the events of covid is a painting of Brice Prairie call Swan Family Search. Some paintings lead me to new stories of our area. This one was a surprise as I tried to locate an Indian cemetery by one of the boat landings. They are not marked in the European way with head stones. I know I came very close as the historical maps pointed out and took my inspiration from the view they would have seen from that vantage point. The story and the title turned even more poignant as I found out that many of Swan family members buried at this site, died from the 1918 Spanish flu.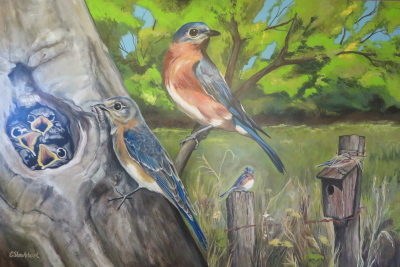 Tell us about a recent project or problem that you made better, faster, smarter, more efficient, or less expensive.
As I got back into painting I began my blog documenting my progress as an artist. What inspires me, the good, the bad and even the ugly ones. It's a reflection on my process and progress. Plus it allows me to reach an audience all over the world. I've done over 300 paintings more than half have new homes. Sharing on the internet was not something I ever imagined.
Expanding my audience by participating in local galleries like River City Gallery and Grounded Patio Cafe and art events in the Coulee Region. 
Tell us about one person that stands apart from the rest, or has influenced you while here in the Driftless.
It's about a group of former art teachers who I've been invited to draw with. Most are retired and still inspired to create.
What do you wish other people knew about you or your business?
I like to think of my art as sustainable. I make art and price it to sell (very affordable) so I can buy more supplies, take workshops and keep creating. I'd rather have a piece of art go home with someone who will enjoy it.
LET'S LEARN MORE ABOUT COLLEEN SHORE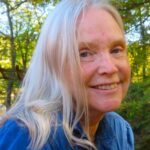 So, what's your story?  What keeps you in the Driftless?
Born on the east coast of Wisconsin a place called Cedarburg. Came here to attend UW-La Crosse in 1974. Some magnetic pull keeps me here.
I continue to be inspired by my surrounding were ever I may be.
Thankfully I live in the driftless region.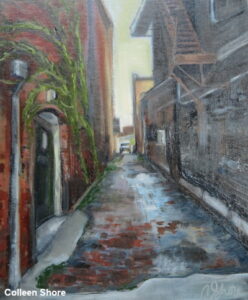 How would you describe yourself?
Passionate about creating. Painting what inspires me .
Biggest accomplishment?
Connecting with my audience, the thrill of someone falling in love with my artwork that they desire it for themselves.
Have you read any good books?
Libby is my best friend, for downloading books. Recent favorite "The Midnight Library" by Matt Haig, opened my eyes to relizing we are always living our best lives possible by embracing what we have around us. I listen to books while painting. It's the best use of my time.
Who is your personal hero?
Every artist who continues to explore their art for the sole purpose of just being able to create.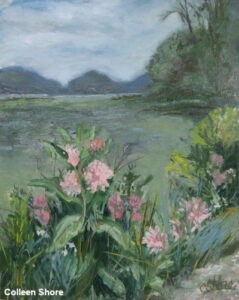 Do you have a life philosophy that you live by? – Do it now.
What do you like most about yourself? – My friends.
What do you think is the meaning of life?
To never stop discovering what makes the world so special.
Do you prefer working alone, or do you like working with others? – Alone.
What's something that no one would guess about you?
I would have loved to have been an architect. But the math part of my brain doesn't work.
What is your deepest belief about life?
We are here for too short a time.
If you could wake up anywhere tomorrow, where would it be?
1.In my hot tub before dawn looking up at the Milky Way and maybe catch an aurora.
2.Painting in a national park.
What's the one thing you wish you could have a do-over for? – Start painting earlier.
How do you work on yourself?
Not much externally. Watching painting videos, read, paint, get out and explore, take lots of photos. Meet people on the way that share the experience.
What's one thing you've had to overcome in your life? – Aging
What did you learn about yourself from any of your previous relationships?
I need to count on myself most of all.
What question do you always want people to ask you about yourself? – What inspires me.
What is your favorite music, or song a person should listen to at least once? 
I like rhythm and blues most of all. But classical is also nice.
Sittin' on the Dock in the Bay by Otis Reading, other favorite musician, Blues Traveler, Cat Stevens David Bowie. I guess I'm starting to date myself.
How has this pandemic affected YOU or YOUR BUSINESS
I began getting back to my art about a year before covid interrupted. Made the best of it and painted almost 200 paintings focusing more on what's around me.
What has changed is I'm not always getting the chance to meet the person buying my art. It's seems somewhat disconnected but also exhilarating to know these pieces of inspiration I've created will bring me closer to people who I may never meet. How odd and yet fulfilling that can make you feel.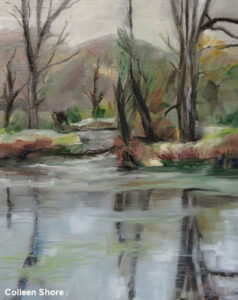 What is another name you would give the Driftless?
West Coast of Wisconsin. The Mississippi Flyway. Coulee Region
Favorite season in the Driftless & why?
Fall, the color changes, less bugs, crisp air.
Tell us of an experience /memory you had with Driftless lakes, rivers or waterways?
Every time we go traveling and return home I'm amazed how green it is here in the summer and beautiful. Came here to go to the University of La Crosse and can't figure out why all my classmates left except me?
Is there any place in the world you have been that reminds you of, or is similar to the Driftless.
No it's really unique, we don't have mountains but we have bluffs. Plenty of water with all the rivers.
What is your best childhood memory?
As a young adult following a meandering river. Summers swimming at Avalanche and Jersey Valley Park.
What are some of your favorite places to go for fun here in the Driftless?
Perrot State Park and the Upper Mississippi Refuge in Trempealeau for north of me. Following the river road and enjoying the small towns. Back roads to Amish country.
Favorite places to eat here in the Driftless? – Lovechild
If you were to tell a friend to come and visit the Driftless Area, and they ask "Why" … What would you tell them?
I'd show them my paintings of the area. If that doesn't speak for itself.
Cat or Dog person? – Cat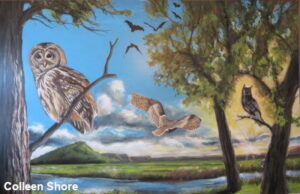 Early Bird or Late Owl? – Early Bird
If given the opportunity, would you go to outer space? – Yes
What color socks are you currently wearing? – Barefoot
What skill or instrument would you like to learn or play? – Piano
What 1 message would you put in a bottle? – Be kind
What was your very first job? – Cleaning up at a hair salon, go figure
How / where did you meet your best friend? – Through friends in La Crosse, WI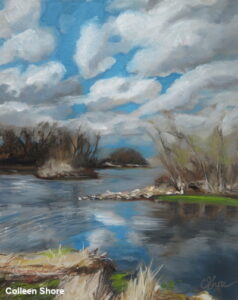 What does your dream vacation look like?
Camping in all the National Parks
If you could learn another language, what would that be? – Thai
I Would Rather … – Live in a tree house
My enthusiasm for the driftless region probably best speaks for itself through my artwork. My art brings me joy.