By William Grosvenor Neil –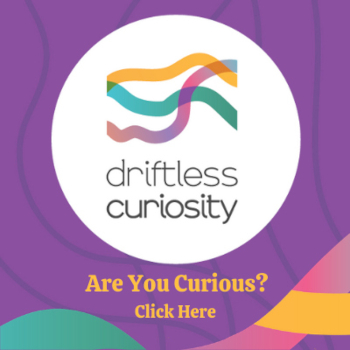 Art We There Yet is an extraordinary initiative by artists José Luis Vílchez and Cora Rose. Their mission is to create art highlighting the challenges, diversity, and shared humanity of peoples across the Americas.
Aboard a school bus converted into an art and recording studio, they are traveling 30,000 miles across North, Central, and South America. Creating a vast portfolio of visual art and music inspired by the people and landscapes of the Americas and providing free murals and arts workshops in underserved communities along the way.
Cora Rose was raised in the Driftless and their visit in late September of last year, was the first homecoming concert since they began their project 26 months ago.
When I turned the corner on the path that follows the shore of Sidie Hollow Park Lake in Wisconsin, I heard Cora's distant voice floating over the water. This aquatic hide-away has two entrances at either end of the lake and I had parked at the entrance that was a twenty minute walk to the other side, where Cora and José had set up their stage in the park shelter.
As the sun set over the lake, I followed the siren call of her voice arriving at the foot of the lawn that stretched from her feet to the lake shore just as her song ended. Her fans, all spread out in picnic fashion on this Indian Summer evening, erupted in applause and cheering.
They have known her since she was a young teen, in love with her guitar and the idea of singing her heart out. We heard the poetic strains that now color her voice. It was the sound of experience echoing down the deep well of her life now shared by her partner José who was standing in as sound man, videographer, and photographer for the evening's concert.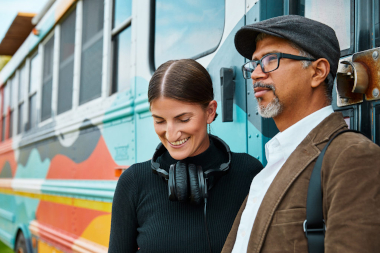 When the fuse blew and shut down the sound system, neither of them blinked an eye. The two are experienced sojourners and masters of spontaneity. While José solved the tech issue, Cora declared a set break that turned into a receiving line of warm embraces and happy reunions with the community.
It also afforded time for some to tour the Art We There Yet bus in the parking lot. Set two began and I sat on the grass and soaked in the rich chords of her guitar and the quiet intensity of her voice. Lulled by the music, I reflected on my visit with them the day before.
William Grosvenor Neil, composer-pianist, radio producer, who has lived in the Driftless since 1998 – The Composer Studio
Photos – Hanna Agar