By Jayne Bredlau –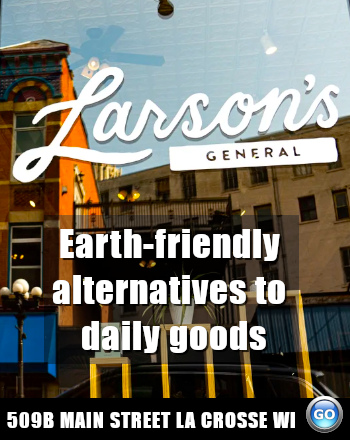 We're so glad you stopped in. What is The Greensted? Technically, it means "green place." We grow microgreens, salad greens, green peppers, cucumbers all kinds of green things. We use "green" practices – you know, sustainable, regenerative, organic practices. All the buzz things. But make no mistake, our marketing color theme, is navy blue. That's important.
We started growing green things in 2016. Dean had tried a summer of gardening, and well, that was a disaster. But he learned he loved growing things. Online research lead us to microgreens. What's a microgreen? Microgreens are vegetable seeds grown for 8 to 14 days, then harvested from the growing medium – in our case an organic soil mix. Harvesting things like broccoli, kale, red cabbage, arugula, kohlrabi, at that true leaf stage, allows for all the nutrition of the seed to be captured in the microgreen, and imparts intense flavor. How do you eat microgreens? On your food – any food. What started as a fun curiosity, has become a thriving microgreen enterprise. Read more of our story, find recipes and store locations here.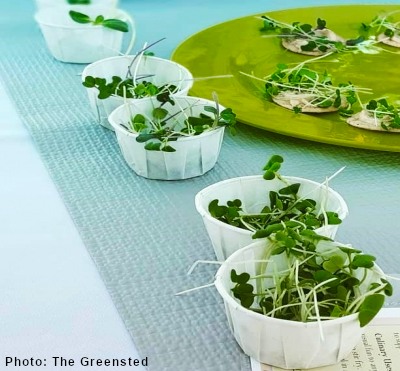 Growing microgreens in our garage was great, until it wasn't. We far exceeded our capacity as our grocery store market increased. We consulted with a local builder who confirmed, our small property had no wiggle room to add on an indoor growing space. But, he had an idea. He was setting plans to build a huge sh-house just a couple of miles away from our home. He offered to add some space for "your green things." He didn't have to ask Jayne twice. Immediately we were staring at line drawings, imagining what it would be like to have a larger growing room with its own H-VAC unit, a big workroom, more gardening space and how about adding a Farm Store?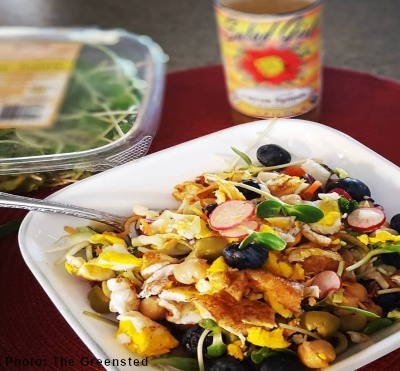 And so it happened. We moved into the new building mid-March 2021. Without missing a microgreens delivery. We set up our growing racks, the workroom, started the gardens, and then came the Farm Store. We had our Retail License floor visit July 2 (Dean's Birthday!) and opened the door the following Friday, July 9. We reached out to all the wonderful vendors and makers we'd met along our farmers market and vendor journey and they got product to us pronto. In a week's time we had pantry items, meat, soaps and lotions, eggs, fresh-made salsa, wellness tonic beverages, pepper jelly, honey, maple syrup and of course, microgreens, our own garden veg, locally sourced fruits/berries and The Greensted Swag.
What makes our farm store unique? Local. Hyper-local. Personal. All store items are approximately 200 miles out, give our take, or have a credible benefit i.e. women owned, small family business, or unique enough items we can't find closer. With that vision in mind, let me take you through our store.
We have enjoyed eating chicken and duck eggs from Graise Farm in Faribault for a long time. Now, we actually go to the farm to pick up the eggs for our store every couple of weeks. We see the ducks and chickens gaggling around the farm, free to pick and peck wherever. They have four beautiful guard dogs who take their job seriously. Avoid people, chase off predators. We witnessed a beautiful moment while chatting with farmers Tiffany and Andy – Derby, the oldest and only unchained dog, was sitting peacefully on the front lawn, looking unconcerned. Suddenly he bolted up, ran with incredible speed (he's a large dog) across the yard. Sure enough, he heard a predator creeping onto the property, from a quarter mile away. Once he was sure the thing was gone, he returned to his relaxed post in the yard. We can't tell you how amazing that was to witness. The chickens and ducks are free and safe to roam the property.
We met the CannonBelles at one of our earliest vendor events. Deeann, Jackie, and Kathy, all from Cannon Falls, are incredible women entrepreneurs. They decided to try making cheese – for fun. Jackie was married to a dairy farmer so they have a ready supply of fresh milk. The first attempt didn't quite turn out (mozzarella blob is how their website puts it) – but they kept at it and now have a successful cheese business and a thriving Coffee and Ice Cream Shop. They make a variety of block cheeses, and cheese curds – bacon curds anyone? They have broken ground on a new cheese plant right in Cannon Falls, Minn. How incredible is that?
Farm fresh milk! Kappers Big Red Barn in Chatfield offers milk bottled right on their farm. Whole (makes the BEST homemade yogurt), 2%, Skim, Chocolate (dessert in a glass), and heavy cream. We receive a fresh delivery every week or two. Is it pasteurized? Yes. Low-temp, lightly homogenized. It's so delicious. Bottled in glass jugs, we love zero waste (except for the plastic cap).
Jajja Wellness Tonic with ancient origins– never heard of it? You want to. We met Henry in 2019 at a large food vendor event. We liked him so very much, and couldn't get enough of his tonics. Based on his Ugandan Grandmother's African Recipes, these wellness tonics are like nothing you've ever had. Full of ginger, turmeric, pineapple juice, vitamin-rich, organic, and "refreshingly healthy." None of the bad stuff – no artificial preservatives, sweeteners, or colors; non-GMO, and Allergen Free. They truly are a favorite, and we're proud to be one of two stores outside of the Twin Cities area to have his tonics. They come in nine varieties; The Greensted Farm Store carries six.
Our longtime friend, Gennie, has been selling her Grassfed Tallow products for a few years on Etsy. I asked her if she was ready for retail. Sure! Sunny Pastures has an impressive line of Whipped Tallow products, Baby Balm (new mom favorite), Renew facial cream, and more. She renders beef tallow, whips it 'til smooth and creamy, then adds some olive oil, apricot kernel oil, and essential oils. They sure smell nice! I personally like her Spa Trio scent – lavender, peppermint, and lemon. Would you like to try a sample? We love that we can help Gennie level up her business – while she's working their hobby farm, raising five children, and taking a college-level herbalist course.
Kakookies! Every gluten-free eater's cookie dream. Cookies reimagined is how Sue Kakuk puts it. That couldn't be more true. Sue's venture started by making healthy cookies for her daughter's college rowing team. Soft, chewy, incredibly delicious gluten-free, vegan, plant-based cookies that come in several flavor combinations. Jayne is gluten-free and egg-free so the vegan part is key. We carry individually wrapped cookies and bags of Kakookie Bites.
Maple syrup and honey – always a favorite. Medford Creek Natural Apiaries located in Medford, is a delightful young family that is taking honey and syrup to the next level. The Greensted Farm Store carries its signature honey and maple syrup products. However, they have infused honey in jars and snack sticks, honeycomb, maple sugar, lotion bars (less packaging!), lip balm, soap, and warmer melts. We've loved working with this growing farm business.
Coffee and tea. No store should lack these items. We have two coffee roasters: Santa Martha Cafe located in Randolph, Minn., and Trail Creek Coffee Roasters in Kasson.
Ken and Ruth of Santa Martha Café (café meaning "coffee") have a mission to work with importers who are conscious about how the green coffee beans are grown, harvested, and shipped. They work with growers in Guatemala, Nicaragua, and Tanzania. Small batch roasting achieves the best natural flavor of the coffee; they also purchase trees in coffee-growing regions to help offset the carbon produced during roasting. Every purchase helps a local coffee-growing community improve medical resources, stimulate the financial community, and improves educational opportunities. All that in a bag of coffee.
Trail Creek Coffee Roasters small-batch roasted coffee from Tanzania, Peru, and Guatemala. Oh, how smooth this coffee is! Again, a young family who is working jobs, raising two busy boys, and running a business. They have a small storefront but are always at a local farmers' market and various events through the Rochester region.
Lastly, Well Rooted Teas. Local field + Forest Infusions. Handcrafted herbal teas. I might add, beautiful too. Rachel, the owner, credits her parents, who grew up farming, living in small-town Iowa as the start of her path into this business. She spent years in the Peace Corps in Guinea, West Africa as a health volunteer. It is during that time of discovery, "the most powerful lesson came from watching life sculpted and decisions made based on community rather than the individual." She has combined her family values, background in public health, and desire to improve people's health, along with her passion for the environment and love of nature and plants into her line of loose teas. She calls it "meaningful work that gives back to the community." Well Rooted Teas sources plants from local organic farmers, and forages botanicals native to the region. Infusions combine herbs, roots, leaves, fruits, and berries, to nourish the body.
These are just a few of our store offerings. A great story is behind every product. And I'd like to tell you all of them! Take a look around; don't miss the Gustola Granola (protein-packed), Crapola Granola (gluten-free), SLIDE potato chips (omg) Potter's Crackers & Crisps, Oak Valley Creations organic dip mixes, seasonings, wine slush mix, and beer batter bread mix, goat milk soaps, lambswool dryer balls, pasture-raised Mangalitsa (long word for "melt-in-your-mouth") bacon, cottage bacon and pork chops, Hanappe Ranch 100% organic beef sausage and hotdogs, regional favorite Salad Girl organic dressings. The Greensted has had a great bunch of garden veg this season, despite of the weird weather. Soon to arrive tree-range chickens and olde school-raised beef – brats!
What you won't find in our farm store is mass-produced, over-packaged products sourced from a warehouse and trucked hundreds of miles. Expect to pay a little more for quality. Expect to value supporting over 100 small regional businesses in one grocery stop.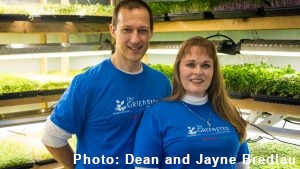 I expect I'll #seeyousoon.

Jayne Bredlau, co-owner The Greensted, LLC, Zumbrota, MN
507.358.2680
Thegreensted.com