By Kylie Compe –
If you type 'Waunakee' into your search bar, you'll soon realize that the Waunakee in Dane County, WI is the only Waunakee in the world. I grew up in the small village next door and, besides sports or the random drive through on my way somewhere else, I never really knew how much this town had to offer. 
It took me 23 years to spend a weekend exploring an area that was no more than 15 minutes away from me for most of my life, and I wish I had visited sooner. I want to share with you the best places I found to eat, drink, shop and explore in the growing village of Waunakee.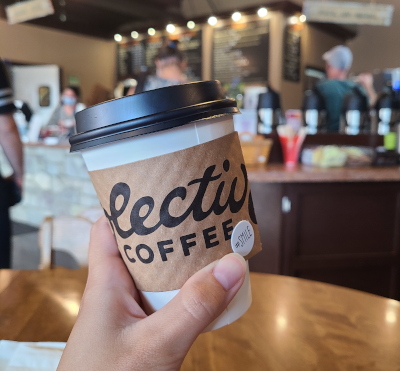 If you're a morning person with a lot of energy already spilling out of you as you get ready in the early hours of the day, I could see this being a really good fit for you. This family-owned and operated shop is beaming with energy from the moment you walk in the door. From the outside, this little shop is rather unassuming, but it's like stepping through the wardrobe into Narnia once you're through the doors.
Despite being particularly busy on a Saturday morning, there were plenty of open spaces left with multiple options for private rooms too. Door after door, this place was never ending. Like a scene from Alice in Wonderland, even the tables and chairs gave off a fantastical vibe. Not a single chair paired, not a single table duplicated. Each seat in-house was unique. 
Likewise, they had options for all types of morning drinkers. My adventure buddy and I are polar opposites when it comes to coffee, he goes straight for the dark roasts and Americanos. Meanwhile, I like my Pumpkin Spice Mochas and anything that doesn't actually taste like coffee. If you're not into coffee at all, they also have a variety of smoothies and teas, and lunch options are available as well for the late risers. My favorite touch was the cute stickers that you could choose to put on your own cup as your daily reminder to #smile.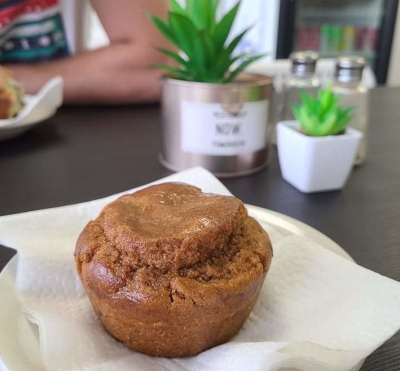 If you're looking for something a little more lowkey, our stop at Guilty Cafe was a more calming and personable experience. The staff was very welcoming and happy to answer any questions we had about the beautiful artwork hanging on every wall. Each piece was an original artwork from a variety of local artists, so no matter where you were seated around the spacious cafe, you had the view of someone's unique handiwork. 
Also, I just want to give a huge shout-out to the delicious gluten-free vegan pumpkin muffin I had that morning because not only was it a super accommodating option for those with dietary restrictions, but it was also scrumptious! It can be hard to find tasty options that fit certain restrictions, but this tasted just as good as a 'normal' muffin; moist, rich in flavor, not crumbly and made fresh. 10/10.
Sidenote: Ethan's Earl Grey tea came in this cute French press, had enough for multiple large cups and was delicious. Highly recommend it.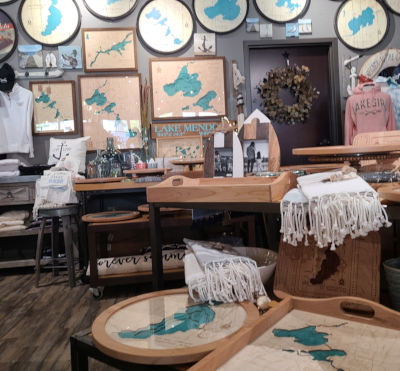 If only I had known about this store when I was first moving into my apartment, my apartment would look completely different. We stumbled upon this store while walking up and down Main Street. The statement piece that drew me into this store was the wooden multi-layer laser cut map of a familiar Wisconsin lake. Once inside, I darted straight for the back corner eager to see what else they had in the same style. They had the Madison Peninsula, the Great Lakes, Mirror Lake, the Eagle River flowage and so much more. The one that hit home for me was the Door County Peninsula because of a vacation my family takes each year to Washington Island. I was beyond excited to take one home as a Christmas gift when the owner of the store who was walking around informed me that I could personalize the piece even more than the sentimental value it already had. I worked together with a couple of the ladies to piece together my customization's and they were just as excited as me as they helped me make the piece just right. I'm beyond elated for my one-of-a-kind piece to arrive just in time for the holidays. 
The lake theme wasn't the only section I loved about this store. Anything remotely Wisconsin related was portrayed in some way within this store. Every square inch of this store was covered in knick-knacks, candles, apparel, canvas art and more. You could walk through the store multiple times in one weekend and still find something new each lap around — trust me, I know from experience. Besides the array of lake related items (pillows, laser cut wooden journals, wall hangings, Lazy Susans, serving trays, coasters, etc.), they also featured cozy cabin items, Badger and Packer fan decor, antiques, clothing, wall art, jewelry, etc. Basically, if you've made any kind of memory in the state of Wisconsin, you'd likely find an item in this store that hits the feeling right on the nose for you. It's worth a good browse especially if you're feeling sentimental and looking for a good gift.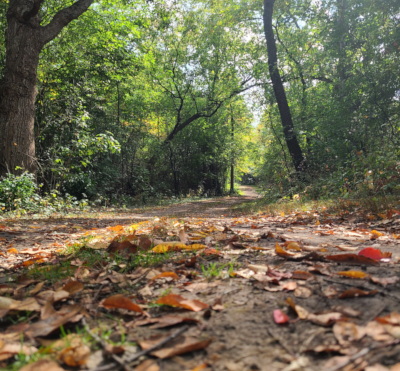 Just a short drive from downtown Waunakee, this state park is a great place to unwind and get away from the hustle and bustle of the downtown shops and cafes. There are quite a few loop trails to enjoy as you walk through a mix of prairie and woodlands. Part of the park even borders Lake Mendota if you're looking for some good lake views! The trails are fairly easy, mostly flat with some very gradual slopes here and there; great for walking the dog or letting your kids run off some early morning energy. You might even get lucky and see some wildlife!

Chances are if you've driven through Waunakee Endres Manufacturing Company has caught your eye for one reason or another, whether it's the architecture or the…ahem…goats. The iconic wooden structures and Bavarian design give this location fantastic curb appeal and the last thing you'd expect this building to be is a steel manufacturing company. However, the founder of Endres wanted the company to represent his heritage. As for the goats, well I guess he just liked them, and so do the Waunakee locals! It's a great place for ewe and the kids (see what I did there?) to chill out on the swings, watch the goats and enjoy the little things in life.
If your kids love the goats at Endres', they might also love Schumacher Farm Park where they can participate in educational workshops, volunteer and enjoy fun fall weekend festivities like Halloween at the Farm or Autumn at the Farm! Kids can go on hay rides, make their very own autumn wreaths, visit with the farm chickens and play games with other visitors. I didn't get the chance to stop by this time, but I'd love to make the trip in the future!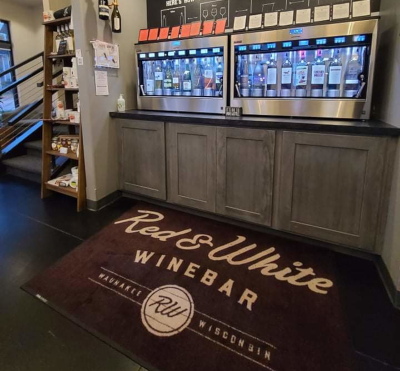 The Red & White Wine Bar has been making waves in Waunakee with their trendy self-serve wine bar since their opening in December of 2019. Some of you might be looking at that date with a sympathetic grimace, but R&W stuck it through with the support of their family, friends and community (and a rockin' patio) and are feeling the love every day their doors are open! This wine bar has become a popular hang out spot for locals and attracts people from out of town as well. 
The Red & White Wine Bar features a stunning second-level loft with a beautiful railing set on top of the bar below. My eyes were drawn immediately to the loft when I first walked in the door, and I couldn't help but admire the layout of the building. While they open every day at 3:00PM, they are available for private rentals in the early mornings and afternoons making it the perfect spot for bridal showers, baby showers, book clubs and more! The loft space is stunning and a perfect place for capturing memories. There's a massive 2-story mural painted by a local artist that's the perfect backdrop for large group photos or just the casual selfie.
But of course, the scene isn't complete without a wine glass in hand. One of the hostesses handed us our wine glasses — white for me, red for him — and showed us how simple it was to use the self-serve wine bar. Just insert the special card and select your pour size, easy as that! We enjoyed tasting a variety of the wines, and the hostess informed us that all the wines are personally selected by the owners and their staff with the intention of keeping a wide variety of styles and flavors. 
The Red & White staff members are a tight-knit group, some of them having met long before the idea even entered Mike and Kari's mind. It was clear that it wasn't just the staff that were close, but also the regular locals. You could tell some guests had come not just for the great wine and food, but for the people too. 
We took our seats under the hanging lights and listened as the Myles Talbott duo played everything from old school folk all the way to current Lumineers songs. We picked at our Cheeseboard of the Month until all the fixings were gone and our glasses were empty. In its prime, the board was decked out in caramel apple slices, crackers, sesame sticks, candied pecans and four different Carr Valley cheeses. My absolute favorite was the Porto Duet; a soft cheese with a great savory flavor that wasn't too overpowering compared to everything else on the board. I couldn't have picked a better way to spend a Saturday night than to sip some wine, savor some cheese and enjoy some live music outside by the fire. Overall, it's a great place to kick back, drink up and hang out!
The Lone Girl Brewing Company: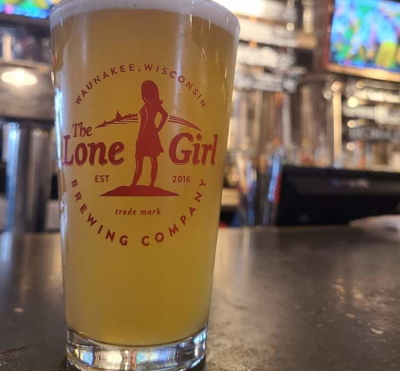 The Lone Girl is a brewpub situated on a triangulated corner where West Main becomes East Main Street. And trust me, if you're driving eastbound, there's no way you're going to miss it. The Lone Girl has a stunning focal point on Main with a massive 2-story chandelier that catches your eye, especially at night when we can see everyone inside through the great big windows enjoying a beer with friends. This is exactly what co-owner Kevin envisioned for Waunakee. 
You see, when Kevin and his family first moved to Waunakee from Chicago, they filled out a survey from the Chamber of Commerce and in the additional notes, he recommended that they get an anchor-point on Main Street. From there, his phone started ringing non-stop with calls from the chamber, architects, local businesses that wanted to help out in any way they could…and The Lone Girl was born (over the course of many years of course, because good things take time).
But why The Lone Girl? Well, it's a rather cute story actually. Kevin and his friend Paul, whom he met in college, decided to go into this business together. Between the two of them, they had seven kids and only one was a girl. Hence, The Lone Girl. But don't worry, the boys aren't left out of the equation completely! Kevin's twin sons finally had their special feature when Double Trubbel hit the taps: a pumpkin spice Belgian Dubbel. All the beers are brewed in-house and are directly connected to the taps until they run dry.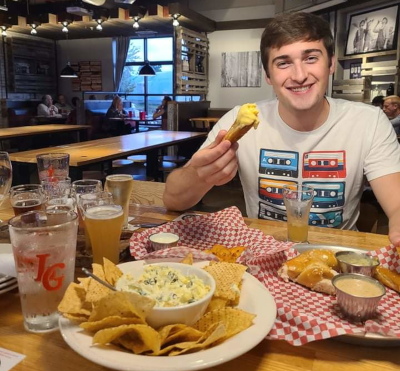 All of their beers have these fun little anecdotal stories about how they got their names, and these stories made me feel connected to The Lone Girl in a way that a name like Miller Lite never could. That's not the only thing that makes this place so special, the creation of this brewpub seemed to be a community effort where local woodsmen would come and offer their craft for furniture or decor to help out the new business in town, or how farmers, motor gear manufacturers, local muralists and and every other unexpected helping hand got involved. The community of Waunakee proved that they just want to see each other succeed, and that's a beautiful thing.
And just like the community took care of The Lone Girl, The Lone Girl takes care of them too. On the second floor, they have a beautiful event space that can be used for wedding parties to work conferences to sports team dinners. They work with local farmers to ensure their spent grain isn't wasted, they provide promotional coupons and deals for local organizations and much more! Their rooftop patio is a coveted space great for enjoying live music by the fire after Friday fish frys. 
If you're sticking around for more than just a pint, I'd highly recommend the spinach artichoke dip. I'm normally a big cheese curd and soft pretzel type of girl (both of which are also delicious), but I was blown away by this dip and couldn't stop eating it once it was on the table. I also chowed down on the World Famous Brewben, and I can 100 percent recommend it knowing you'll be satisfied. And if you're looking to finish off with something sweet, you can't go wrong with the Snookie Bar: a heaping plate of warm melt in your mouth cookie topped in hot chocolate ganache sauce topped with a Snicker crumble. If you've got a sweet tooth, you have to dig into this dessert!
If you're looking for an insider's tip, order a Love Train. It's not on the menu, but trust me on this one, you're going to love it!
There are a lot of great places to visit in Waunakee, and you'll truly need more than just one weekend to visit them all! I hope this article can get you started on some ideas for planning your own weekend getaway to the one and only Waunakee in the world.