By Kylie Compe –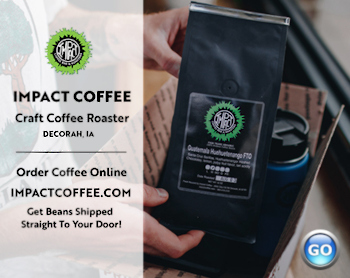 In the blink of an eye the trees have turned orange and the leaves have started to fall, but the sun doesn't seem to be on the same page, still blazing throughout the month of September like it's mid-July. Whether you consider this time of year late summer or early fall, everyone can agree this is prime winery season, and we're giving you a double-header today.

Baraboo Bluff Winery and Broken Bottle Winery are located in the Baraboo, WI area of the Driftless, right between Devil's Lake State Park and the Wisconsin Dells. Besides having great wines and beautiful views, these wineries have something else in common too. These two wineries are brought to you by the same talented family, opened just a few years apart, making them sister wineries. They are just a short drive apart and right in the heart of the beautiful city of Baraboo where there are lots of activities to break up your day. I chose to start off my day at Broken Bottle.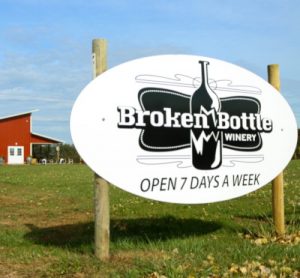 Immediately after pulling up, the Wisconsinite in me couldn't help but yell "cow!" when I saw the metal cow sculpture in front of the winery. A classy addition to the rustic farmhouse look they seemed to be going for. We walked around the store a little bit and we noticed they have the local Carr Valley Cheese for sale, so we grabbed a block before finally settling in at the bar for our tasting.

If you're holding on desperately to the last few whispers of summer, like me, I'd recommend Summer Nights — cliche, I know, but it's called Summer Nights for a reason. With its mango papaya finish, this one can be loved all year round, but it hits differently on a hot summer day. Humble is also a great summer option with a refreshing apricot and peach finish, I'd probably dub this one my favorite.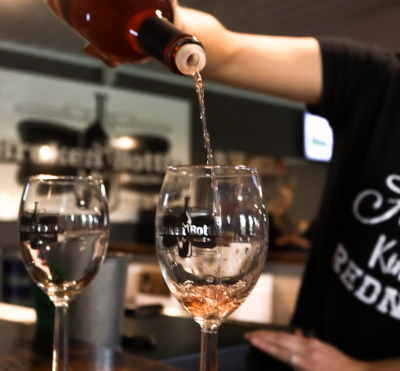 For those that are looking to skip ahead to Halloween already, also me, I'd recommend On the Pier — this sweet wine tastes like a liquified watermelon Jolly Rancher and will cure any candy craving you have instantly.
Whether it's summer or early fall, make sure to grab a glass and head outside to enjoy your wine while soaking in the last few sunny days of the year. The rustic patio has a wonderful view of the autumn trees and an outdoor stage hosts a variety of artists in the warmer months. And don't forget to bring your furry friend along as well!
If you can't make it out before the snow begins to fall, rest assured that there is plenty of spacious seating inside; with two 28-foot tasting bars, you won't have any problems getting a seat at the bar. And you're in luck! You're just in time for their seasonal Hillbilly Holiday wine. Made from chancellor grapes and just the right amount of spice, this festive drink is sure to hit the spot! I had never had a wine served warm before, and I was skeptical, but I was surprised to find that I actually preferred the warm to the chilled! The flavors were more prominent and it fit with the chilly fall day vibes.

Before you head on your way, walk on over to the Wisconsin Dells Antique and Craft Mall just across the street. The antique mall is also owned by locals and they have partnered with Broken Bottle to give visitors a rather unique experience: you can browse the shelves while sipping on your wine-to-go! The decor inside the winery often comes from the mall and the iconic pig and cow sculptures out front are no exception. Before you hop in your car and drive to Baraboo Bluff for round two, walk a couple doors down and stop by Cindy's Cafe and Coffeehouse for a sandwich. Chicken Pesto Panini — must have.

So you made it to Baraboo Bluff, and you've probably already jumped out of the car and started running up and down the rows of the vineyard in excitement. Well, if I'm right, you need to try the Cloud 9 wine because the grapes for this wine are grown right on the property, probably where you just ran through.
Baraboo Bluff opened in 2015 after spending the few years prior growing their grapes. The high school sweethearts lived in the house for five years before turning it into a winery, and they used to host tastings inside their home before building the current tasting room in 2017. The new addition is stunning with a beautiful outdoor seating area where you practically get to sit amongst the vines.
I enjoyed the Baraboo Blush, a sweet and light wine that has a delicate flavor and crisp finish. Definitely another wine to enjoy on a summer night. Same goes for the Tropical State of Mind, a semi-sweet white wine that is interestingly made from the same grapes that Welches makes their grape juice from. Never would have guessed that.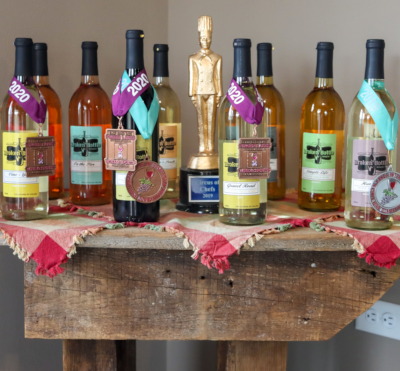 Baraboo Bluff has produced a number of award-winning wines, namely the Annual Finger Lakes International Wine Competition double-gold winner made by Fred Quandt, the 2019 vintage of Sangiovese. This wine was aged on French oak and has peppery undertones and is a take-a-bottle-home kind of wine. I haven't had the pleasure of trying the silver medal winner, 2020 Itasca, because it was sold out when I went, but I'd love to revisit and give it a try!
Another popular award-winning wine is The Girlfriend, a semi sweet wine with a variety of versions such as a peach, white raspberry and the original mango! There's a great story behind this one, but I'll let you ask them yourself!
If you find yourself visiting in the fall or winter time, ask if they have the Noveau. It's not on the menu, but it's a seasonal spiced wine that's, once again, served warm.
I hope that no matter what time of year you choose to visit Broken Bottle and Baraboo Bluff, you'll find a wine or two that you enjoy and you'll head home with a couple of bottles to share. Happy tasting!