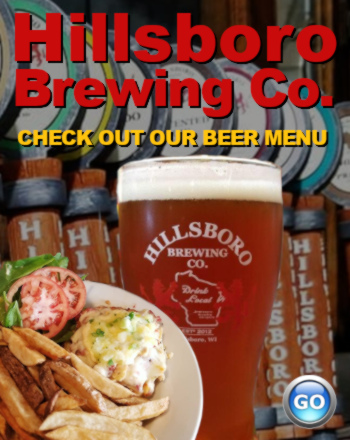 Electric bicycles ("e-bikes") have been around for quite some time now in Asia. Here in America, we understood how they worked, but did not readily adapt to them. It's also to no surprise that we as Americans have led the world in bicycle ownership, but were low in actual bike use, with most of our bikes sitting in our garages.
Then Covid happened and changed all that. We started to venture outside, and our bikes became a safe option. And moreso, the power-assisted e-bike was an ideal solution for many of us, for many different reasons.
Here is our reason.
Recently, my family had to help our elderly father in making a decision. And yes, this decision was first brought about by him! So after a few weeks of family meetings, we all agreed that in his senior years, with his hearing starting to diminish, it would be a good idea, for safety reasons, to retire him from driving. But there was a trade-off, and he had conditions.
Yes, he was willing to surrender his driving duties if we honored his request in finding a substitute allowing him to "Maintain My Mobility". So what did he exactly mean by "Maintain My Mobility";
1. I want to be able to bike to a park
2. I want to be able to bike to a grocery store
3. I want to be able to have access to water for fishing
4. I want to make sure that I can carry a small load or pull a cart
5. I want to have a comfortable ride
6. I want to be able to go Off-Road if need be
7. I would like to have the option of using this bike in the rain

Enter the E-Tadpole Fat-Tire Recumbent Trike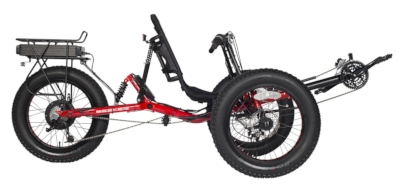 This however wasn't the first choice! We started looking at UTV's, but dismissed this option because most state trails do NOT allow gas powered engines. We then looked at an electric golf cart, but dismissed this option due to battery constraints and weight. We decided on the Tadpole. It was the most perfect blend of go anywhere, tread lightly, get needed exercise, and keep the noise to a light hum.
This tadpole is NOT your average upright type bike. It has three "fat tire" wheels. Two in the front and one in the rear that houses the motor. Balance is not too much of an issue. Because this is a recumbent style bike, the seat puts the body in a more natural position and is typically easier on your joints and back during riding. Your body position is like sitting on a piece of furniture with adequate seat coverage and a backrest that is slightly reclined. The seat is larger, provides more lumbar back support, and has pedals positioned out in front of the body, making this a much more comfortable and stable ride.

We made the purchase and proceeded with his fitting.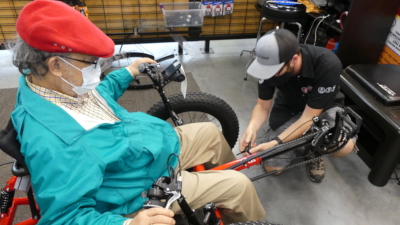 I just want to offer a word of advice here. Anyone who is a first-time purchaser of a tadpole recumbent style bike should go through this "fitting process" with a qualified person who has "real world" experience with a tadpole. The steering and weight shifting when going into turns need to be explained during the test drive. Also, you are dealing with an electric motor which gives it that much more power. Think power plus turns. It's something you need to be explained to you before you attempt it. But once you understand, and feel the force and power that you have, it will bring an automatic smile to your face.
We were very fortunate to have Andrew from Eric's Bikes give our father his fitting and his first test drive. After about an hour of these "Best Practice Lessons" and some final adjustments, we were ready to get the tad-pole on the trailer and take it to the farm.
Our farm is located here in the Driftless Region. It sits about halfway between Richland Center and Spring Green Wisconsin with the Pine River Trail being readily available. This would serve as our father's first "Real World" experience with his bike.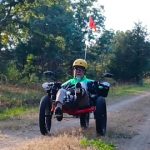 Since this writing, our father has been exploring the Pine River Trail with a new sense of freedom and exploration.
He averages about three rides a week on this trail and has stories for each one of them. It has truly changed his general attitude and outlook on life. So much, he will be sharing some of his journeys on the Pine River Trail, and others, in future issues.
PINE RIVER TRAIL INFORMATION
Photos: Richland Center Parks & Rec
The Pine River Watershed Project is the beginning of the Pine River Recreation Trail which travels between Richland Center and Lone Rock.
Pine River Recreational Trail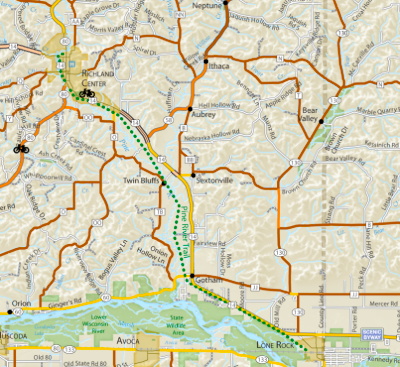 This easy-graded rail trail invites hikers and cyclers in spring, summer, and fall, and snowmobilers in winter.
This 14.3-mile trail is laid on an abandoned rail bed and gives riders a chance to enjoy the beauty of 250-foot river bluffs without having to ride over them. It gives access to the restored Railroad Depot at the corner of Seminary Street and Orange Street (US Hwy 14). It also allows passage through an arboretum and the restored savannah prairies at the site of the old mill dam. The dam, removed to allow a free-flowing river, now is the site of riffels where anglers fish and canoeists can continue their downriver journey. The arboretum is part of the bike trail enhancement.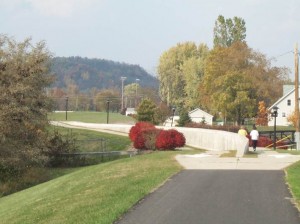 The site has nearly 200 varieties of trees and shrubbery nestled along the Pine River just south of the Seminary Street Bridge. Above the Seminary Street Bridge, the remnant bed of the Mill Pond has dried and is planted in tall prairie grass. Comprising nearly 60 acres, the area is intersected by a historic suspended footbridge accessible from the dike bike trail.
For a challenge, you can take on several bluff-top climbs on a 15-mile on-road option which, while mostly on paved roads, features 1.7 miles of primitive gravel on Cardinal Crest Road through a tunnel of trees.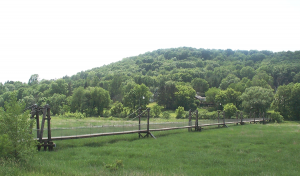 Probably the most refreshing stretch is on WI 60 as the road hugs the edge of Bogus Bluff next to the Wisconsin River. This new crushed-limestone rail trail with several nice town parks makes for a pleasant family ride; or, you can get a workout by taking on the bluffs via the paved and gravel road route.
Scenery includes farm, river, and marsh views on the rail trail; farm, woods, ridge-top, and Wisconsin River views on the road route.
Parking and access is available at the Village of Lone Rock, the unincorporated community of Gotham, Twin Bluffs, and in the city of Richland Center. The trail is free and open to the public. The trail does not allow unauthorized motorized vehicles.
Bike Repair Stations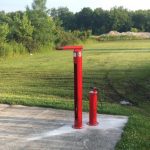 Thanks to the Pine River Trails Grant, we had leftover funds to purchase two new Bike Repair Stations! Station 1 is located on the corner of Orange Street & 7th Street, next to the charging station and the corner of the new Aquatic Center. Station 2 is located on the Pine River Bike Trail behind Anytime Fitness. Thanks go out to all involved in the Grant, as well as to Shane Pepich for helping with installation in conjunction with his Eagle Scout Project.

For More Information Contact:
Dave Fry
Park Superintendent/City Forester
1100 N. Jefferson Street
C: 608-604-0398
P: 608-647-8108 ex. 2
E: parksmaintenance@richlandcenter.com
https://ci.richland-center.wi.us/parks-rec/recreational-trail/