By Gabi Gruba –
If you are in the South Central area of Wisconsin and you're looking for somewhere to get out of the house with your family or just on your own to enjoy a day out, Oakwood Fruit Farm is a great place to go. It's a family-owned, free range organic orchard with a bakery and retail center on-site selling hundreds of fresh products and locally provided treats.
Oakwood Fruit Farm is a large producer of thousands of apples and grape bunches located in Richland Center, WI surrounded by miles of farmland and small communities, the epitome of a small midwestern town family business. Even with the Covid safety precautions they remain open and sell thousands of dollars of assorted merchandise every day. The farm sits on 180 acres of land that is also home to the 3rd generation of farm owners that has run the land since 1904. The current owner grew up in the house right next to the store, and their close relatives who live in the surrounding houses had grown up learning to appreciate the work it takes to run a fruit farm. As you walk around the store, you can read about the history behind the orchard and the first generation that built it themselves, and passed it onto their kids.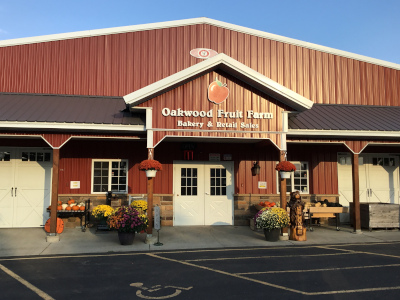 They allow you to walk through the gates that lead to the acres of apple trees and grapevines to pick your fresh fruit. You can taste all the different types of fresh apples ripe for the season and sweet concord grapes. This land is surrounded by beautiful forestry and farmland. You can enjoy just walking around the orchards, picking a few grapes or apples for free within certain designated hours.
Besides the abundant fruit, Oakwood also has its bakery right in the retail store! The staff makes dozens of fresh apple cider donuts every hour, and they sell them all in-house. They also sell raspberry turnovers and pies from local bakers. Everything they sell, whether from their farm or local Wisconsin farms, is all sustainable with no harmful additives or preservatives, which is something Oakwood Fruit Farm and its owners prioritize in light of the new health standards many people are holding themselves to. They use no pesticides or harmful chemicals at all to avoid any consumption or inhalation of these harmful substances.
The business also has a packing facility that employs nearly 55 people to pick, wash, gloss, sort, and ship thousands of pounds of apples wholesale to local grocers. Half of their bounty is still sold in the facility that is open to the public, but you can still enjoy the crisp apples or apple cider at any grocer in the state. If you want the madly popular apple cider donuts, however, you can only get them "made fresh by the hour" on site.
Oakwood also sells locally handcrafted novelties like homemade soaps made by a woman that lives down the street from the farm. In fact, she produces all the soap, deodorants, and essential oil-infused yarn right in her own home! They also sell a variety of jams, local honey, pies, and many more items all produced locally. Two local authors' novels and children's books are also on display. The books take place in their hometowns in Wisconsin, and remain relatable to the Midwestern lifestyle. Seasonally they also sell pumpkins and gourds for carving or baking.
Every employee that we asked said it was really fun to work here, a fun environment with a pleasant atmosphere. It was easy to tell that everyone enjoys themselves here.
In essence, Oakwood Fruit Farm is a beautiful, open area that is ideal for a healthy and exciting family-owned small business. If you enjoy a family-friendly outdoor fun, baking, fresh fruit, and friendly atmosphere, this is the place for you.
31128 Apple Ridge Road
Richland Center, WI 53581
Phone: (608) 585-2701