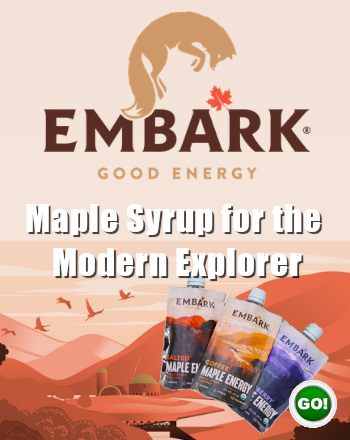 By Kylie Compe –
Dangle some Edison bulbs from an old wooden support beam, roll in the barrels and get rid of that upper lever. Pull up a metal stool, let the light in with some statement windows and enjoy some wine with your friends. I know this is becoming a fairly popular trend — taking the old farm aesthetic and turning it into a classy wedding backdrop — but wow. I hope this trend never goes away because I am obsessed. Let me introduce you to the master of this art: welcome to Bailey's Run.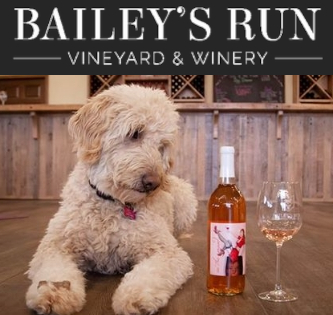 You might notice you'll come nose to nose with a dog while sipping your wine. The namesake, Bailey, lives within the winery's logo as well as in photos hung all along the walls. The roaming hound runs this winery…if running a winery means prancing through a vineyard that is. I can't say I blame her, if it weren't for an unfortunately timed rainstorm, I'd want to be out back as well. With live music and scenery like that, who wouldn't want to be outside? Come for the wine, stay for the view — that should be their new slogan if you ask me. If you let your eyes wander, they'll run over the tops of the vineyard and out into the rolling hills of the Driftless.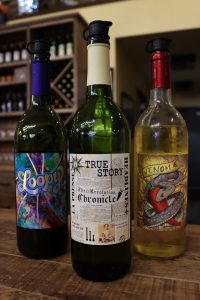 The grapes you'll see out front are the same that are used to make their Edelweiss wine — if you aren't singing right now I'm slightly disappointed. If you know, you know. But before we even get to the wine, one thing needs to be addressed: the artwork on the bottles is an absolute snare for an "aesthetics" sucker like myself. The labeling alone was enough to make me grab bottle after bottle from the shelves before the cork was even popped. All that was running through my head was, "Ooh, that'll look great in my bedroom," "this one is perfect for the living room," etc.
Unsurprisingly, one bottle did make its way home with me after scoring a 10/10 on style and taste; now I have a bottle of True Story decorating my bedroom wall. And while I may not have it decorating my living room, Venom also snuck its way into my bag thanks to its clever play on my curiosity. This jalapeno wine — yes, you read that right — will knock you down and pick you right back up again, not to mention it makes a mean Bloody Mary. Definitely worth a sample if you're feeling adventurous. Last but not least, get a little crazy with a glass of Loopy, a sweet red that'll have you singing all your favorite 60's tunes in no time. It tastes like something straight out of an old school candy shop. Treat yourself to a nice sampling at the bar, order a glass of your favorite and grab a menu — the wine isn't the only thing worth trying here.
The first thing you need to order is the Bavarian pretzel: delightfully warm and fluffy, and served with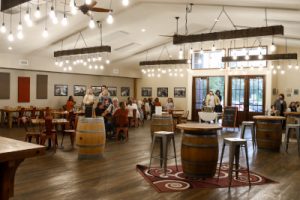 stone ground mustard and beer cheese dip. You may have the urge to keep it all for yourself, but you better be prepared to share. This starter is bigger than your head, but you'll still want more when the plate is empty. I have witnessed firsthand someone lick the beer cheese dish clean because they couldn't get enough. I hope you love it just as much.
You better have left room for more because you won't want to miss out on their stone-fired pizzas. I may have cheated and looked on their website, but these pizzas are made from scratch and cooked in their specially-made brick oven for 90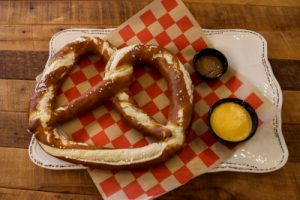 seconds at 900 degrees. I know I'm not alone when I say, I wish all pizzas were ready in 90 seconds. We enjoyed a Salsciccia style pizza: fresh mozzarella, Italian sausage, and fresh mushrooms. This was a simple classic, but I'd love to try the Pesto Alla Genovese or The Saucy Stripper for a more creative kick next time I make my way out there. They all sound phenomenal, honestly. 
So next time you're in New Glarus WI, take a little drive over to Bailey's Run for a taste of all they have to offer. And if you're lucky enough to come on a day with live music, make sure to stick around for a set. Wine not?