By Rick Pedersen –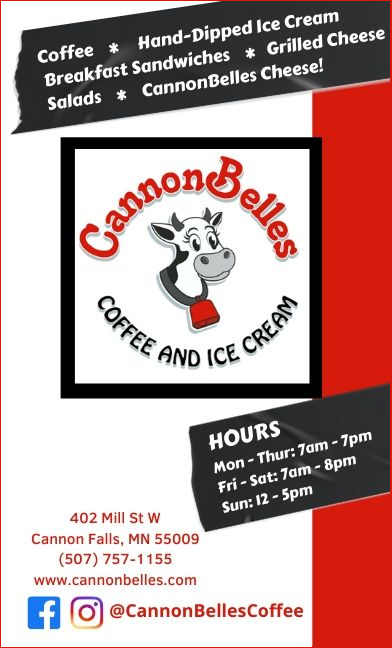 Before the Internet, families used road trips down back roads to discover hidden gems in the country. Families piled into the station wagon on the weekend and went for a drive in the country to visit relatives or maybe to go for a ride and see what they could discover. Today's exploration occurs on the Internet instead of a vehicle, and that is sad. As a writer, I find some of the best-hidden gems have come from word of mouth or searching a topic on Facebook, and having it lead to other discoveries that I was not even looking for. 
Houston County, Minnesota, is an area that has revealed a couple of such gems in the past two years, and notably, they were Rock Filter Distillery and Fat Pat's BBQ, both located in Spring Grove, MN. Some of these areas remind me of panning for gold, and I frequently find myself checking back to see where I will find the following nugget. Last fall, I read an article about other food places within Houston County. I had never heard of a place called Newburgh Vintage Home & Garden and Small-batch French Bakery. After a few clicks, I learned that Newburgh was a small town outside Mabel, Minnesota. On the Facebook page, I discovered the most fantastic bakery that I had ever seen in pictures. I am a huge fan of made-from-scratch restaurants and bakeries and found very few that meet the high standard for what I enjoy. I am not a snobby person, nor do I consider myself picky or better than other people, but there are specific tastes and smells I would expect to find at the perfect location.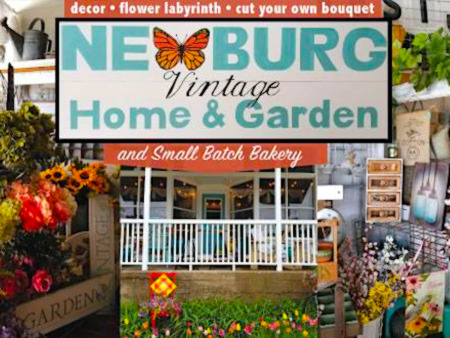 As I researched what I hoped would be the next hidden gem for my wife and me to discover, I learned they were only open one day a week, and that was Saturdays from 11 AM till 2 PM. They encouraged you to pre-order on Fridays when they post on Facebook the available products for the week. I was soon able to message this bakery and discover Irene Fishburn and her husband operated this bakery and lived on site. Although I was too late to order for the week, Irene allowed my wife and me to stop by for a quick peek and visit before she opened. She graciously took a break from her marathon baking and sat out on the front porch with us to tell her story. 
We learned she was a retired financial planner from Cedar Rapids, IA, and originally from California. She discovered the Newburg location on the Internet on a Friday and purchased it on Saturday. The site is the general store and is more than 100 years old, and it seemed to be the perfect location to run a small business. Additionally, Irene's husband Glenn is a lifelong fly fisherman, and the stream adjacent to this location was the icing on the cake. The store had sat empty for the past ten years, and the plan was to run a gift shop while serving cookies and coffee. Irene also enjoyed baking. She gave away cream puffs to customers at the shop that everyone so enthusiastically enjoyed that it encouraged her to pursue further baking endeavors. Irene's mom was a Baker, lived in Europe with her family, and fondly remembers she loved the European bakeries' look and counters. Her mother's recipes were handed down to her, and she enjoyed baking for her coworkers.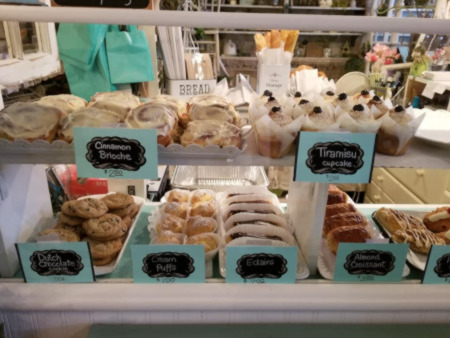 A nearby small town called Choice, from which a cookie recipe was handed down for many years, and one of the final residents had no one to pass the recipe on to and graciously gifted to Irene. The cookie became one of the most popular bakery items. The cookie is named after the town and is a shortbread cookie that is light and crispy while melting in your mouth. The first weekend Irene sold 37 dozen cookies and still averages 30 dozen per week. I was amazed to learn the three-day process to prep, mix, shop for ingredients, and bake all the items. Irene will sell all items during the day a week she is open and then only a couple of hours on that day. The available items vary from week to week. However, they include croissants, Brioche, pies, and loaves of bread, and a list is posted every Friday On Facebook so that customers may begin the pre-order process. 
These days 99% of the very super talented bakers are 40 years or younger, which is about half the age of Irene and Glenn. This talented dual performs magic during their marathon baking session every Friday and Saturday without any fancy equipment, one bad oven, a great deal of coffee, and a sprinkle of humor at 2:00 AM when things get tough. The two work feverishly side-by-side, with Glenn monitoring the ovens, refilling ingredients, keeping counters clean and dishes washed, and finally packaging products for the pre-orders. They share this precious time each week and watch Hallmark movies to keep them going throughout the night. Glenn's assistance is greatly appreciated because Irene understands he would much rather be fly fishing instead of living in their Hallmark movie Christmas marathon, as she calls it.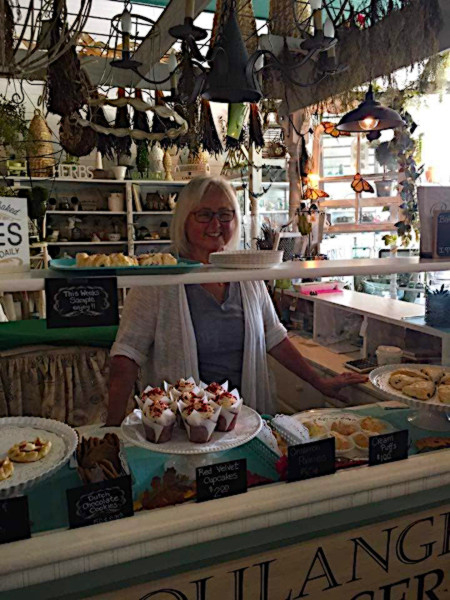 At the end of this marathon session, everything is cleaned and put back in place, and the talented pair stay out of the kitchen for the next couple of days, only to return and start all over the following week. Words cannot do justice to all the smells and tastes you will discover when sampling these products. The love and talent that goes into creating these fantastic pastries and baked goods are over the top, unlike anything I have eaten my entire life. There are four kinds of Brioche, Apple cherry turnovers, homemade caramel, pies, tarts made from scratch lemon curd, and countless scones and croissants. The sheer number of these handmade items weekly is mind boggling to the average person, but once you have the chance to sample any of these items, you will be highly grateful to have discovered this gem. 
In addition to the bakery, you will find a very quaint gift shop and bakery counter indoors. Customers may pickup pre-orders at the outdoor window. There is a beautiful butterfly garden in warmer weather, showcasing another passion as a master gardener. This fantastic place is currently open year-round, but considering Glen and Irene are enjoying their retirement years, there is no guarantee how long they will continue this current endeavor. 
When I asked about children or grandchildren having an interest or passing this legacy on, Irene told me there are currently no plans to do so. For now, my advice would be to please make the trip and try these products because there are few people left in the world doing things in this traditional fashion at this level of quality. My wife and I are grateful to have discovered yet another tiny gem and cannot wait until our next visit. I will include The Facebook link to view the products' pictures to learn what is available for the current week. If you stop in, please tell Irene hello from Rick and Joanne at Driftless Area Magazine. 
https://www.facebook.com/NewburgVintageHomeandGarden