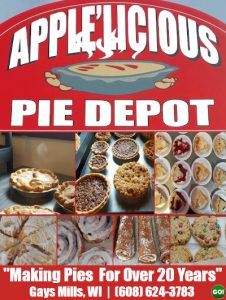 An Interview with Wendy Burkholder and Tammy Morga – Apple'licious Pie Depot
"People of the Driftless"


Tell us about what you do for work or your business, and how long have you been doing this?
We are a family owned bakery and started the business in 1995. This is our 25th year. We are now in our 3rd building because we outgrew our other two. On busy weekends such as the Driftless Area Art Festival and the Gays Mills Apple Festival, we work up to 16 hours a day.

Tell us about a project or accomplishment that you consider to be the most significant in your career with your business.
Our biggest accomplishment is hitting 25 years and still growing. We always say we don't know how we could possibly do more the next season, but we always do.

We're constantly making things better, faster, smarter or less expensive. Tell us about a recent project or problem that you made better, faster, smarter, more efficient, or less expensive.
To make things go faster we purchased a bigger dough mixer so instead of making one batch at a time we can now make 5 batches at a time. We also added another walk in freezer so we can be better prepared for busy weekends which is smarter for us.

What do you wish other people knew about you or your business?
We are family owned and operated. We started back in 1995 in a small trailer with one oven making 10 to 15 pies a day. Now we are in our 3rd building with 5 convection ovens making over 100 pies a day. We now have two walk-in freezers. We have 15 different varieties of pies that are baked fresh daily. Our apples are from a local orchard called Flemings Orchard.



So tell us more about yourselves.

So, what's your story? Where were you born? How long have you been here in the Driftless, What keeps you here?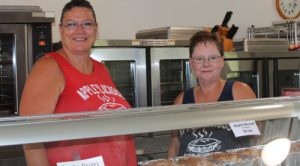 Wendy and Tammy were both born in Beloit Wisconsin and have both been in the area for 35 years from a small town in Illinois.

How do you develop yourself outside of your work environment?
We take a much needed vacation to Florida. We go camping, gardening, kayaking, and prepare ourselves for the upcoming season by selling pie with ice cream and other goodies at summer festivals.

What are some of your favorite places to go for fun here in the Driftless?
We like to go to the summer festivals such as the rendezvous, flea markets, and music festivals.

If you were to tell a friend to come and visit the Driftless Area, and they ask "Why" … what would you tell them?
There are a lot of great places to visit. The scenery. There are a lot of orchards, tourist attractions, great places to eat, friendly people. And of course, the Apple'licious Pie Depot.


About
Apple'licious Pie Depot

We are a family owned bakery and have been making pies for over 20 years.

Pie varieties:
Apple, Blackberry, Blueberry, Cherry, Peach, Pecan, Raspberry Rhubarb, Strawberry Rhubarb, Triple Berry, Caramel Crumb-Top Apple, Crumb-Top Apple, Sugar Free Apple, Sugar Free Peach.

We have Caramel Apple Pizza which is our homemade pie crust with a layer of apple, then our crumbly topping, then drizzled with caramel.

Our bakery items:
Apple or Cherry Turnovers, Apple Fritters, Monster Cookies, Chocolate Chip Cookies, Cinnamon Rolls, Apple Cider Donuts, Apple Crisp, Rhubarb Cake, Brownies, and Muffins.

We also have homemade Salsa and Peanut Brittle.

We have T-Shirts in all different sizes and colors. From small to 3x. We also have Hats now.


Reviews

"One word: WOW! Make sure your visit to the Driftless Region includes a stop here. Your sweet teeth will thank you!" – mplsmndude tr

"Amazing pie and amazing prices! We will be back. Small single serving pies for around $3. The pumpkin was the best I have had. Everything is homemade and there are tables inside to enjoy it right there." – Jamie Ristey

"If you're looking for the BEST fresh and delicious pies this side of the Mississippi then look no further than Apple'licious not to mention the gorgeous drive to get there, totally worth it hands down!" – Cydney Renee