Nestled in the backwoods of Barneveld, Wisconsin is a cute little barn that houses Botham Vineyards & Winery. Bright green trees loom over the little gravel road like something out of a fairytale as you pass by the vineyards and little house on the hill. Driving up the long driveway gave me the familiar nostalgia of arriving at grandma's house. At the end of the drive is the barn which is surrounded by a gorgeous landscaping of trees and flowering bushes, the perfect scenery for relaxing Saturday wine tasting.

As I was parking the car, my friend Jenn wildly exclaimed that she saw a cat and immediately leaped from the car before I had even put it in park. By the time I had gathered my belongings and gotten out of the car, she was standing there with the cat in her arms talking about taking him home. He was a large black cat with a deformed front paw, a characteristic that gave him a bit of a hop to his leisurely stride. He followed us around outside, running up in front of us and laying down in our path begging for some well-deserved scratches behind the ears before we made our way inside the barn.

The interior of the barn was decorated in beautiful arrays of house-made wines and chocolates as well as multiple gas station signs. We wandered around the tables for a few moments browsing the selection before our little friend came racing into the building to brush around our ankles some more.
 
We approached the tasting bar near the entrance to ask about our furry little friend I had fondly been referring to as Hal (short for Halloween). Apparently, he had wandered onto the property a year or so earlier and had taken a liking to the people and atmosphere and decided to stay. They named him Hopper, and the owner had grown quite attached to him. While this was a heartwarming story, it, unfortunately, meant he would not be coming home with us that day.

Since we had already made our way over to the bar, we decided we should start our tasting. My wallet gave a sigh of relief when our server, Addison, told us a full menu tasting was only 10 dollars. If you do not want to taste the whole menu, you can try up to three wines free of charge! Seemed like a steal to me.

Personally, I was rather excited because I had never done a wine tasting before. I am rather new to the world of wines, and I have a strong preference for anything sweet. I was also a little nervous because my sweet tooth makes it hard for me to enjoy most dry wines. Nevertheless, I was determined to try them all. Luckily for me, I would say most of the wines at Botham Vineyards were on the sweeter side, even the reds. I enjoyed every wine I tried, a rather big feat for me!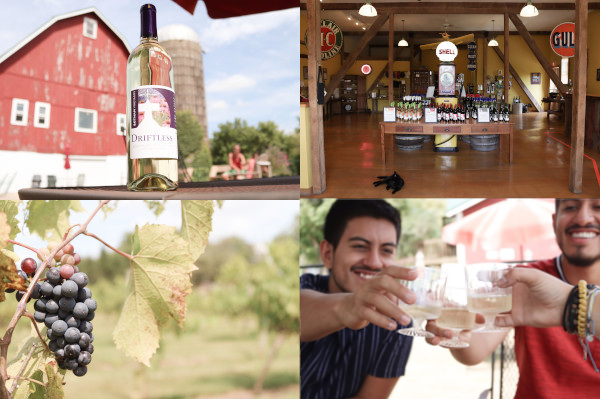 As he poured each sample one by one, our server, Addison, was rather helpful in describing the flavors and pairings that go well with each wine. He was very friendly and struck up a conversation as he politely waited for everyone to finish their drinks before pouring the next round. My personal favorites were the Big Stuff Red (I am a sucker for berries) and the Driftless (might be a little biased because of the name).

We ended up buying a bottle of Blonde Rocks to enjoy together on the patio. The day could not have been better, the sun was shining, there was a nice breeze and the scenery was absolutely stunning. The raised patio faces off towards the rolling hills and has plenty of tables all safely distanced to provide ease of mind. Towards the building, there seemed to be a slightly raised stage that must be used for live music events. As our bottle began to dwindle, I ended up running back inside to buy two more bottles of wine and a bar of chocolate to take home with me.

I grabbed the Lillehammer chocolate bar because I am a huge fan of sea salt and toffee. The Lillehammer is a dark chocolate with sea salt, toffee, and cocoa nibs. For dark chocolate, it was still rather sweet and not bitter at all, and the toffee gave each bite a satisfying crunch. Seriously though, this was the cutest chocolate bar I had ever seen. It was wrapped in brown paper, tied with twine, then sealed with an elegant stamped wax. Totally my style, and I could not help but appreciate the effort that must have gone into packaging each individual chocolate.

Although I was disappointed that I would not be going home with Hal/Hopper, I was going home with two delicious bottles of wine and fun memories with friends, so I can't complain. And I would go back to see Hal/Hopper in a heartbeat.