ATVing & UTVing In Black River Country

Jackson County trails open May 15 – Oct 15 and Dec 15 – Mar 15
Clark County trails open May 15 – Oct 31 and Dec 15 – Mar 15

There are many places to ride all-terrain vehicles in the Upper Midwest but the center of the ATV universe is the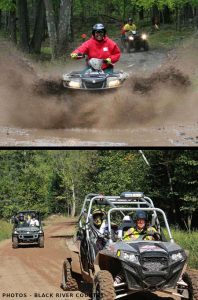 Black River Falls area.

Recently voted the Best Place to go Four Wheeling by the 2019 La Crosse Tribune Best of the Best reader's choice awards.

What makes this area known for having some of the best ATV/UTV and single-track motorcycle trails? ATVers can ride more than 100 miles through Jackson County and an additional 135 miles through neighboring Clark County.

The trails take you through rolling landscapes and over pristine streams with natural beauty truly unique in the Midwest. Riders coming to the Black River Falls area will find 335,000 acres of public forest, municipal ordinances favorable to motorized trail riding, and hundreds of miles of designated trails – everything the modern rider demands!

Businesses welcome ATV riders, who have many options for weekend stays. There are more than 500 hotel rooms in Black River Falls and other lodging options including campgrounds, lodges, resorts and bed and breakfasts.

When you're not on the trails, enjoy great local taverns, restaurants, unique shopping, breweries, wineries and a casino. There is also a trail extension that connects with many Black River Falls businesses, including trail access to four of the motels.

ATV trail passes are $35.00.


Trail Access & Parking

Jackson County ATV Trail Access and Parking


On East 7th St., near Castle Mound State Park

Off Hwy 12, two miles west of Millston

Junction County Hwy O and N. Settlement Rd., one mile east of Millston

Ott Trail parking lot on Airport Rd., east of Black River Falls

Highway 54, ten miles east of Black River Falls, just east of Wildcat-Spangler Rd.

West Clay School Rd. near East Arbutus Campground, southeast of Hatfield

East Arbutus Campground, north of W. Clay School Rd.

Crawford Hills County Park, twenty miles west of Black River Falls on Hwy 54


Clark County ATV Trail Access and Parking


Oak Ridge Parking Lot, Hwy M north of Hwy GG

Rock Dam Park, Wildrock Park, Junction of Hwy M and Hwy I

Hwy 10 Parking Lot, on Hwy 10 one mile northeast of intersection of Hwy B and Hwy 10

Wildcat Park, Hwy B five miles east of Humbird

Hatfield Pines Parking Lots, two lots located off Bush Rd. east of Hwy J

All Terrain Vehicle (ATV) Trail Pass – $35.00

Wisconsin law requires those who use Wisconsin ATV trails to display either Wisconsin registration or an ATV trail pass. Funds from this program will be designated for use as trail aids and related costs to enhance all Wisconsin ATV recreation. The trail pass may be purchased online at our Online Licensing Center, over the counter at any license sales location, or by phone at 1-877-945-4236.


The $35.00 non-resident ATV trail use pass is valid from July 1st through June 30th.

The ATV trail pass is required to operate an ATV.

The trail pass must be permanently affixed by its own adhesive in a highly visible location on the forward half of the ATV.

Once affixed, the sticker may not be removed or transferred to another ATV.

When use safely and wisely an all terrain vehicle (ATV) can provide a source of fun and family recreation. When used unwisely by an untrained, inexperienced operator, an all-terrain vehicle can be very, very dangerous. With safety in mind, an all-terrain vehicle can be a useful tool for work and a great means of exploring the outdoors.


Visit Site