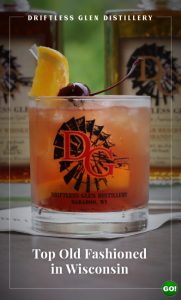 By Rick Pedersen –

A person could not have asked for a more perfect Friday, in the fall, for a drive in the country. Just about the time I was starting to think that I was in the middle of nowhere, and lost, I saw some buildings at the end of the road. The gravel parking lot and surrounding brown buildings reminded me of many summer camps I had seen years ago. It briefly took me back to my youth and also those fortunate enough to have attended. The visitor center is the first building I enter. While browsing the brochures and displays, I start to realize just how many activities there are to do here.

Located near the scenic bluff country of Lanesboro Minnesota, the center was founded in 1978 by Joe Deedan who had the idea that kids need to get back to nature. With the main campus of about 80 acres, and hundreds of available surrounding acres, there is a lot for a visitor to take in. Staff numbers range in the mid-30s including 22 full time teachers. 10 environmental education fellowships also take place where students earn outdoor education credits. Pedagogy is a used teaching theory where students participate in learning rather than sitting at a desk listening to a professor talk for hours. Students learn to care for the environment while learning "in the environment".

Our guides for the day were Henry, Anna, and Joel who were enthusiastic in showing us all the center has to offer. As the tour begins down a trail of dense hardwoods, I immediately envision the beautiful colors that will be popping out on the maple trees and other foliage as the temperatures begin to cool and the days get shorter. The tour continues while the rope bridges and zip lines in the trees above quickly distract with pictures of younger days spent outside with my brother. We were fortunate enough to have spent our younger years, and well into early adult years, minutes from the river and woods.

The trees just ahead open to nothing but sky and standing on a rocky cliff edge there is an amazing view as far as

the eye can see overlooking a beautiful valley. Within moments, as the trail continued, the same view from above presents itself as the Root River below. This could easily be the same view as experienced in Colorado or Canada, with equally the same canoeing and trout fishing available but without the travel. The beauty and solitude is amazing, all while an eagle let's everyone know its presence high above from a Cliff. Moments later, from upstream, a young couple appears in a canoe while quietly slipping past us and waving hello. It would be easy to spend an entire day stream side enjoying the view and a picnic.

Heading back toward campus, the "tour talk" shifts to programs and classes offered, but my mind is on that stream and what size brown trout might be lurking there.

Students grade 4 through 12 can learn about things like amphibians and geology, while adult classes range from becoming an outdoors woman, to making beer. With the beauty of the surroundings, a number of activities are available, and the community spirit that has been fostered here all combine to make a great place. Those choosing to stay longer than a day have a comfortable climate-controlled dormitory available with an excellent mess hall. A paradise with literally something for everyone. A trip to summer camp would make a much better present for a child then the video game they think they would like.

There are two new things on the horizon at Eagle Bluff which are creating great excitement and enthusiasm. The first being a J Term college course where students can earn 4 credits for 2 weeks attendance in partnership with Hamline University. These credits will be easily transferable to any other University. Currently, about 20 students are being recruited to try out this new program, with a hope to keep expanding offerings for undergraduate students with additional classes in both summer and winter. The second exciting thing on the horizon is an outdoors preschool, which will be one of the first of its kind. The preschool will literally get our kids outdoors, and at the earliest possibility.

The takeaway here is that there are so many more reasons to come here than just a "kid taking a field trip". Come walk the trails while pushing the grandkids in a stroller, attend a fund-raising dinner while listening to an informative subject, or send the kids to summer camp. And maybe if you're lucky, you might catch a glimpse of a majestic bald eagle or one of the many raptors that call this amazing place home.

As we say goodbye, I look out to the camping area and remember cherished memories camping with my uncle and brother as kids. I smile slightly as I remember my brother dropped his hotdog off his stick and into the dirt, then cried about it. My uncle told him it was ok and washed the sand off. A tear comes to my eye as I get back in the truck.



After this beautiful day at Eagle Bluffs Environmental Learning Center, we had a pleasant surprise at the Pedal Pusher cafe in Lanesboro. The owner, Scott, greeted us at the counter and humbly described the surroundings and offerings of his cafe. Scott sources, as much as possible, local ingredients and homemade recipes in the cafe. I tried the fish tacos, which were an inspiration from Scotts honeymoon with his wife in Costa Rica. Since fish tacos are one of my favorite things, Scott had a high bar to meet my expectations, but I must say, he surpassed them. The combined freshness and taste of his blackened tilapia, chipotle mayo, crumbled queso fresco, with lettuce and black bean corn salsa, were excellent. The cafe was clean, well-kept, and the staff was extremely friendly and helpful. Please tell Scott you read about him from Rick at the Driftless Magazine.


Visit Eagle Bluff Environmental Learning Center

Hike, Bike, Bird, Explore! HERE