By Jenn Peitscher –
Keep going, it's not what you might be expecting to hear from a rule-following almost 40 year old.

And we found out from our "Never Have I Ever" game that I may not be as much of a rule follower as I thought, but I'm very proud of my monogamous marriage to an amazing man of 15 years (doesn't even count all of our dating years!) who graciously encouraged me to go and have a great time while he embraced all the kids, cousins and DOGS.

But back to that "trio." I've not been a wine drinker for long, and wouldn't actually call myself a wine drinker, but more of a social drinker, so when it comes to a girls weekend of wine tours, count..me..in! One of my best friends is a wine drinker and upon the birth of her first child, I thought it most obvious to bring her a bottle of wine with the word "trios" on it now that they were in fact a family of three. Oh boy, my oblivion. Well, she enjoyed the California wine blend of three blended grapes and still debates how the Midwest can try to compete with Wine Country. Nevertheless, after touring the Driftless wine country and having toured Northern California a few years prior, to me what matters is the love of what you do and the company you enjoy the tour with.

My sister in law, whom I will reference as my sister, because what kind of an adjective is "in-law?"

I didn't grow up with female siblings, and as much as it seems like it would have been amazing, now is my time to embrace my sisters. They invited me on a girls trip to Minnesota/Wisconsin for a wine weekend. Never in a million years would I deny the opportunity to travel. So my other sister drove 9 hours from Nashville to meet me and head 6 more hours north to Rodchester. We enjoyed an amazing AirBnB stay and then woke early to embrace the trio wine tour. We started the morning sipping champagne to "cheers" the start of a beautiful day.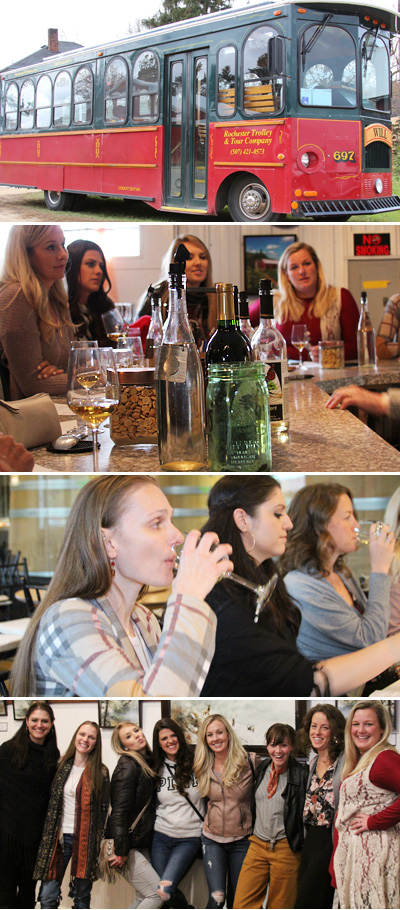 Eight of us headed off on our trolley, provided by the Rochester Trolley and Tour Company, to Flower Valley Winery in Red Wing, Minnesota.

Upon arriving to *Flower Valley, we were greeted not only by the owners, but the sweetest farm cat. Being an animal lover, if I can enjoy a glass of wine with the snuggles and purring of a friendly farm friend, I'm going to guarantee a lasting memory. Flower Valley is a no nonsense operation of believing in serving what they do best. Their philosophy revolved around picking one trait and doing it right. They served a various line of white and reds and prided themselves on no thrills, but brilliant, beautiful wine like my favorite, Le Crescent. We learned a lot about the University of Minnesota grape growing, and how the acres of research are changing the capabilities of winter grapes. As much as I wanted to hang with cozy black kitty, it was time to hop back on the trolley and move on to winery #2.

This time, our trolley ride was headed to Villa Bellezza Winery in Pepin, Wisconsin. When we arrived at this winery, I wasn't sure if we had crossed the Wisconsin border or flown across the Atlantic to Italy. I've never been, but this destination definitely intrigued me to cross that border and embrace the tradition of wine making in Tuscany.

The view was beautiful, our wine tasting table was esquite, and chocolate! You had me at chocolate! Our host, had also embraced the uniqueness of a little Italy in Wisconsin. He had moved from a standard 9-5 workday, to his passion, wine! He loved it and you could tell as it rolled off his tongue and into our glasses. This location was exquisite and as much as the tastings quickly moved us on to the restaurant, we learned that their food was as authentic, too. Our next stop was touring the fields and vinification showed us that the owners were as enthusiastic as the architecture authenticity promoted. Not only did they strive to replicate Italian wine, they purchased the most up to date technology and equipment to allow them to harvest the perfect grapes. The tour was beautiful and the wine was amazingly distracting! Thank goodness for photos of the memories. I hopped back on the trolley and we whipped around to pick up the rest of the crew and head on to winery #3.

Our final trolley stop was the Elmaro Vineyard in Wisconsin. Our final destination for the day was a sweet stop to a beautiful destination that provided a delightful tasting along with a location that offered various opportunities like "wine and yoga" and dance lessons, sip and paint and wine education. Our tour was as simplistic as cheers, but I'd definitely return for lessons of any of the above! They have an all inclusive gift shop that includes local fair and was a perfect spot to find holiday shopping ideas and sweet snacks to bring back for the kids.The bar top was a swirl design, reminding us to swirl and smell the aromas of this local fair. My memories fade off here as we realized we started at 9am and it was now close to 5. We ran our trolley driver down to the last minute and we were looking forward to returning back to our home in Rodchester, MN for some dinner and drinks (and those games I mentioned earlier.)
 
As the day came to a close, I missed the little ones a bit and couldn't wait to return to Iowa to give them their sweet treats from our wine tour. As I learned later on, Minnesota and Wisconsin are filled with up and coming wineries, but my hope, after reading about the driftless opportunities, you will embrace these locations in the Wine Country of the midwest and embrace their interest and excitement of bringing a crop that once was unable to withstand the cold of the season, but now brings wine enthusiasts of all states to enjoy a sip of the bi-state Menage a trois.

You don't need to visit all three wineries to embrace the excitement of an intercontinental tuscany adventure, but touch on as many as you can.
*Unfortunately, Flower Valley, as of this writing, has closed its' doors.
Villa Bellezza
1420 3rd St, Pepin, WI 54759
(715) 442-2424
http://www.villabellezza.com/
Elmaro Vineyard
N14756 Delaney Rd, Trempealeau, WI 54661
(608) 534-6456
https://elmarovineyard.com/