About The Millwork Night Market

The Millwork Night Market is an independent evening farmers' market that features high quality local food producers, artists, musicians, & brewers. It was founded with the mission to provide a unique nightlife & shopping experience, and to enhance the Millwork District's mantra of live, work, play.

The Millwork Night Market is not formally affiliated with any other farmers' markets in town, but we all share a love of local foods & local arts. We want to help put shoppers in touch with the amazing farmers, producers, artists and artisans that we have in the tri-state area.

Meet the Market Co-Founders Andie Donnan & Danielle Stowell! Andie has years of experience working in various parts of our local foods system at farms, restaurants, the Dubuque Food Co-op, and the Dubuque Main Street Farmers' market. She graduated with a Business degree from Northeast Iowa Community College and is clearly putting it to good use as the brains behind how to build a sustainable, vibrant market! Andie is also the co-owner of Sandhill Farm, part of the organic Sinsinawa Mound Collaborative Farm. Danielle runs Wicked River, a local event production company, and helps make sure all the logistical moving parts and pieces of the market run smoothly behind the scenes. She graduated from Loras College and has an MBA from Clarke University. In general she's a local foods & arts advocate volunteer around town, but at the Night Market you'll most likely catch her enjoying a beer by the music.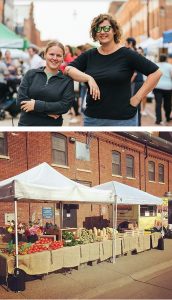 What's your story? How long have you been here in the Driftless, Were you born in the Driftless, What keeps you here in the Driftless?

Andie was born in Dubuque and came back after spending a few years in other parts of Iowa. Danielle is from a tiny town called Gilbert, IA just outside of Ames. She found Dubuque by way of Loras College, moved to Chicago for several years, then decided to settle back in Dubuque permanently. The pace of life in the Driftless area is more her speed than a huge city, and the opportunity to make an impact here is greater.


Tell us a little bit about what you do for work at The Millwork Night Market.

Andie has years of experience working in various parts of our local foods system at farms, restaurants, the Dubuque Food Co-op, and Dubuque Main Street's Saturday morning farmers' market. She and her partner currently operate a half-acre organic farm specializing in vegetable production with a Market Share CSA. She graduated with a Business degree from Northeast Iowa Community College and is putting it to good use as the brains behind how to build a sustainable, vibrant market. Danielle has over a decade of experience in event management working at small agencies, large corporations, and higher education. She now runs her own business, Wicked River Event Production, and helps make sure all the logistical moving parts and pieces of the market run smoothly behind the scenes. She graduated from Loras College and has an MBA from Clarke University. In general she's a local foods & arts advocate/volunteer around town, but at the Night Market you'll most likely catch her enjoying a beer by the music.


Tell us about a project or accomplishment that you consider to be the most significant in your career with The Millwork Night Market.

Millwork Night Market received a 365Ink Impact Award in 2019 – Read About It Here


We're constantly making things better, faster, smarter or less expensive. We leverage technology or improve processes. In other words, we strive to do more—with less. Tell us about a recent project or problem that you made better, faster, smarter, more efficient, or less expensive.

An un-sexy thing to talk about when it comes to events is waste management. With an event as large as our, with thousands of people eating and drinking and buying goods in the short span of two blocks, there is potential for a lot of trash. We decided from the beginning we NEEDED to be good stewards of the environment, and committed to separating compost, trash, and recycling after each market. For our first two markets we started with some cheap metal oscar-the-grouch-style trash cans lined with paper lawn clipping bags and a sign that said "COMPOST." Our trash cans were plastic 55 gallon drum barrels with the tops cut off that were donated by Dubuque Stamp Manufacturing. We rented free wire event recycling pop-ups from Dubuque Metropolitan Area Solid Waste Agency that we had to pick up and drop off at the Public Works offices every month. We spent an hour after each market sorting the trash into proper bins so we could divert as much as we could from the landfill. Last season we wrote a grant to fund properly labeled, large capacity, matching waste receptacles, which we now own. We added educational signage with pictures of what types of waste go into each bin, so now our shoppers do the sorting for us, and we no longer have to drive out to Public Works to transport recycling units. Everything lives in our storage unit right next to the market site. It's an ongoing process and we still have to spend a little time each month making sure waste is properly sorted, but as people get more educated, it gets a better each month.


Tell us about some of the people you've met, that stand apart from the rest, while here at The Millwork Night Market.

Other female business owners in the community. Specifically Susan Price who owns and operates Smokestack, a local bar, with her husband Scott. She was onboard from the beginning to help us figure out liquor licensing, which can get really complex with an event of this scale. We now partner with the Dubuque Jaycees for our beverages at market, but Susan and Scott continue to be huge advocates for us.


Tell us about someone who has influenced your decisions for yourself or your business.

StartUp Dubuque was instrumental in getting Danielle's business started, and providing guidance to both Andie and Danielle from the very beginnings of the Night Market. We really don't have a lot of influences on our decisions, since everything comes down to Danielle & Andie agreeing on how to move forward, but they provided significant guidance and support in the beginning.


What do you think will change about your business or business process over the next five years?

Working toward making the Night Market an entity that can pay for and run itself. Right now, Millwork Night Market is an EVENT put on by two women, but Wicked River is the entity that houses the permits, insurance, finances, etc. It has become large enough to warrant becoming its own non-profit or business entity, so we're currently navigating the best structure for it, and defining roles for ourselves as co-founders. As with anything that becomes successful, eventually you have to decide when to take a step back and bring on more people with different skill sets that can help it grow in the direction you want it to go. That's quite hard when you've started something from scratch so we're taking our time and figuring out what's best for the future of the Market. We hope that the shopper experience continues to only get better and better, and that our vendors can successfully grow along with us.


What do you wish other people knew about you or The Millwork Night Market?

Andie and Danielle are not paid by anyone to put on this event. We've put in hundreds and hundreds of hours to make the Night Market happen because we love it, it strengthens our local foods economy, and the community supports it. All of the money that comes in goes to making improvements to the market's operations.


If you were to tell a friend to come and visit the Driftless Area, and they ask "Why" … what would you tell them?

To prove to them that Iowa is NOT all flat 🙂 Dubuque, and all of the River towns in the Driftless area are gorgeous, unique, and even in small towns you will find unexpectedly fun ways to spend your time.



Talking With Danielle Stowell

If you weren't here running your business, what would you be doing instead, or what would your life be like?

Traveling, specifically to visit friends and family who have moved all over the world. I would prefer seeing a new place from a local's perspective than a fancy pre-packaged tour any day.


How do you develop yourself outside of your work environment?

Personal development can take all shapes and sizes. It can be found in a hobby, a purposeful pursuit, or in an appetite to explore. In the last year I have focused on better financial management, not just for my business but for me personally. It is really easy to be passive about where your money is spent, especially when you own a business and put everything you can back into it before you even think about paying yourself. Working with a coach has helped me learn how to better align my money with my values, and invest in myself AS WELL AS the business.


What are some of your favorite places to go and have fun here in the Driftless?

Madison, WI for sure! I would like to also spend more time exploring the parks and natural environment in the area … Effigy mounds, Devil's Lake, etc.


What are some of your favorite places to eat here in the Driftless?

Brazen Open Kitchen + Bar in Dubuque, and Swagat Indian Restaurant in Madison.


What might our readers be surprised to know about you?

I am the absolute clumsiest person who ever lived, but have somehow never broken a bone.


What are you most curious about in life?

How people define where "home" is regardless of where they live.


What is the most courageous thing you have done in your life?

Quitting my day job to work for myself.



CHECK WEBSITE FOR DATES AND TIMES

7th-9th Street on Jackson
Dubuque, IA 52001
millworknightmarket@gmail.com


Visit Website HERE