Expanding upon an article in the Autumn 2020 issue, The Driftless Area Magazine is revisiting Jangle Soapworks. Quoting the earlier article: "Jangle is an organic farm that produces Goat's Milk Soap and other sundries with products for sale in several Mount Horeb gift shops as well as the usual mail-order method.  Though as the 2020 pandemic continues to rearrange Mount Horeb businesses and their hours of operation, Jangle Soapworks and their owner, Janelle Holmstrom, have rolled with the punches. Jangle has a detailed website and product list with pictures of her valley farm and goats. They are also equipped to take gift orders and have them ready for pick-up at a stand on the Holmstrom's farmhouse front porch. All of the soaps are proudly made by hand with many natural and locally sourced ingredients. They use No artificial scents and No artificial colors. Jangle's soaps and creams are silky smooth with actual silk in some varieties, sumptuous, and all produced with fresh (not powdered) goat's milk. "Happy Goats Make Happy Soaps" is their moto."

Some of her Wisconsin themed soaps and varieties have names like: Cranberry, Strawberries & Cream, Sugar Maple, Lavender, Wood Violet, and North Woods Birch. Because this is the Driftless Area Magazine, I had to check out the ingredients of "The Driftless" named soap.  The description reads: "Driftless is inspired by the rolling hills & deep valleys of The Driftless – with bergamot, cedarwood, bay, sage…" and further ingredients that include "fresh local goat's milk, organic coconut oil, organic fair trade shea butter, silk" and more.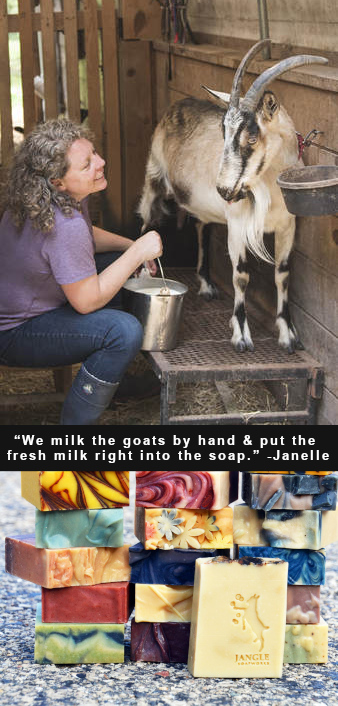 I asked Janelle if she had a favorite soap "flavor." She said she preferred original goat's milk, shea butter, clay, and charcoal, nothing fancy – just unscented. To keep her goat's milk soaps priced reasonably, she chooses products from The Driftless and Central Wisconsin. It saves on waste and saves on shipping. But these come secondary to her insistence upon the purity of locally sourced, organic ingredients.
 
"Once in a while I'll get a request for watermelon (scented) soap or something tropical," she confided, "and it would be easy to order a synthetic watermelon scented oil. But I won't do that. I'm hardcore natural in the truest sense of the word."

How did Jangle Soapworks get its name?
You know how, if you type a word into your phone, the phone likes to auto-fill what you are entering?" Janelle recalled. "My best friend said it was funny how whenever she entered my name into her phone, [Janelle] that her phone would try and auto-fill the word Jangle." They laughed and joked that she should name her first business "Jangle." The word stuck. "Jangle" – as in "jingle-jangle" conjures up the sound and image of a bell traditionally worn around a goat's neck.

Janelle still milks her goats daily. It's a process that can seem like a drag in a fast-paced life, but even on days when she has a million things to do, the process of slowing down and milking the goats becomes a steady, almost meditative time each morning. Milking is done by hand, and there's no doing it any faster. Her milk producing goats are accustomed to a certain amount of milking each day and are cooperative participants.

What breed of goat are you using? Are there better goat breeds for milking? Do they get temperamental if you don't milk them and what are the names of your current top producers?

We keep Alpine goats.  They are a large size breed, thus making milking easier than the smaller breeds of goats.  There are "better goat breeds for milking" depending on what your desired outcomes are.  Some great milkers have a higher fat content in the milk, which will be an advantage for a cheese maker. Some goats will produce large volumes of milk, which is of course best for the large-scale operators.  Different goats will even produce different flavored milk.  So, yes, lots of variety. Sometimes it simply comes down to personality.  Some goats are notoriously loud.  Some are notoriously rambunctious.  We have found that the Alpine breed matches all of our needs the best, though we certainly have not owned all the breeds of goat.
 
I wouldn't say they get "temperamental" if they don't get milked, but they get down-right uncomfortable!  The milk continues to swell in their utter and that is not good for them.  When a goat is not to be milked any more, they require a gradual "drying off" process.  We do also give each goat a year-off from work between breeding's.  These are our pets too, not just work animals.  Bella was our first ever goat, and still probably one of our best! She taught us how to be "goat people" and lived a full life here before old age got the best of her.  Currently, our best milkers are sisters Nettie and Nanny (what an original goat name).  I do have high hopes for our newest girls that are pregnant for the first time.  Piper and Paisley were purchased when they were newborns from the local organic dairy: Dream Farm.  [Shout out to Dream Farm] Their goats seem to be exceptional milk goats.  I look forward to seeing what these two new young adults bring to our goat world.  

Your website is really well put together and you have a flair for sumptuous soap descriptions. Is it all you, or do you have helpers?
Not all me at all! I am so NOT a techy person.  I need lots of help in this area.  Give me goat toenails to trim or soap to cut any day but put me behind a computer and I will invariably struggle. It's just the way it is.  I have a fabulous "designer" who does all of my website build-up, logo creations, poster designs, and so much more. And yes, she too is the creator of some of the fun soap descriptions that end up on the label.  I truly don't know where I'd be without her help.
 
Seven years since launching Jangle and after a decade of soap creation, her goat's milk infused soaps and related products have earned her faithful customers that the Mount Horeb, Driftless, and Madison business community can be proud of.  Jangle also offers body butters, lotion, balms, and other accessories. They even offer laundry soap.  With more than a hundred individual products and an inventory to back it up, it's no wonder that Jangle Soapworks is moving into its own brick and mortar store.



How did you survive 2020? Please give an update on the progress of your downtown Mount Horeb location.
We are working very hard to get the actual Jangle Natural Living store open.  [It] is relatively small but comprises of two main rooms.  The first, largest room has a door on Main St, and is currently under construction.  We have removed some of the plaster walls to reveal an amazing 100-year-old original brick wall that we will leave as "found."  Other plaster walls are being repaired.  There is new flooring, lighting and everything.  It is being built-up to have a Rustic Americana feel. This space should be ready for our spring grand opening "Count-Down" launch on 4/3/21.  The smaller room that connects to the antique mall, is currently open for business by going into and through Isaac's Antiques. Purchases may also be made at the antique store check-out.  We plan to continue this easy, free-flowing store connectivity even after renovation is complete.  I love the idea of having the two stores connected and working together.

My husband and I bought a building on Main Street in Mt. Horeb.  We were quietly quarantining at home in the Spring as the world shut down — when this opportunity literally fell into our laps.  It was an amazing opportunity, too good to pass up.  We bought a huge historic building, and life has certainly been a hustle ever since.  I am very excited to be opening a brick-and-mortar store for Jangle Soapworks, but not only that… [we are also] expanding into a full scale "natural living" store named Jangle Natural Living.  We are in renovations now to have a spring opening.  I like auspicious numbers, and my planned launch date seems fun to do on 4/3/21…  THAT alone is keeping us busy enough, but the building that we bought just happened to have a thriving antiques mall currently operating.  So, we decided to roll with that and learn about old things.  We now own Isaac's Antiques, which we are calling the "sister store" to Jangle Natural Living. When the whole process is complete, the two stores will be separated by walls, yet easily flowing from one to the other: one connected business of sorts.  For now, Jangle Soapworks products are located inside Isaac's Antiques."  Janelle is very excited that a "pop-up" version of Jangle Natural Living is open within Isaac's Antiques as well – as they work to get the Main Street door open (literally just remodeled and refurbished).  She added, "We also have expanded our service of website ordering to include easy pickup at Isaac's Antiques.  A customer can order ahead through the website, and the bag will be waiting.  Customers can run into the store or call for curb-side delivery.  This has been working fabulously and will continue to be a service made available well past Covid. 
 
So… to answer your question, we took the Covid by the horns, and used the "down-time" to really ramp things up in our lives.  It's kind of how I roll.  I am so excited to begin to see what our new normal feels like, as the Covid dust starts to settle and we get better acquainted with our new roles as store owners. It's been a really great ride so far. 

A long previous relationship with the building owners, led her to this brick-and-mortar location. The original owners (going back into the 90's and before) were a brother and sister, who, later in life, combined their efforts under one roof: an antique store and a soap shop. The location has a ready-made foot-traffic and community imprint that seemed a natural fit for Jangle Natural Living.  Janelle's husband, meanwhile, is learning the antique's store trade with an eye on enjoying it more and more as a retirement option when those years arrive.

Any questions or topics I should cover not yet mentioned?
I guess just that I am very passionate about supporting community, natural, and local.  I'm also a huge proponent of reducing waste, eliminating single-use plastics, and working toward environmentally sustainable practices.

I asked Janelle about the soap creation process and industry. Her number one takeaway from soap making is Patience. At the beginning, and even now, as she and friends test new soap varieties, the development process takes a year on average. Research, creation, curing, testing, and repeat. Well-made soaps reflect positively upon the whole industry. There is, of course, a large national soap, bath, and body products community. A "newbie" soap maker who starts out selling an inferior product might cause their customers to have a negative reaction to hand crafted soaps and then "whoops" there goes that customer forever. So, Janelle learned early on that R & D and importantly the curing process with soaps are important. Bars need to be cured two weeks or longer depending. Soaps that are put into use – too early in the process – turn to mush. In a funny anecdote, Janelle revealed she used to test soap bars in her shower, make notes on post-its, and stuck to the walls of her bathroom. "Soap X is lathery. Soap Y smells too strong. Soap Z washes clean. Etc." She would carve code numbers into the soap bars before testing.

"Some of the soaps that I created a decade ago, I look at now and realize how far I've come. I thought they looked great back then. Now they're a little hard to look at."  This includes packaging that she feels is dated in retrospect, compared to her product now. Her bars now have Wisconsin themed co-sponsors, creative and whimsically stamped logos, and colorful swirls and patterns. Janelle mentioned that she looks forward to a time in the near future when she can have a shelf in her store at Jangle Natural Living, that displays a progression of her goat's milk soaps as they developed over the past decade. Though not antiques, a decade is still a decade. Just a simple shelf with a line up of soaps and their look, style, and progression over time both well cured and well curated.

Thanks for reading. Look for Jangle Soapworks and Jangle Natural Living online and on Facebook.