By Rick Pedersen – 
"Pay it forward", is an expression for describing the beneficiary of a good deed repaying the kindness to others, instead of to the original benefactor. By paying it forward, someone else's circumstances, or life is changed for the better. Ultimately, the person paying it forward grows as much as the person receiving the kind act. Paying it forward also alters our cultural identity, in my opinion.

During the history of this country, we have overcome many challenges that were greater in our current situation. I believe that America will be even better than before at the end of our current situation. I am already seeing many changes in both our everyday lives and in our culture. There are so many great things going on that it would be difficult to list them all, but I would like to share some of my observations in situations that I have been involved in personally. Recently many personal items such as hand sanitizer were tough to obtain and, in some cases, not available. Many distilleries had converted their operation from distilling spirits into creating hand sanitizer for their local communities.

Rock Filter Distillery in Spring Grove, MN is one of the many places that is doing just that. I received a heads up that production had begun, and after this business produced 1000 gallons of hand sanitizer for the Salvation Army. My wife and I have personally observed the strained supply chain and restrictions placed on these products for those that even have them in stock. I shared a message on social media to reach out to friends and family and decided to bring back this product for those in need. Our friend's daughter manages a local nursing home, and she was the first to message me and said they were entirely out, and restocking was unavailable now. After my initial shock in hearing this, I agreed to bring back 3 gallons of this item to help the situation. When I got to the distillery, I let them know the total amount of product I needed, and Christian Myhre (founder & head distiller) directed me to the area and stepped aside for me to tap the barrel while practicing social distancing. As we talked and I let the crew know a local nursing home was out of the product, they were generous enough to donate one of those gallons for free.

As I continued to fill my containers, the next gallon was headed toward a local bait shop called Island Outdoors. They remained open, but their business had been drastically altered to a drive-up service in which nobody is allowed in the store. Minnows were handed out in single-use baggies through an open garage door along with worms and other products. Customers were still allowed to purchase equipment, but the simple act of browsing fishing rods means an employee with gloves searched the store for the product and handed it to a customer wearing rubber gloves to get a feel for it. The entire process was very time-consuming, but owner Scott Gardner was thrilled to remain open. With all the back and forth activity, the limited staff was also using a great deal of sanitizer each day, and they were very grateful when I handed them a gallon jug. Scott had been the recipient of many kind acts from grateful customers that wished to support him, but were also happy he remained open. A local construction company donated $200 worth of bait to encourage people to get outside fishing while practicing social distancing. Also, local businesses had dropped off carryout meals for the staff, and the staff had returned the favor by patronizing these businesses. Local repair shop Team Marine had filmed a YouTube video about patronizing the bait shop as well as giving away many prizes for followers of Team Marine. Everyone was very supportive of promoting and patronizing each other's businesses.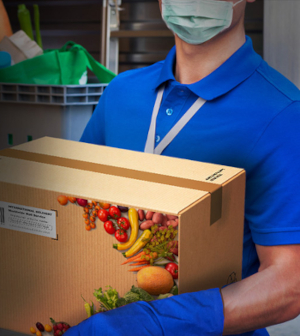 The remaining bottles were shared with my family and my wife's coworker. Many people found themselves out of work or on an altered work schedule. My daughter and son-in-law now work from home, but have twin sons that just turned 1 year old. Families face different challenges, but everyone's life has been altered by recent events.

With the closing of restaurants, businesses have adapted to offer pickup & delivery service. Many businesses now offer specials and discounts because they understand many people are out of work, and they are sensitive to their customer's personal situation. Tony Angelini of Angelini's Restaurant in Onalaska, Wisconsin, was offering discounted pizza purchases that he has created during this time while maintaining a full menu Italian cuisine available for carryout. They are very appreciative of all the customers that continue to patronize the business and understand everyone is having a tough time, and we all just need to help each other to get through this.

It's difficult to mention every business and how they've adapted to challenges. In the craft brewing world, these brew-masters were continuing to produce their product and used social media to let customers know what is available for the takeout process and offer to order in advance.

Local coffee shop Oma in West Salem WI remained open for customers to get their daily coffee and amazing homemade pastries. Recently they had begun allowing customers to order in advance an entire pan of their favorite Items.

I believe everyone has been adapting quite well and helping each other the best they can, which is all anyone can ask or hope for.

If we all took the time to do one beautiful thing for another person during this time, just think how great the world would be. Money is not required, and a person could even rake the yard, shovel a walkway or walk the dog of your elderly neighbor. I challenge everyone to take this time to become a better person and do one selfless thing for another person in hopes this will spread across the nation. Let's all focus on the good things we have in life and enjoy this time getting reacquainted with family and loved ones.