By Marilu Miller –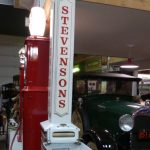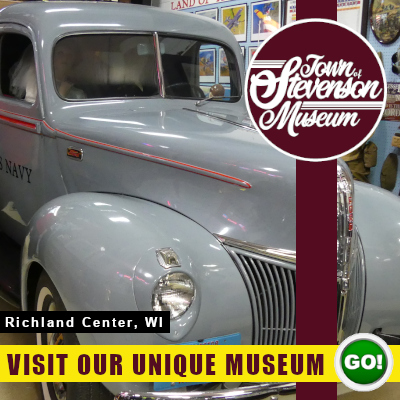 When I first had a chance to talk with Steve and Carol, they told me that they had a little museum and I should come out to see it some time. Well, if life and a world wide pandemic hadn't happened, then this visit would have happened last year. What I got to experience at the Town of Stevenson Museum with Carol, Steve, their official greeter Molly (their Scottie dog), and Jessie made it well worth the wait. Stevenson is nestled into the rolling hills and farmland of rural Richland County right in the heart of the Driftless. When you come thru the gate at the museum, you are greeted with their version of Burma Shave signs that line the drive along the way past the Lake of Stevenson. But trust me when I tell you, that those signs are just the beginning of the treasures that await you when you visit this lovely spot.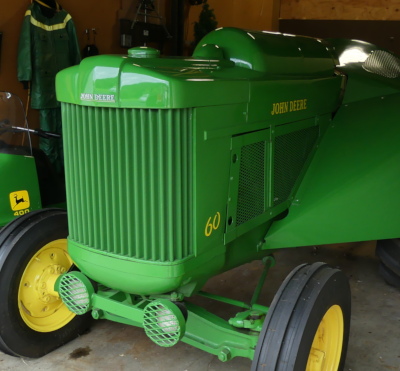 There are so many businesses represented in this little town of Stevenson. A bar complete with a Wurlitzer juke box and a player piano that Carol restored herself. This was her first piece and the start of her collecting. A jail (gotten after Steve and friends took apart an old jail in northern Wisconsin) and Paddy Wagon, every town needs one of these. A Post Office and Telephone office operated by a wonderful red-haired lady (ask Carol about this special lady) out of her home. Across the way is the teller desk from a bank that used to be in the Lone Rock Bank (a little town just down the highway a bit). After the bank was torn down, it was part of a barbershop and hair salon, that was owned by parents of a classmate of mine. There is a wonderful Room-to-Rent complete with a hand stitched quilt and hand embroidered pillows, some of which have earned ribbons from the local county fair. There is a John Deere dealership filled with many things collected by Steve and Carol while they owned their own dealership in the 1970's. In this county be careful when you mention tractors, as we are a county divided as to whether they should be John Deere or Farm All! Stevenson also boasts a Ford garage and a Red Crown gas station (Steve's father had one of these). There is even a beautiful Coca Cola machine out in front of these two businesses that Steve found- this was the start of his collecting. Do you like peddle cars? I haven't seen so many in one place and done in so many different ways! How about classic cars? Steve has some beautiful cars and trucks. There are also a few specialty items: a 1973 John Deere snowmobile that used to belong to Carol and a 1956 John Deere Orchard tractor. Oh, and I can't forget the moonshiners shack! But, this is really just the tip of the iceberg for this museum. Let me tell you about some displays that are really wonderful, and very special to me.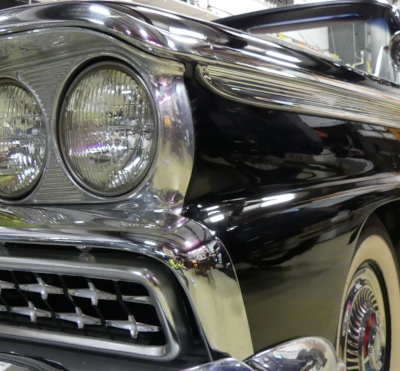 As we entered the first section of the museum, my eyes were bouncing around like that little metal ball in a pin ball machine- there is a beautiful old one right there by the bar! I had no idea where to start looking. Carol started to tell us about the classic cars that were there and I was surprised to see a 1951 Ford retractable hard top convertible. There just aren't many of those to be found around here. But, what drew me across the room was a pick-up truck. A somewhat ordinary-looking gray truck with a pair of mannequins- a beautiful bride and her handsome groom in his Navy uniform sitting inside. I knew that truck! I asked Carol where they had gotten it and found out that I was right. I knew that I knew that truck!! I had honestly thought that I would never see it again as the owner had died several years before and I was sure that his kids had gotten rid of it. Happily I was wrong! That truck was sitting right there in front of me- a 1941 Ford Pick-up truck painted battleship gray. This truck had been the first project of many project vehicles that my friend Jim and his dad Jim had re-built together. I had heard a few stories about the work that had gone into restoring this truck. This special truck, okay maybe special only to me, is the centerpiece of the military display. A display that also includes the uniforms of many gentlemen that I have had the pleasure of knowing over the years. The US Coast Guard is represented by Dan Brewer, a man that I watched grow up and become active in our community. The US Army is represented by two men: the first is Avery Marshall who was a friend of my father's and the second is Cecil Richardson who was a Chaplin in the army and achieved the rank of a two-star general. The US Marines are represented by Steve Stevenson, who is the Mayor of the Town of Stevenson- just one of his many titles. And finally, the US Air Force is represented by Michael Nigl. Mike was a wonderful friend to me over the years, including tutoring me in algebra (at the request of our principal) when I was a freshman and he was a senior, the first of many times that he helped me with something. All of these men have done special things here in their hometowns.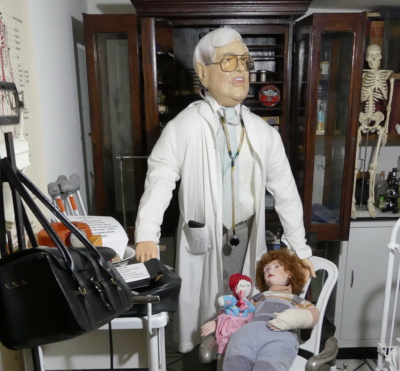 In front of the bank is the fire station. Upstairs is the bunkhouse for the firefighters and a collection of patches from firehouses that Steve and his crew worked on when Steve owned a flooring company. The local doctors' office is upstairs from the Post Office. Now, this isn't just any doctor's office this office belongs to Dr. Killian Meyer. Dr. Meyer was one of the groups of doctors that got together and formed the Richland Medical Center here in Richland Center back in the 1960s. Dr. Meyer was my family's doctor from when I was a kid up until the time that he retired. He delivered hundreds of babies in the county over the many years of his practice, including my baby sister. He sent me to an eye specialist when I was four and when I was about 13 he stitched up a nasty gash on my forehead. I have to say that when I saw the mannequin that Carol has crafted for him (Carol is multi-talented and made many things that are in the museum including the faces of many of the mannequins), it hit me just how much I missed him. I grew up seeing him in church, hearing him on the radio talking about so many things, or talking about helping those with mental or physical disabilities living their lives to the fullest. The face of this mannequin is so lifelike that I expected a pat on my head, a "She should start feeling better in two or three days and if not bring her back in", and a sucker when my visit with him was done, just like when I was a kid.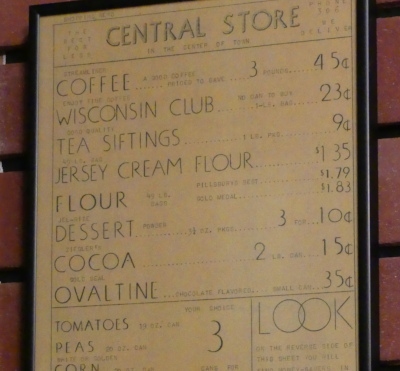 The General Store is a great example of how important a store is in any community. Everything that a shopper needs is here. In one corner there is a display of kitchen items- specifically a Hozier type cabinet and a coal or wood-burning kitchen stove. The two are set up to duplicate how a kitchen might look. The cabinet is filled with food and dishes and there are pots and pans with food in them on the stove. I fell in love with all of the beautiful clothing on display there and in other parts of the museum. I truly do not know how the ladies back in those days had the patience to button their shoes. Yes, patience because if you didn't take care while doing this you would have to chase down a button that you popped off and then sew it back on before finishing getting dressed for the day or the evening. There are so many wonderful purses to choose from, including a whimsical one made from a frog! And, oh the hats! I have always loved hats, even though I don't look good in them.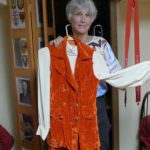 And the dresses and other outfits had me wishing I could have worn a few of them. I think one of my favorite pieces was Carol's wedding ensemble that she wore when she and Steve married in 1971. When you come, be sure to ask to see it.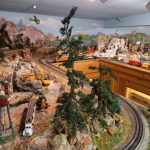 Upstairs and across the way, there is an electronics store. It has everything- radios, TVs, Victrola's, and cameras. Oh, look! There is a Brownie camera there just like my mom used to have. And isn't that a Nikon like my great uncle had? In addition to those things, it has one very special item- a McClure Picturephone that Carol's father invented and created (with the help of her mother) but was patented by the gentleman who paid for the materials. It is a combination of a filmstrip projector and a record player in one self-contained unit and it was created for use in classrooms. Maybe you were lucky enough to have had one in your school.
There is one more very special thing I must tell you about, well, more like two things. Do you like model trains or know someone who does? I mean who doesn't love trains? You have to come and see these! If you are a model train lover there are two different model train displays. There is a smaller one on the main level, but the real attraction is the one upstairs. The O-gauge display is the largest and takes up an entire room. It has several different trains running thru the village which is located above most of the rest of the museum. Carol even hand-painted the background scenery for the village- a few feet at a time. There are houses, churches, businesses, cars, a ski slope, all as backdrops to the trains. I have always found model trains and their backdrops fun and interesting, this one had me spellbound! How do you keep track of so many trains at once? It was so cool! Right there in that room, I'm not sure who had more fun, Steve running the trains and telling us about all of it, or Jessie and I trying so very hard to see everything!
There is so much more than this to see. I wish I could tell you about all of the things that I and Carol explained to Jessie, but, I am out of time. If you like trains, peddle cars, or tractors then you really need to come. If you like vintage clothing, cars, interesting stories that only Carol and Steve can tell you about the items here, then come and check it out. There is very literally something for everyone in this museum. If you don't believe me, then, come and check it out to prove me wrong. But I promise, there is something for everyone in this beautiful museum. I have a confession to make. I am a teacher's kid. That meant that vacations were spent going to museums. Here is confession number two, I am also a history nut who loves to go to museums! Thanks Dad!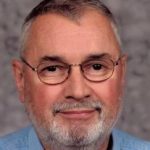 Author's Note: My dear readers, it is with great sadness that I must inform you of the passing of Steve Stevenson just a short time before publication of this article. Steve and I chatted a bit before the tour started the day that Jessie and I were there and one thing that he said stood out. "We have been so blessed in so many ways over the years. With friends, business dealings, our businesses, and people who have given and loaned us things to display. We are just so very, very blessed." Well, right now, I feel like the blessed one because I had a day seeing this special place thru his eyes. I had a bit of a chance to get to know a wonderful man. Thank you Carol and Steve for the wonderful memories that I have of that day.
In Memory of Steve Stevenson 1939-2021